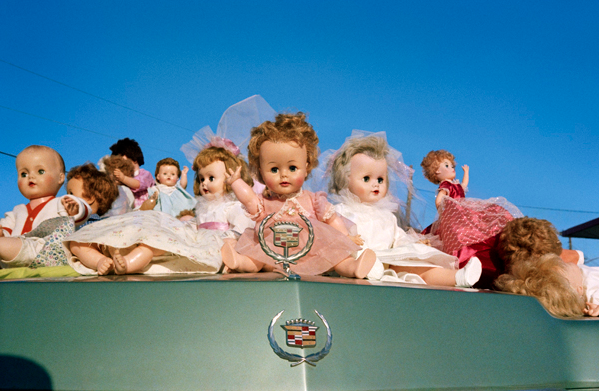 William Eggelston, Untitled, 1971-74/2012, Pigment print, 40x60 inches (112 x 152 cm), Edition of 2. © Eggleston Artistic Trust. Courtesy of Gagosian Gallery
William Eggleston: Los Alamos | This exhibition comprises 37 large-scale pigment images from the Los Alamos series, printed from vintage negatives. Eggleston shot them on the road between 1966 and 1974 in the Mississippi Delta, New Orleans, Las Vegas, Los Angeles, Los Alamos, and other locations across the United States, naming the Los Alamos series after the laboratory where atomic weapons were developed. In the intimate portraiture and stark landscapes, the profound influence of his aesthetic on contemporary image making is plain. His self-professed "democratic camera" seeks out spontaneous moments of aesthetic exception -- a neon light glowing piercingly in a darkened motel room; the back of a smooth, perfectly arranged grey updo; a collection of dolls; a gawky young man pumping gas. Tightly cropped and condensed, each object or subject assumes a narrative life of its own, charged with mystery and possibility. Geographically non-specific and seemingly timeless, the freedom and congeniality of these loosely framed portraits is a hallmark of Eggleston's working style -- emanations of a steadfastly egalitarian vision and a poetic eye.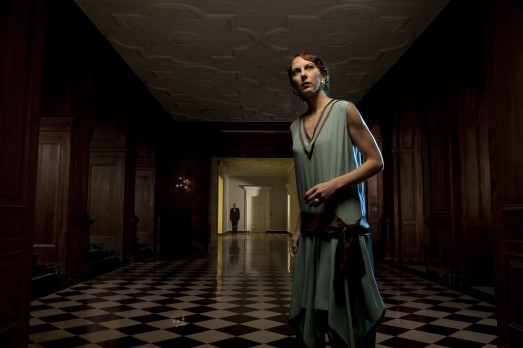 Kerry Tribe: There Will Be ______. | Centered around her new work Greystone, the exhibition explores themes Tribe has dealt with in the past: perception, memory, and the elusiveness of objective truth, through the medium of film. "Of course our memories are always subjective, selective and shifting," notes Tribe. "We remember what we need to, how we need to."
Tribe's current body of work focuses on the legendary history of Greystone Mansion in Beverly Hills, confronting both the historical events that took place at the mansion and its second life in cinema.. Completed in 1928, Greystone was the most expensive residence in California at the time. Built for the family of Ned Doheny Jr., son of a prominent oil tycoon, the house became the site of tragedy when, only four months after moving in, Doheny and his secretary Hugh Plunkett were found shot to death. The official finding was murder-suicide: Plunkett killed Doheny in a fit of paranoia and then shot himself. But other theories abound. Doheny's widow sold the mansion in 1955 and thereafter it became a popular Hollywood filming location. Over 60 feature films have used the mansion as a set.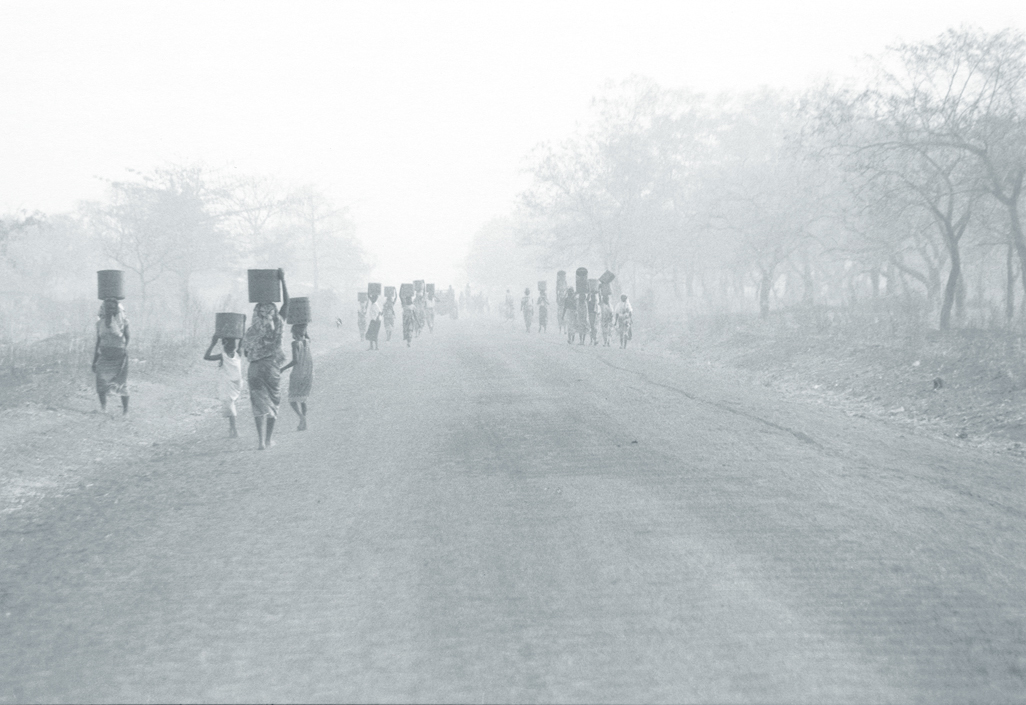 Gil Garcetti: Water | The exhibition highlights Garcetti's exquisite series of black-and-white photographs "Water Is Key," which portrays life in West Africa and the consequences of living with and without safe water.
In the lush, black-and-white images of "Water Is Key," Gil Garcetti portrays life in villages in Niger, Ghana, Mali, and Burkina Faso, where he travelled, interviewing villagers and seeing firsthand what water means to the people of these areas. Worldwide, more than a billion people are without safe water. As Rahinatu Sayibu Sehudren, one of the subjects of Garcetti's images and interviews says, "I leave the village between 4:00 a.m. and 5:00 a.m. every day with some of my children to fetch the water. We usually don't return until about 10:00 a.m. Sometimes we have to go twice a day for water when we don't have enough healthy family members to carry what we need." The burden of getting water usually falls upon women and girls who walk backbreaking miles every day to find water. The result? Girls don't go to school and women have no time to work productively to generate income.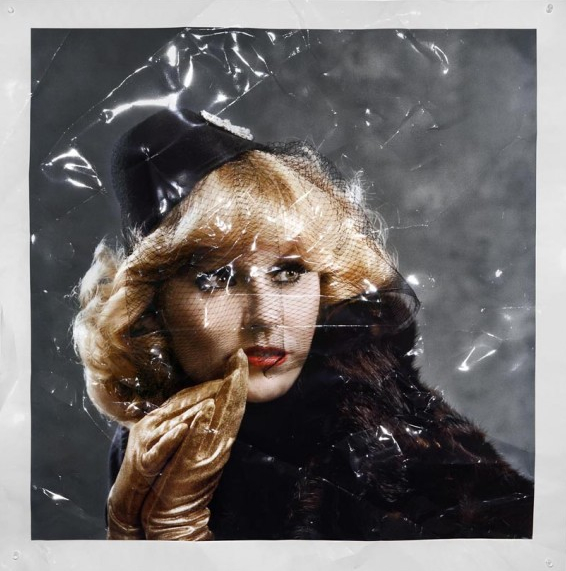 Zoe Crosher: The Disappearing of Michelle duBois | Crosher is an intellectual powerhouse set to assume her rightful place as one of the most significant artists of her time and her medium.
For her first solo exhibition with the gallery, Crosher will present final works from the Michelle duBois project, a series of photographic investigations that re-imagines and intervenes in the extensive amateur archive of relentless traveler and self-documentarian, Michelle duBois. Through this multi-year project, Crosher calls into question our sense of photographic narrative at the end of the analog. By re-photographing, scanning and re-ordering duBois' "auto-portraits" into a careful amalgam of documentary and the imagined, Crosher blurs the line between fantasy and reality.
Since acquiring the archive of Michelle duBois, Crosher has moved through evolving iterations of exploration, highlighting the strategies and structures of fantasy as much as they expose anything concrete about Ms. duBois herself. The most recent works have featured highly manipulated versions of the original imagery through re-photography and reassembly. As Crosher has moved through the duBois project, her investigations have resulted in increasingly pronounced interventions leading to the near-disappearance or even total obfuscation of the original source material. The result is a body of work aiming for complete liberation -- from photographic, literary, identity, and historic constraint.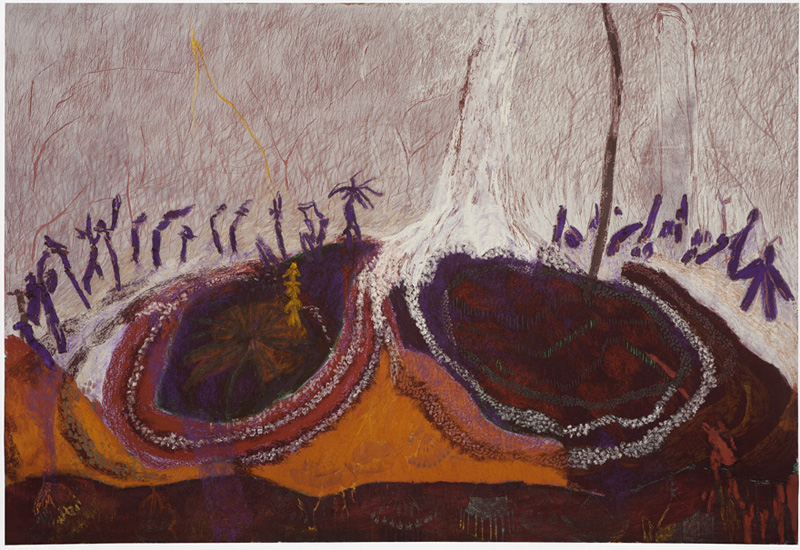 Mimi Lauter: Dining Out | Lauter's technique employs intricate layers of oil and soft pastel on large scale paper. Her unique surfaces seem tapestry-like in their complex tactile quality. Filled with texture, etched passages, and detail, her abstracted metaphoric marks pulsate with color and fascinate the viewer. Lauter's iconoclastic practice looks to European modernist painters, such as Bonnard, Redon, and Vuillard as influences for her jewel-like palette.
In this new body of work, Lauter continues to explore rich hues through natural landscapes and domestic scenes. Interior settings suggest a desire to control nature, but the complex interplay of patterns, imagery and color proves the wild landscape cannot be harnessed. Abstracted birds and angels inhabit her imaginary narratives in a lush world of exploding ochre, deep sapphire and vivid claret that Lauter describes as creating the "personality of each work... akin to knowing someone. The narrative tells us what we are looking at; the color tells us who we are looking at." The viewer's experience alternates between an abstracted narrative and one of physicality, color sensation, and intense mark making.
For the most comprehensive calendar of art events throughout Los Angeles go to Artweek.LA.
Popular in the Community