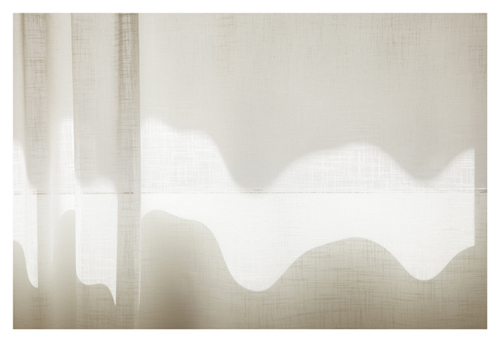 Uta Barth: and draw a bright white line with light | Since the early 1990s, Uta Barth has examined photographic and visual perception--how the human eye sees differently from the camera lens and how the incidental and atmospheric can become subject matter in and of themselves. The works that brought her to international attention, the series Ground and Field, presented photographic blurs caused by focusing the camera on an unoccupied foreground; these lushly colored images tested connections between the descriptive clarity of photography and the haze of memory.
As with much of her earlier work, the domestic setting continues to be fertile ground for nuanced explorations of changes in atmosphere, although for the first time the artist has intervened in the scene she previously had only observed. In this new series, Barth transforms a simple observation--the dance of a ribbon of light across curtains--into a complex photographic experience describing perception and the passage of time.
Uta Barth: and draw a bright white line with light opens September 23 at 1301PE

Jocelyn Lee: Nowhere but Here | In both portraits and landscapes the artist utilizes a direct photographic approach to capture sensual surfaces in natural light. Keen attention is paid to organic features, from the topography of an aging woman's wrinkles, to the soft flesh of a zaftig figure on her bed, or the delicate layer of snow on an apple tree. The constructed world is similarly treated, so that gilt frames, wall coverings and other furnishings, however sumptuous or humble, take on a rich and inviting tactile quality.
For Jocelyn Lee, this very lush and textured material reality is critically linked to a more mysterious, perhaps mystical territory of the human spirit and she believes that it is a photograph, unlike a painting or drawing, which can hold the things we see as well as the things that we do not see, in relationship to one another.
Jocelyn Lee: Nowhere but Here opens September 24 at RoseGallery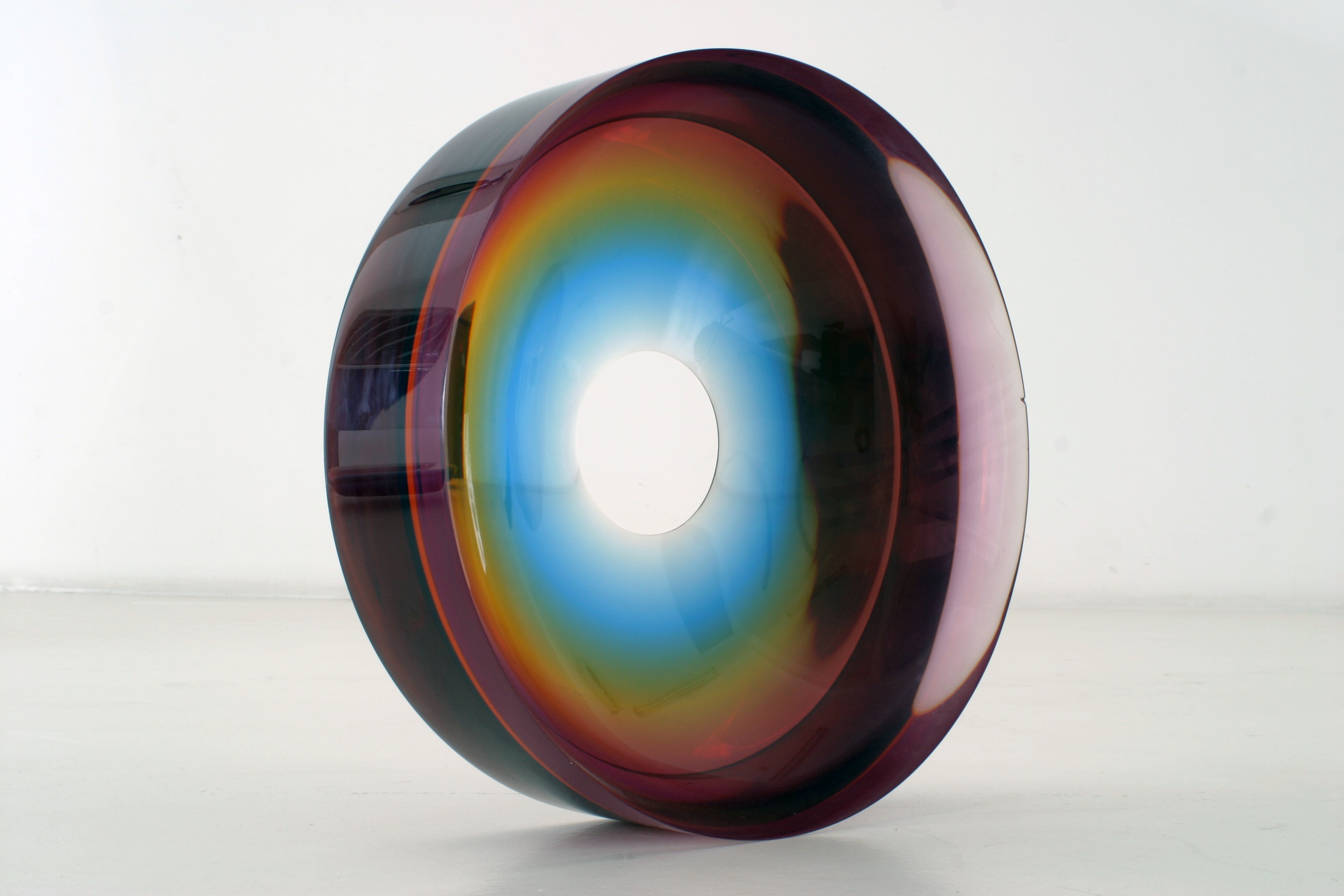 Fred Eversley: Four Decades, 1970-2010 | When Eversley launched his career in the late 1960's, he abandoned a lucrative career as the youngest engineer on the Apollo space program in Houston. Eversley differed from the Minimalists that were so influential at the time because he was less interested in committing himself to the simplicity of form. Instead, he emphasized the energy fluctuations of physics and metaphysics as well as the representation of interactive properties. Eversley sought to express his concerns about energy, and the possibility of transforming solar energy into electrical power impelled him into an exploration of the parabola and parabolic shapes as energy trapping structures. In fact, all of the three-dimensional works operate according to the optical principles of physics that determine the properties of lenses and mirrors, as he uses a process that involves spinning liquid plastic around a vertical axis until the centrifugal forces create a concave surface. Even entirely solid forms appear to melt away either at the edges or through their centers.
Fred Eversley: Four Decades, 1970-2010 opens September 24 at William Turner Gallery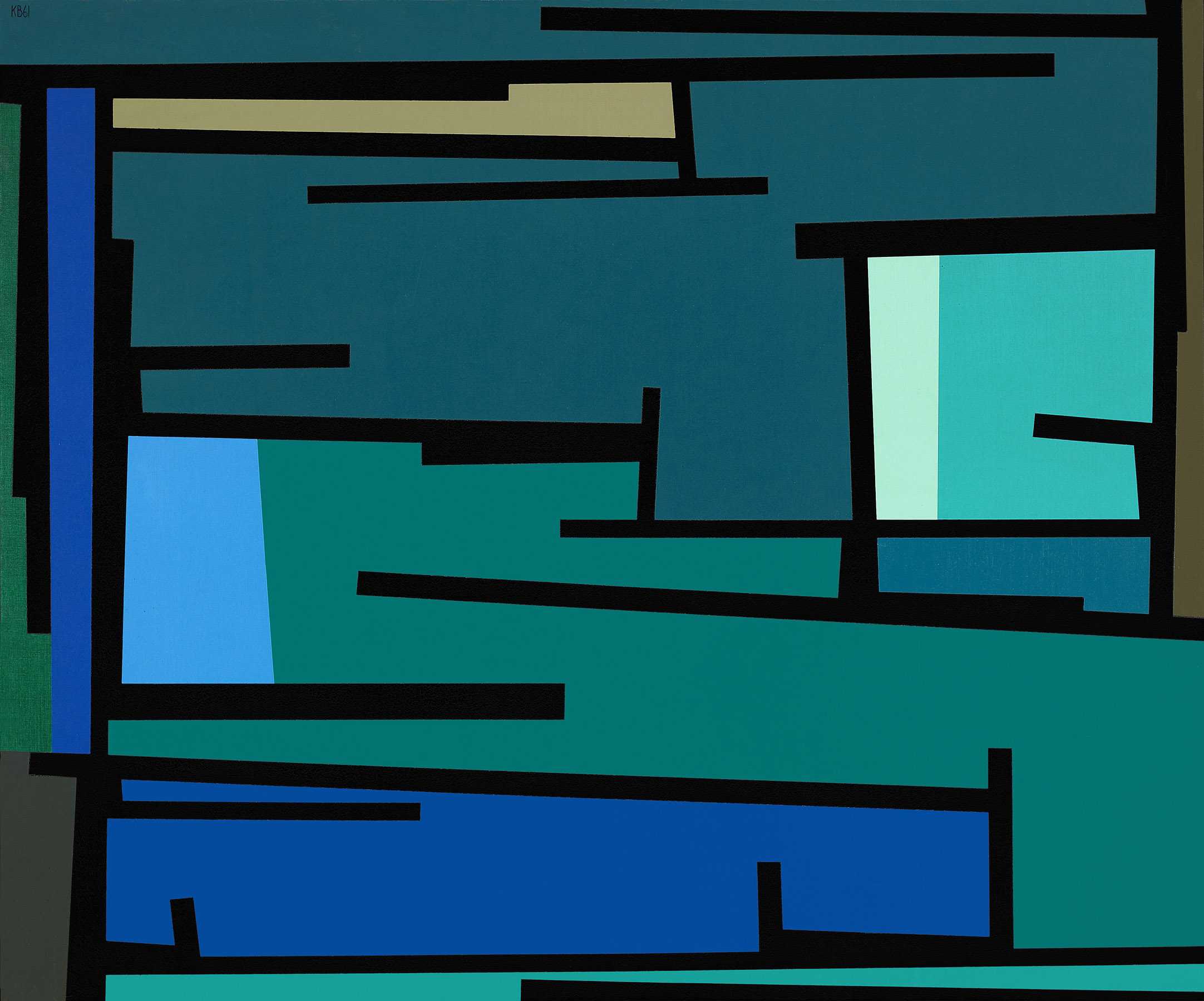 Karl Benjamin and the Evolution of Abstraction, 1950-1980 | Karl Benjamin did not set out to become one of the founding fathers of Hard Edge painting. His plan was to write. However, in 1950 while attempting to offer art instruction, along with reading and writing, to his classroom of sixth graders, Karl Benjamin discovered painting, switched his allegiance to the visual arts and the rest is history.
In the course of his lengthy career, Benjamin and his luminous, grid-based paintings have earned accolades from colleagues, collectors and curators alike. The artist's thirty-year trajectory, catalogued in this exhibition, could serve as a guide for the evolution of American abstract painting. Benjamin's meticulous exploration of color, his intuitive understanding of complex spatial relationships and the sheer joie de vivre with which each canvas announces itself to the viewer are, in equal parts, impeccable and irresistible.
Karl Benjamin and the Evolution of Abstraction, 1950-1980 opens September 24 at Louis Stern Fine Arts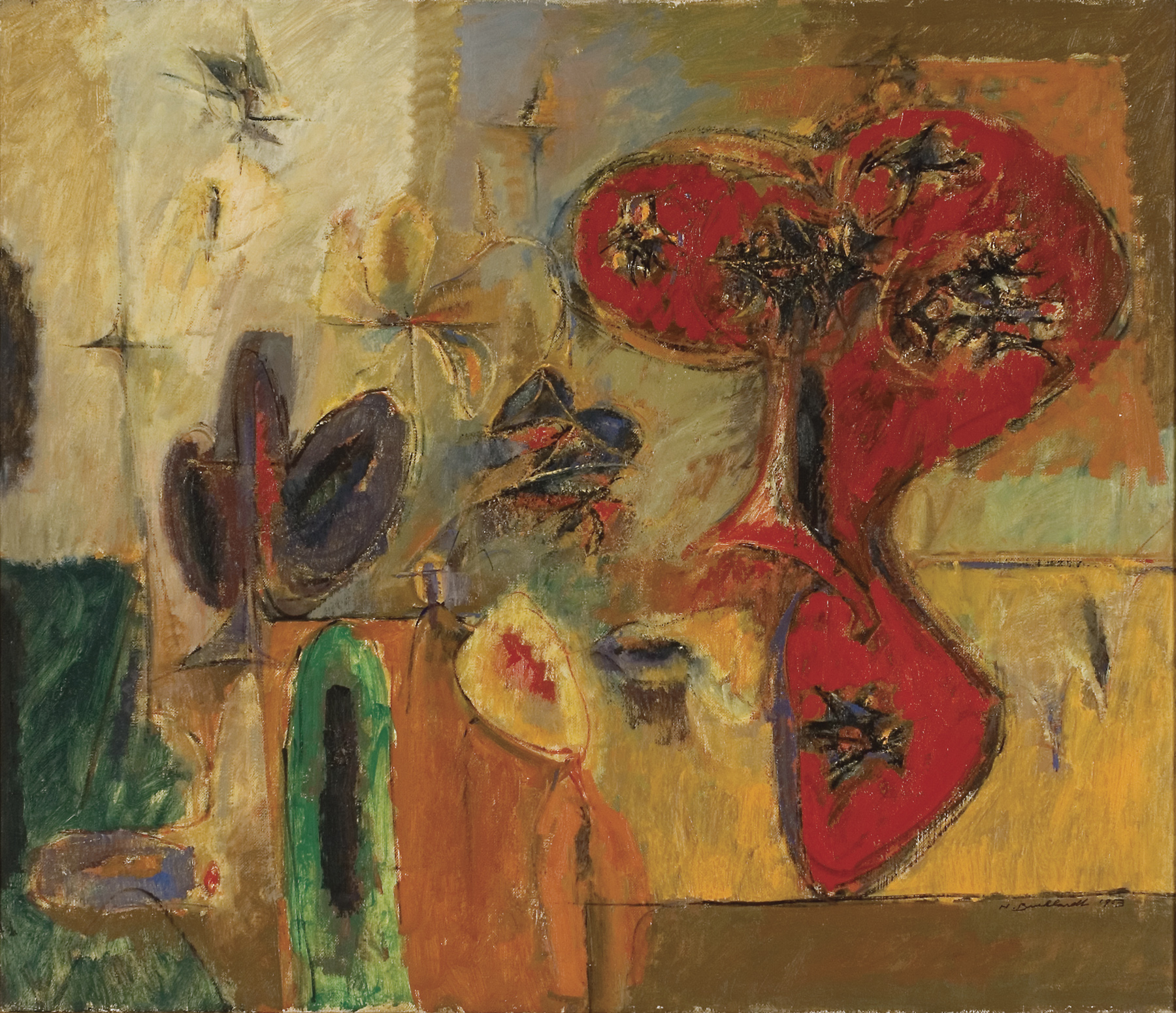 Hans Burkhardt: Within & Beyond The Mainstream | Burkhardt was both critically celebrated and "censored," as his works proved controversial in the years leading up to the McCarthy Era, when modern artists in L.A. were seen as Communist threats. Particularly controversial were his anti-war paintings and Hollywood studio strike paintings, including his "indictment" of then, Screen Actor Guild head, Ronald Reagan. "Less incendiary" subjects also proved controversial, such as his Crucifixion Series - condemned for his use of red color and abstract style, regarded as subversive; examples of which are included in Hans Burkhardt: Within & Beyond the Mainstream.
Works of the 1950s onward were hugely influential to young artists emerging onto the scene. Artists ranging from Ed Kienholz, John Altoon, Karl Benjamin and Tony Berlant are among those impacted by Burkhardt's independent and provocative works, as he received extensive critical recognition.
Hans Burkhardt: Within & Beyond The Mainstream opens September 24 at Jack Rutberg Fine Arts
Popular in the Community