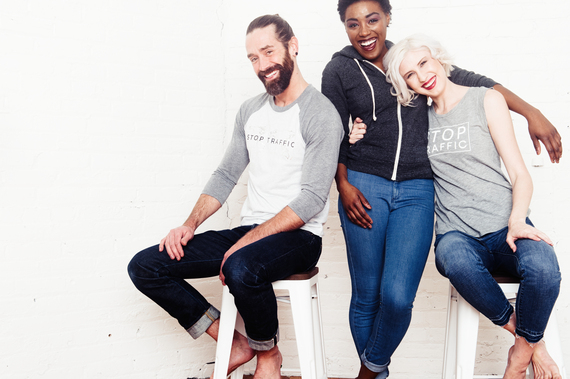 My Sister -- a Minneapolis-based apparel company-- is trying to combat human trafficking, one t-shirt sale at a time. Six percent of their proceeds directly fund work being done through two nonprofits: MN Girls Are Not For Sale, and Maiti Nepal.
I asked company co-founder, Mandy Multerer, how it all began, and what she hopes the future will hold.
Your first anniversary is approaching! Congratulations on your success so far. How did you start the business?
We started with focus groups of girls and women all over the country to find out what they know about trafficking, and what might inspire them to get involved. That early feedback really helped build our brand, and make it what it is.
We're an empowering and hopeful company with a strong support base.
To date, we're proud to say that we've raised over $33,000 for our non-profit partners.

Can you tell us a bit about your background?
My background is in design, marketing and photography.
I've always been a creative person, so when I had an opportunity to combine those skills in the fashion world with an empowering message, for a good cause, it was an ideal fit.
My business partner grew the socially responsible chocolate company, Endangered Species Chocolate, raising millions to protect endangered species around the world, and provide fair trade employment in those communities for local farmers.
His determination to help children become strong, thriving adults, drove him to use a similar business model for fighting sex trafficking and providing a better future for children and women trapped in that life.

How did you 'decide' on trafficking?
Trafficking has been a serious issue for too many years. And one that doesn't get enough attention. It impacts over four million children and women a year, with the FBI estimating that over 100,000 children and young women are trafficked in America today. They range in age from nine to 19, with an average age of 11. Trafficking will keep growing exponentially if we don't start taking action against it.
Has the work been challenging?
From a market perspective, educating and inspiring people to want to make a change has been a challenge. Trafficking is a misunderstood and overwhelming issue and can seem daunting to tackle.
In what sense is it misunderstood?
Most people think of trafficking as abductions or kidnappings, like in the movie 'Taken.' That does happen but, in reality, it represents a small percentage of the way that people get trapped into a life of sex trafficking. Overseas, it is very common for traffickers to approach young women in poor or small villages with the promise of a great job in another country. The women agree to take the job and often get trafficked into brothels.
Domestically, it often happens where pimps and traffickers target vulnerable teens and women. They condition them, sometimes referred to as "boyfriending," into entering the life.

One of our employees found herself trapped in this cycle. She was not kidnapped or abducted, but she was a vulnerable teen. After a tumultuous upbringing by mentally ill parents, someone introduced her to the life and she saw it as her only opportunity. Once she entered that world, it seemed impossible to get out.
That's why My Sister is committed to giving survivors a chance through employment. We hope to continue this commitment as we grow our staff.
Someday, we hope to have a survivor lead My Sister as our CEO, so she can use her voice to inspire others.
Related