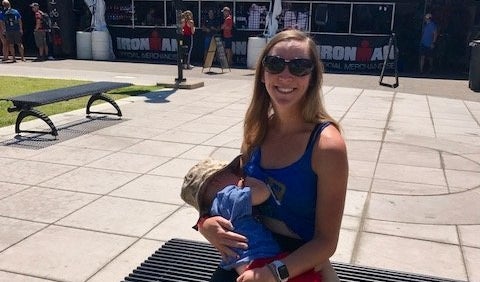 A California mom is making headlines after pumping during an Ironman triathlon.
Labor doula Katrina Bolduc signed up for her first Ironman in 2015 but was unable to compete after learning she was pregnant ― a complete shock as she'd been told she likely couldn't have children due to her stage three endometriosis and surgeries that left her with only one ovary.
When she finally got the chance to do a full Ironman this summer, she was determined to make it work with her son's needs.
On Sunday, the popular Facebook page, Breastfeeding Mama Talk, shared a photo of Bolduc, along with her pumping story. The mom wrote in the caption:
"Here's me nursing my 19 month old son at Ironman Village this weekend. This was my first full Ironman ― 140.6 miles! I was nervous about nursing/pumping and worried about how my pump would get to and from the two transitions without me getting disqualified from taking something from my husband. I talked with IM staff and they were amazing! Not only did they help me find a solution, but they were supportive and even took responsibility for my pump and brought it from T1 to T2 and made sure it was in my run gear bag for when I arrived!"
The post received more than 6,000 likes. The competition, which took place on Saturday, was Bolduc's first full Ironman after competing in a half Ironman in May and several other triathlons, bike races and running events over the years.
Bolduc told HuffPost she was happy to learn that Ironman as a company supports breastfeeding athletes and employees. Race staff brought the mom her pump so that she could express milk in the two transition times between the swimming, biking and running events.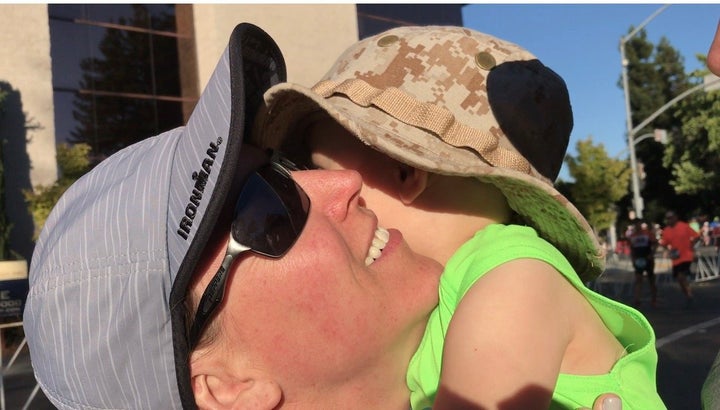 Her main goals were 1) to pump enough to allow her to race comfortably and 2) to finish in under 15 hours, Even with the extra minutes added for her pumping, her official time was 14:57:03.
Bolduc decided to share her story to empower other women. "I think our society tends to shame women, and especially moms for pretty much everything," she told HuffPost. "I am a breastfeeding advocate, mat and aerial yoga instructor, athlete, and labor doula. I believe that it is very important for me to practice what I preach and to promote evidence-based information."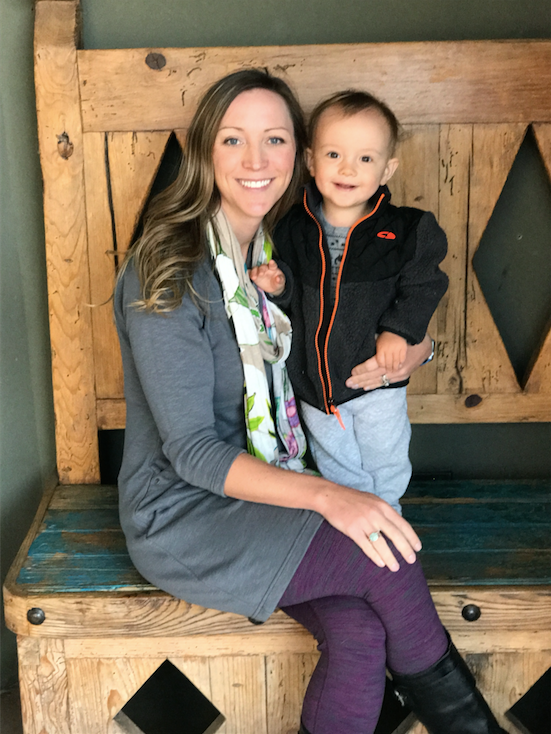 She added that breastfeeding is a huge part of her life and she plans to follow the World Health Organization's recommendation that babies drink breast milk until they are at least 2 years old. As a breastfeeding advocate, Bolduc tries to focus on the empowering parts of breastfeeding.
"I have heard and seen, and experienced my fair share of rude and derogatory comments, hurtful messages, looks and attacks on breastfeeding women, and it is absolutely appealing, and so incredibly disappointing," she said. "I wanted to share that it is possible to be an athlete, mother, breastfeeding, and still following your dreams."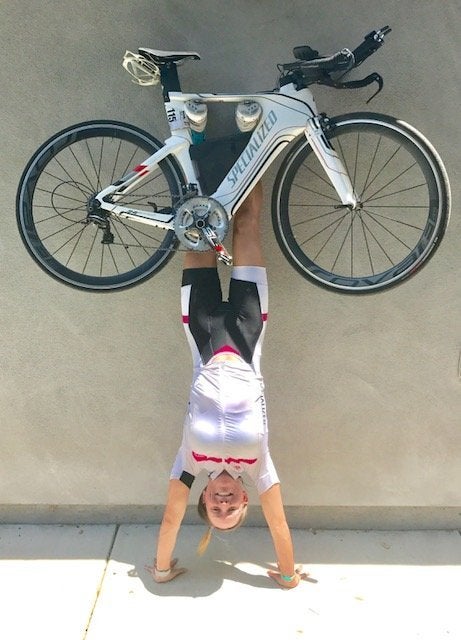 "I was inspired to share with everyone that despite what onlookers say, despite how you may or may not be treated, you should always do what you think is best for you and your family. You will be incredibly surprised by the kindness, generosity, support, and empowerment you receive from other individuals, companies, places, and experiences."
Ultimately, Bolduc encourages mothers to focus on doing whatever is best for them and their families ― and focus on the kindness and support they receive from others ― not the negativity.
"I always tell my doula client, 'You do uterus,' and I mean that! I want women everywhere to be true to themselves and to their families. I want mothers to be what is best for their families and not worry about what kind of backlash they will get."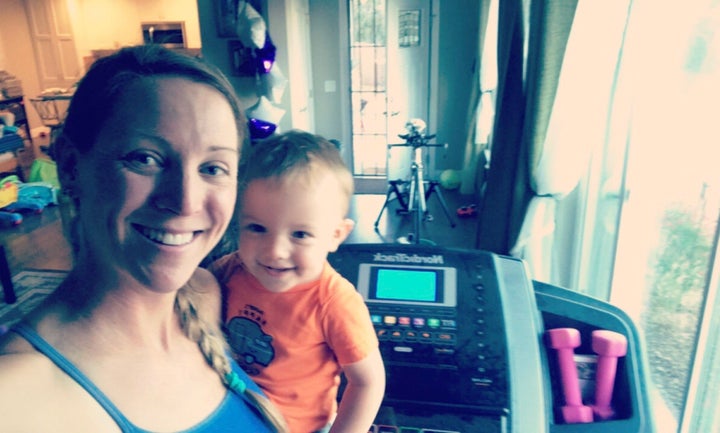 Although Bolduc has received mostly positive feedback to her story, she told HuffPost she's also gotten her fair share of unkind and hurtful comments and messages. She chooses not to respond to them and encourages others to do the same. Instead, Bolduc urges people to build each other up and support mothers everywhere.
"There has been an outpouring of love, support, encouragement, empowerment, and motherhood ― and it is absolutely beautiful," she said. "We are building bridges, providing education, and making a difference for mothers, athletes, and breastfeeding women to come, and it is truly an honor to be a part of it all."