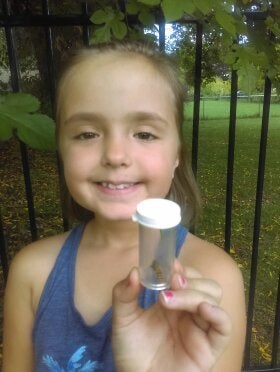 When Sophia Spencer was 2 years old, a butterfly landed on her at the Niagara Falls Butterfly Conservatory. After that, according to her mother, Nicole Spencer, Sophia was hooked on bugs.
In addition to loving to read about bugs and have her mom Google information about them to read to her, Sophia loves live specimens. "If she keeps a bug, she always names it and will talk to them and kiss them," Spencer told HuffPost. "When she has one, she always makes sure to learn what it eats and what the best habitat for it is."
Sophia's love for bugs used to get her bullied by her peers, but after an outpouring of love and support from the scientific community online, she has a newfound confidence in her scientific pursuits ― along with her first byline in a scientific journal.
Afraid that being called "weird" and "strange" would cause Sophie to give up her passion, Spencer wrote a letter to the Entomological Society of Canada last year. The letter explained that she had an 8-year-old daughter who loved to "learn and explore the world of bugs and insects" and asked if a professional entomologist would be willing to speak to her over the phone or write her a letter encouraging her in her pursuits.
Last August, the Entomological Society tweeted out the letter, writing, "A young girl who loves insects is being bullied & needs our support" and using the hashtag "#BugsR4Girls."
In response, entomologists from all over the world reached out in support of Sophia and offering their time and resources.
In addition, Sophia began working with the entomology Ph.D. candidate who wrote the original tweet, Morgan Jackson, on a paper about the applications of social media in improving representation in the sciences, which has since been published in the Annals of the Entomological Society of America.
According to Spencer, Sophia's lessons from Jackson continue. "This last week she caught a fly and it had 'babies.' Morgan called her on Skype to walk her through the process of raising the larvae to maggots and flies, which she plans to release. We are now the proud owner of over a 100 maggots in a bug container. She feeds them composting food everyday and is fascinated by the rapid development that is happening," she told HuffPost.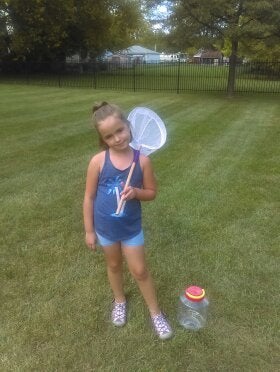 These days, Sophia is sure that she wants to be an entomologist and work with grasshoppers when she grows up. And while she used to take the bullying of her peers to heart, Spencer says she's now learned that she's not weird for loving bugs.
In a section of the paper entitled, "Outcomes and Benefits for Sophia, in Her Own Words" she writes, "If somebody said bugs weren't for girls, I would be really mad at them, but I wouldn't do anything, I would just not talk to them. I think anything can be for anybody, including bugs."
For her mom, the experience has been overwhelming but gratifying.
"I had to watch as she became sad over bullying and sadder still when she thought she had to give it up to fit in. Then I got to see how her confidence came back and her passion only grew. Now again I am witnessing a little girl believe in herself more firmly and the excitement and love for entomology grow."
Popular in the Community