We're peanut butter and jealous that we don't live in Canada.
So, because the world is great, The Works Gourmet Burger Bistro is introducing a confection worthy of clogging all your arteries just in time for National Chocolate Day.
The Canadian burger chain introduced us to the burger called the "Reese PBC" last week and it's been making us salivate ever since.
This burger is basically a party with its Reese Peanut Butter Cups, beef patty, crispy onion strings, and strips of smoked bacon. It's the perfect marriage of savory and sweet.
Now, we know what you're thinking: THAT SOUNDS AMAZING! (If you're not thinking that, well, you probably need to broaden your horizons. Also, isn't it shocking that this WASN'T made in America?!)
Kate Notwell, one of the lovely individuals behind this bodacious burger, gave us some words of wisdom:
"To those who hesitate to try this burger, we say #wedareyou... it's pretty much your duty on National Chocolate Day!"
The burger sells for a cool $15.98 so if Notwell's nudge isn't doing it for you, we encourage you to spend your dough on another sweet. Maybe the world's largest Reese's Peanut Butter Cup? That baby is only $9.99 and it's pure, unadulterated PB and bliss.
Whatever you decide today, we wish you all the chocolate kisses.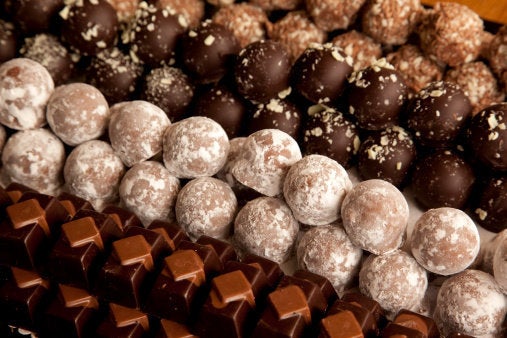 Chocolate Porn
Popular in the Community