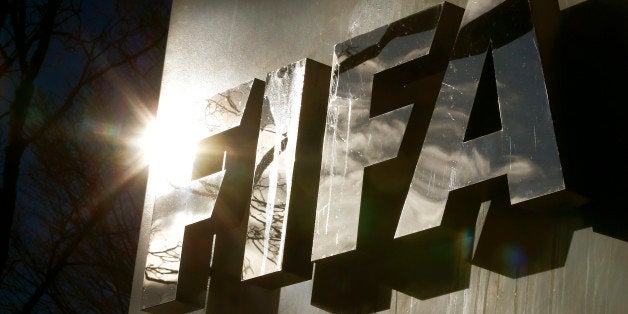 Into the gap between rhetoric and reality stepped John Ruggie, the Harvard Professor and former assistant secretary general at the United Nations, who developed the very principles which FIFA had committed to uphold.
An advisory contract between FIFA and the Harvard Kennedy School of Government, where Ruggie teaches, was agreed as FIFA's top leadership were arrested or deposed and while thousands of workers who are building the 2022 World Cup facilities and infrastructure are virtually imprisoned in the slave state of Qatar.
Forced to live in squalor with poor quality food and often inadequate amounts of clean water workers in Qatar are paid poor wages and often not paid for months on end. No worker can leave an unsafe or abusive work environment or even exit the country without the employer's permission.
FIFA knew all of this when it ignored alleged corruption in the voting practice and awarded the World Cup to Qatar. They didn't care and for five years have ignored any responsibility for demanding an end to the Kafala system of modern slavery and for ensuring the respect for human and labour rights that the UN Guiding Principles on Business and Human Rights upholds.
FIFA stood by and watched the vital infrastructure for the 2022 World Cup including roads, rail lines, hotels, malls all be constructed or maintained by the use of men and some women who had no freedom, were denied fundamental rights and are treated as less than human.
Ruggie's straight talking language which has brought together the sometimes incompatible world of business and human rights has defined for FIFA's elected officials, staff and member organizations exactly what human rights means.
"Internationally recognized human rights include rights to life and physical security, non- discrimination, rights to freedom of thought, expression and religion, freedom of assembly and of movement, rights to education and work, to family life and privacy, to food and water, freedoms from torture, slavery or forced labor, as well as rights to fair and decent working conditions, including freedom of association and the right to bargain collectively."
This could change everything.
It puts FIFA on notice that a massive change in their operations is necessary and it offers Qatar an opportunity to change if it wants to retain the World Cup in 2022.
There should be no World Cup in Qatar without workers rights, and Ruggie has laid bare for FIFA its responsibilities.
"Where FIFA is unable to reduce severe human rights impacts by using its leverage, it should consider suspending or terminating the relationship. Where this is not possible FIFA should at a minimum explain its efforts to mitigate the impacts as transparently as possible."
The independent public report makes a total of 25 recommendations on how FIFA can respect human rights and meet international standards in upcoming tournaments in Russia 2018 and Qatar 2022 and in future World Cup bids.

"Short-term priorities must include addressing human rights risks in tournaments that are already scheduled, and using every opportunity to press host countries to support FIFA's new statutory human rights commitment."
It's clear there can be no cherry picking of individual recommendations; it is one package that FIFA must pick up. But three paragraphs which define human rights, the power of FIFA and the need to act now, from a 42 page report could make all the difference for workers lives in Qatar.

FIFA has a statutory responsibility on human rights. It can simply set the conditions for Qatar that will improve conditions for more than 1.8 million workers. They include:
• Reform of the kafala system, starting with the elimination of the exit visa;
• Worker representation - a collective voice with elected representatives, collective bargaining and workplace safety committees;
• Employment contracts through direct employment or via large, reputable recruitment companies;
• End the race based system of wages with a non-discriminatory living minimum wage rate; and,
• Put in place an effective grievance procedure inclusive of contractors, and an independent labour court.

Ruggie's report will serve as a benchmark not only for FIFA but for all sports federation. No sporting organization can do it alone. We need an international independent process to reinforce this, but for today, thank you John Ruggie.
FIFA, Qatar - the world is watching.
Calling all HuffPost superfans!
Sign up for membership to become a founding member and help shape HuffPost's next chapter