A wall costume that reads "Mexico will pay!" is one of the latest additions to a growing list of offensive outfits on the Internet, and Jerónimo Saldaña is not having it.
The 37-year-old Chicano is best known for developing the popular "Make America Mexico Again" hats with the Latinx organization Mijente. He's also the man behind a petition asking Amazon to take down the wall costume, which he says is "anti-Latinx."
"I first saw the Amazon costume on my friend's Facebook timeline," he told The Huffington Post. "My social media community has become such an important part of resistance and staying vigilant."
"I had seen the racist costume during the presidential campaign during news coverage of Trump rallies and always found it offensive," he continued. "Since Trump's election, I have read articles reporting instances of high school students chanting 'build that wall' and 'Trump' at students of color and immediately connected those incidents with the normalization of white supremacy, which I believe this costume represents."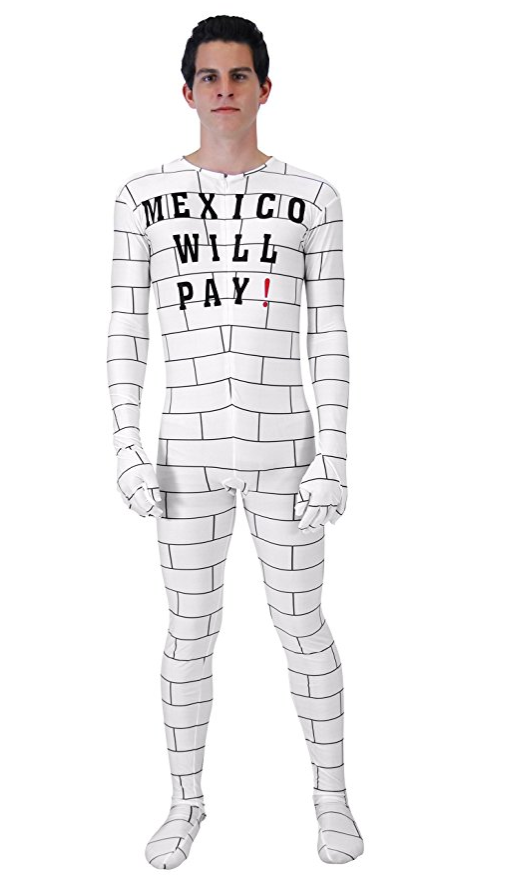 "The petition is a simple act of resistance meant to push back against the normalization of hate," he told HuffPost. "Its creation is a tool for informing folks on social media that Amazon is helping to perpetuate violence against Latinxs by allowing for the sale of this racist costume."
"I think it's important for consumers to know what Amazon condones and perpetuates. The petition is a tool to hold them accountable and to let their CEO know that Latinxs will not tolerate the sale of items promoting hate and xenophobia," he continued.
The Los Angeles native, who currently lives in New York City, said he has not heard from Amazon since he started the petition. Amazon did not immediately respond to a request for comment from The Huffington Post regarding the costume and petition.
Popular in the Community