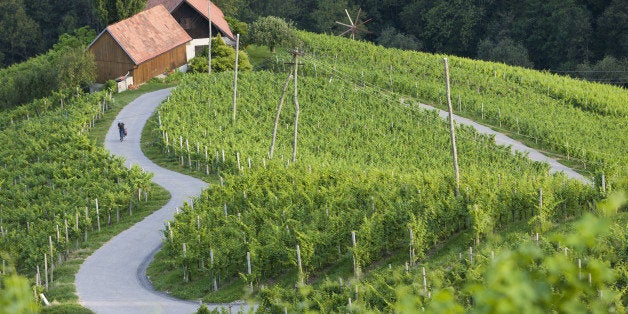 The only country to have the word love in its name has a lot of great things to offer when it comes to amazing Christmas presents. So, if you are one of those who still hasn't found the right present for all your loved ones, surprise them. This holiday season bestow them with a gift made in Slovenia. Perhaps promise them a visit to find out if love truly is all around this small European country.
Slovenia is famous for a lot of things, but one thing is for sure - it makes excellent wines known for their quality and taste. While the number might not be so impressive - 80 to 100 million liters of wine are produced every year - almost 70 percent of Slovenian wines fulfill the criteria for quality and premium wines. Proving that Slovenia has great conditions for winegrowing as well as experts who know exactly how to use all the nature has given to produce wines that will convince even the fussiest. When choosing the right bottle for a gift try the autochthonous varieties, such as the zelen and pinela from the wine-growing region of Vipavsko or Teran, from the Karst region.
But if you think your loved one needs more of a lift me up this holiday season, why not try Slovenia Vodka, created with the waters that flow from the Julian Alps and just a little bit of buckwheat, which is a very common grain that grows wild in Slovenia. Or go for many different varieties of schnapps, like blueberry, honey, pear...
Slovenia is the only European Union Member State to have protected its native bee, the Carniolan bee and that's just the beginning of the bee-keeping story. Not only is the honey of really high quality, you get plenty of choices - flower, forest, acacia or spruce honey etc. And not only is the honey purely delicious, it's full of health benefits. Though these days bee-keepers also got a bit more creative and you can find other honey products, if you don't think honey itself will make the cut.
When talking about food and Slovenia you could of course chose a lot of different things, like the amazing prosciutto from the Karst region, special dessert Gibanica from Prekmurje, or potato cooked dumplings with filling - Idrijski žlikrofi. All great options, but in my opinion I think you just can't go wrong if you pick the amazing sheep cheese made around my favourite town in Slovenia, Bovec. Its taste is amazing, yummy and well with a perfect bottle of wine you have yourself a winner.
Enough of the food tips, well, how about finding a perfect crystal glass to toast to the upcoming year? Slovenia has one of the leading producers of crystal ware in the world and the Rogaška trademark is among the best with its designs and quality.
Of course you can go for the lingerie, but that might not be appropriate for everyone. Still lace can make a terrific present and in Slovenia lacemaking has a long tradition, the beginnings going back to the 16th century. The most famous lace around is made in Idrija, hence the name Idrija lace and while you won't find panties, you can chose from cloths, napkins, bed linen, clothes, even earrings...
It might sound weird buying salt as a Christmas present, when almost definitely everyone already has it. But the Piran Salt Pans are among those rare salt pans in the world where salt is produced using centuries-old processes, involving natural crystallisation and working by hand. So, a bit of a gourmet treat for all those who can appreciate it or going for cosmetics using these salts for a bit of pampering.
Finally, why not promise a visit to Slovenia. Include this small gem of a country to your bucket list and use the time in 2015 to come and discover where all these mentioned items come from. Walk through the wineyards, swim in the sea or hike in the hills, where plenty of other amazing things await you.