A North Carolina church that has welcomed lesbian, gay, bisexual and transgender (LGBT) parishioners responded in the most beautiful way possible after being targeted by homophobic vandals.
Earlier this month, Charlotte's Wedgewood Church displayed a sign on its front lawn that read, simply, "LGBT Equality." Sometime between Aug. 19 and 20, however, unidentified vandals scrawled "Fags are Pedos" across the church's front doors and covered the sign itself in black spray paint. According to WCCB Charlotte, the case is still under investigation as a possible hate crime.
In a lengthy Facebook post, Wedgewood Rev. Chris Ayers called the vandalism "heart-piercing." and told The Huffington Post in an interview that he didn't interpret the incident as an attack on his church as much as a general expression of hate against the local LGBT community as a whole.
"I thought of my friends and all the people throughout the years whose stories I've heard over the years, and how this was just one more rejection," he said in the interview.
Once he and other church members posted images of the vandalism on Facebook, Ayers said the response was overwhelming. As it turns out, it isn't the first time that the church has been targeted by vandals because of its pro-LGBT stance. About seven years ago, he said, the letters in a sign on the church's front lawn were re-arranged to read "A Lesbo Church."
"So many people wanted to do something," he said. "We didn't want to take money for people, but we did want to provide some kind of experience, some kind of event that would allow people to be a part of a healing process."
With the help of church deacon Kimberlee Walker, Wedgewood members decided that the best response was to paint the front doors of the church in rainbow colors as a symbolic message to the alleged vandal and the community as a whole, Ayers said. On Saturday, he also oversaw a special, 30-minute "Paint The Church's Front Doors" worship service and reception in which parishioners themselves could partake in the painting process. That service, he said, drew parishioners from varying denominations and different churches across the state.
As these images attest, the results were stunning.
Ayers said the paint job is just one more example of how Wedgewood aims to "let people know "that there are churches and Christians out there who believe that sexual orientation and gender identity are not sins, but great gifts from God," as well as "celebrate the tremendous courage for those who came out so long ago and set the stage for the wonderful things that have happened."
So far, he said, the response to the doors has been positive, although he has received a single email criticizing the paint job.
"We don't worry about that. We've had people unhappy with us for a long time, so that doesn't really bother us," he said. "We're for the full equality of all people, and [the LGBT community] is an important part of that."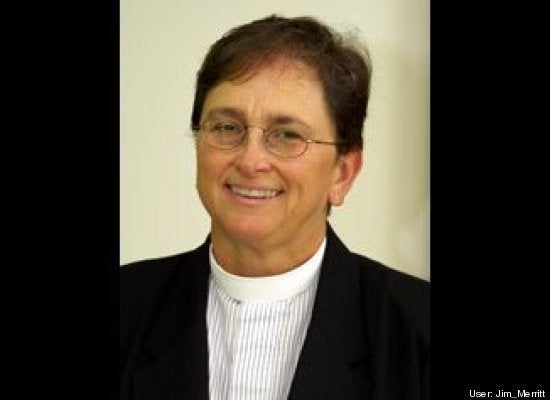 Most Inspiring LGBT Religious Leaders