Date night was a great night for couple Corinne Larsen and Brandon Scully.
On Sept. 3, Brandon took his girlfriend of seven years by surprise when he popped the question during a night out at Painting with a Twist ― a group painting and wine class ― in Jacksonville, Florida.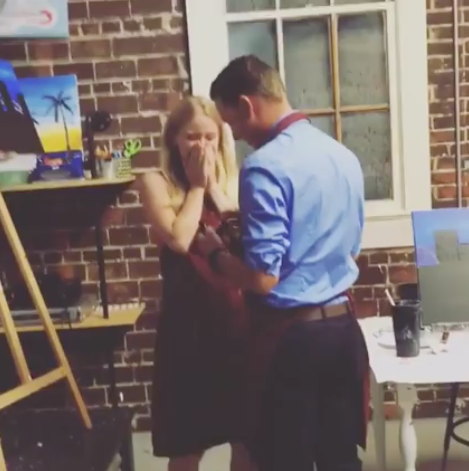 Originally the plan was to go out to dinner and then head to the paint party afterwards. Because they were running behind schedule, they cancelled their dinner reservation. But Brandon was set on making it to the second part of the evening.
"We were driving through pouring rain to get to the painting place, thanks to some storms following Hurricane Hermine," Corinne told The Huffington Post. "In hindsight, I should have noticed that Brandon was uncharacteristically persistent about painting, but I was happily oblivious."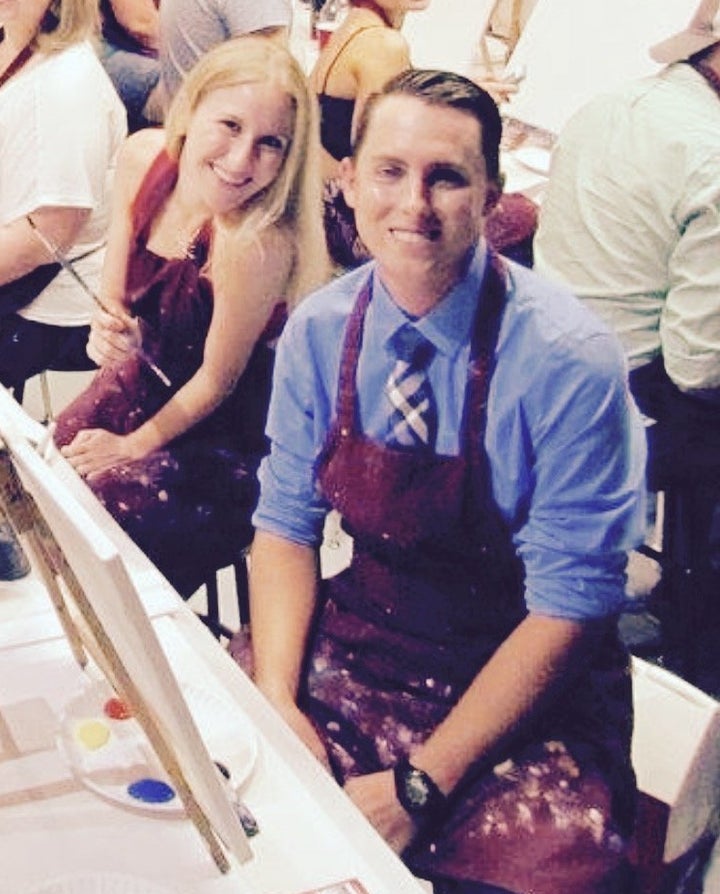 The instructor informed the class that they would be playing games throughout the evening. One game involved putting each of the participants' names on a piece of paper in a bucket; if your name was drawn, you won a prize. Unbeknownst to Corinne, Brandon was in cahoots with the instructor and made sure his girlfriend's name was called.
"I was excited to win ― who doesn't like winning? ― and since she mispronounced my name, it didn't seem out of the ordinary," Corinne told HuffPost.
The "prize" was a painting with the words, "Will you marry me?" It took a second for Corinne to realize what was happening.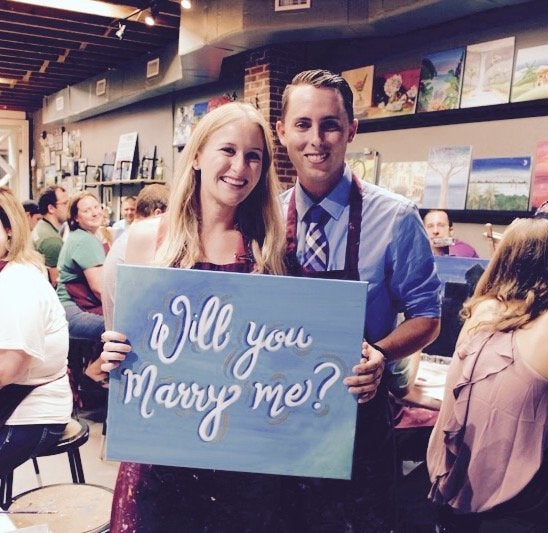 "At first, I was confused," she said. "Frankly, a bright blue painting with some words on it didn't seem like a painting worth hanging. When I read it, I was so surprised! My eyes welled up and I didn't know what to say – even though I knew exactly what to say! Yes! Then there was kissing, and then crying, and more kissing, and more crying."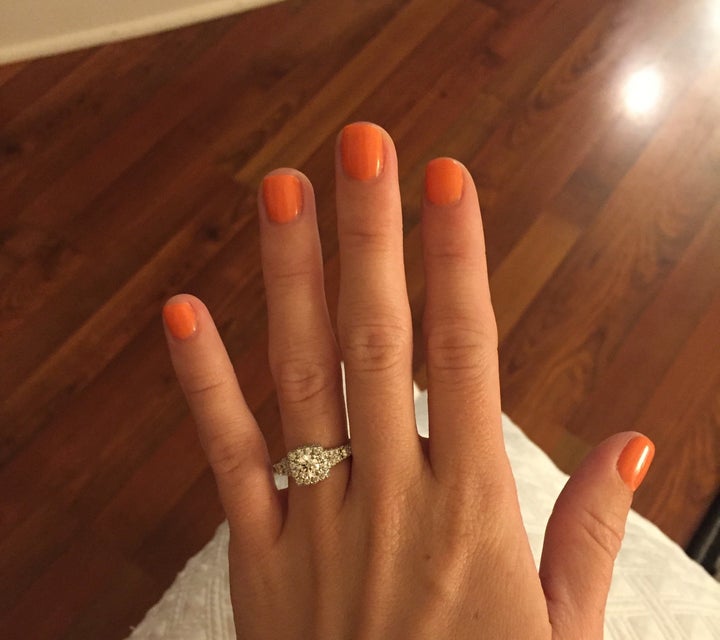 The sweet couple first met in the summer of 2009 while they were both working at a Pizza Hut in Alachua, Florida ― she as a waitress and he as a delivery driver. Corinne was headed to a 4th of July fireworks show one night and asked Brandon if he would drop her off somewhere nearby so she didn't have to deal with parking.
"On the way there, we got stuck in some traffic, and had a chance to talk," she told HuffPost. "We talked about our lives and our families. The conversation was easy, and if given the choice, I would've missed the fireworks to stay in traffic in the truck with him. Eventually I did get out to walk the rest of the way, but I knew I was in trouble!"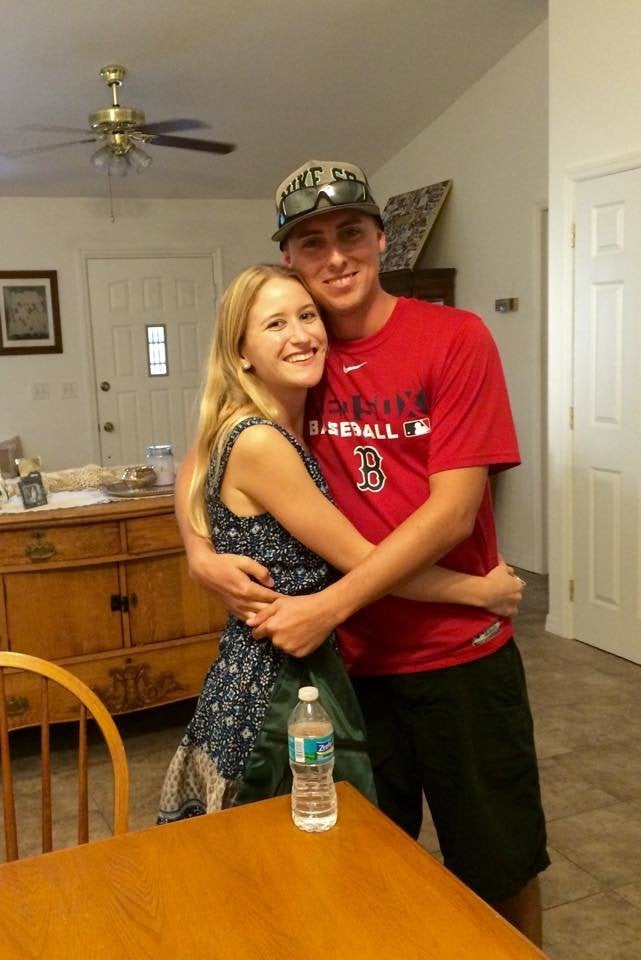 Corinne and Brandon are currently in a long-distance relationship with her living in Boston and him living in Merritt Island, Florida.
"We've been able to live together a handful of times, and before the wedding we'll have to settle on where to settle down, but for now we're just happy," she said. "When people ask where we're going to live, I usually just tell them Cloud 9."
Related
Before You Go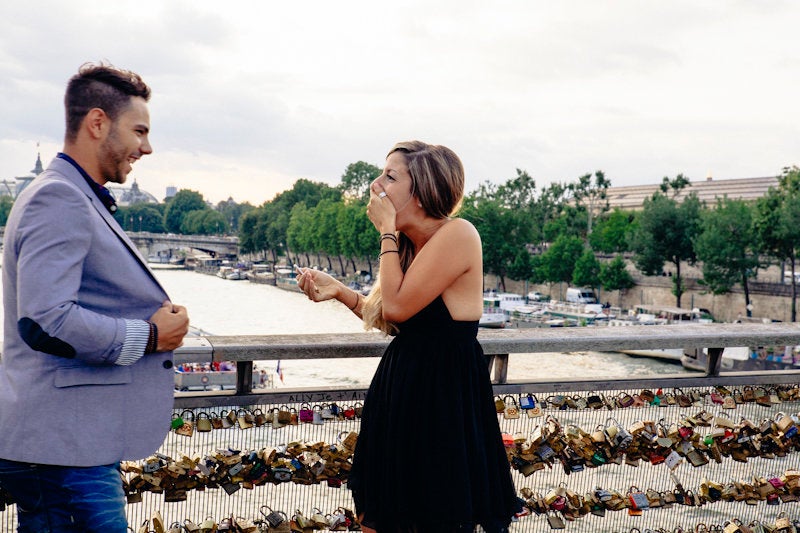 Surprised Proposal Reactions