A pair of newlyweds celebrated their wedding day with a family photo that depicts two generations of love.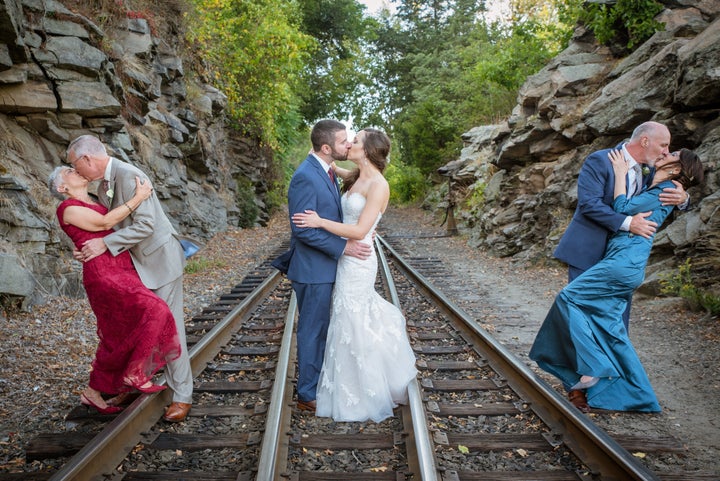 After Kalin, 28, and Matt Haley, 28, exchanged vows at their Oct. 7 ceremony at Essex Park in Conn., the couple and their guests took a 40-minute steam train ride to The Lace Factory in Deep River.
The event space, a former shipbuilding yard from 1875, was the perfect location for the couple of 10 years to celebrate their new life together and snap some family photos.
However, one image, in particular, shot by photographer Ashley Abel, stands out for evoking nostalgia.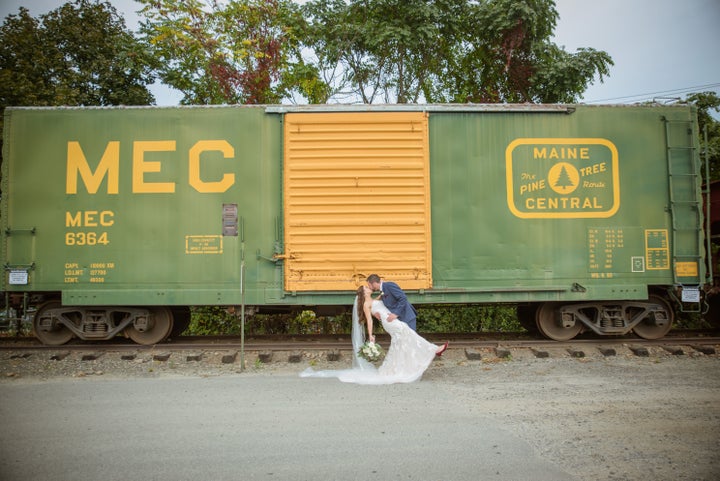 In the shot, the newlyweds stand on a set of train tracks locked in a kiss, flanked by both sets of parents who are also kissing, with the men dipping their wives.
Kalin's mom, 61, and dad, 55, who have been married for 30 years, stand to the couple's right, while Matt's parents, both 65 and married for nearly 50 years, are on the left. "Both our dads still swoon over their wives," says Kalin.
"Ashley suggested that everyone kiss and initially our parents said, 'No, no' and were apprehensive but they just went for it," Kalin tells Yahoo Lifestyle. "Then Matt's father saw my dad dip my mom — you can see her laughing in the photo — so he did it too."
For the couple, who got engaged during a hike in Petaluma, Calif., the picture represents the tight bond between their families. "It reminds me that love can conquer all," says Kalin. "It's special to have this photo."
Read more from Yahoo Lifestyle:
Popular in the Community