Matthew Smith has used a wheelchair for 20 years, ever since he suffered severe injuries in a motorcycle accident when he was 22 years old. Life drastically changed for him just over two years ago, however, when he got a service dog named Jericho. Jericho accompanies him everywhere, and reduces the anxiety he experiences in public places.
"Originally I pictured him just being a mobility dog -- as far as helping me move the wheelchair and picking stuff up," Smith told The Huffington Post. "I never could have imagined what an emotional help he would be."
Using a wheelchair "takes a big hit on your self image," the Maryland resident explained. "I found that Jericho takes a lot of that anxiety away from me. When I go into a store, I don't feel like they're looking at me, I feel like they're looking at Jericho."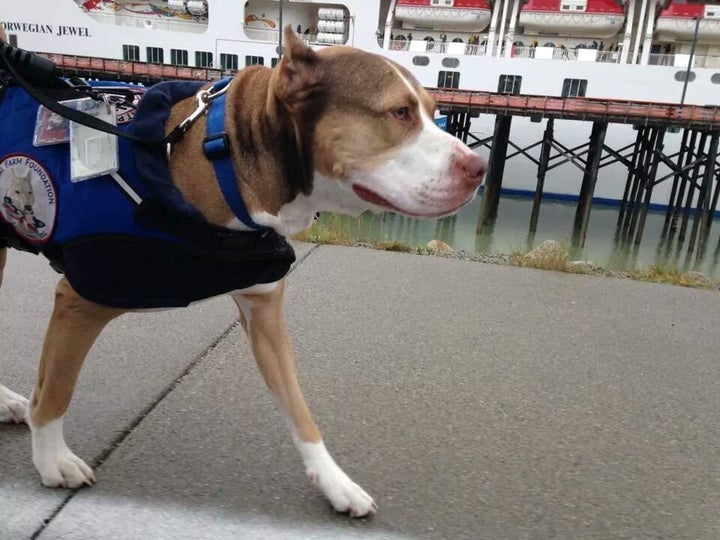 The five-year-old pooch was trained at the Duchess County, New York-based Animal Farm Foundation, a non-profit organization that hopes to "secure equal treatment for pit bull dogs," Apryl Lea, the organization's certified Assistance Dog International trainer, told HuffPost. "We want to show the community that pit bull dogs are just the same as any other kind of dog."
Jericho is just one of the handful of dogs AFF has trained to help clients with PTSD, immobility and other disabilities, as well as to help pummel the pit bull stigma. "They're just dogs," Lea said. "All dogs are individuals. We need to look at each dog as an individual."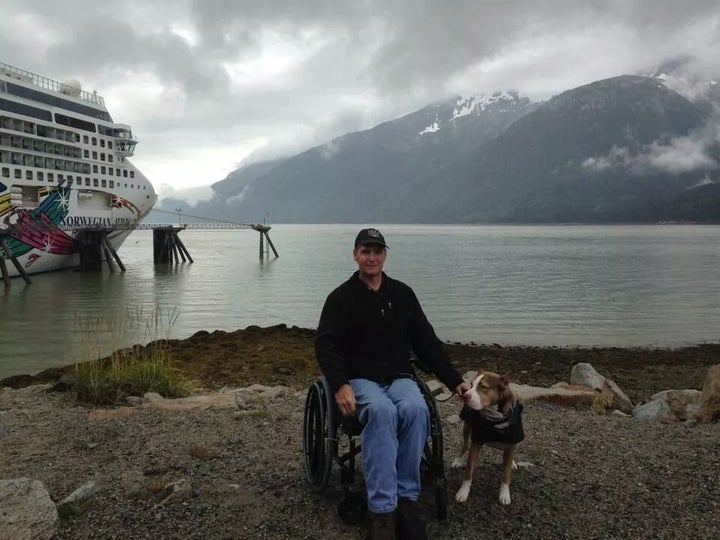 Lea and Smith agree that a pit bull service animal is also working to improve the image of such dogs. "We get stopped in public all the time," Smith said. "He's an attention grabber, and it's a good icebreaker. People are so happy to see him, and I've never had a negative reaction to his breed."
Jericho, Smith and Smith's wife recently went on an Alaskan cruise together. "I think most people knew Jericho's name than most of the people's name on the ship," Smith said, and he describes his dog just like any dedicated pet owner might.
"He's a one-of-a-kind dog. He sleeps with us, he goes out with us ... I absolutely consider Jericho a friend."
For the second year, The Huffington Post is holding a week-long, community-driven effort to bust the myths and raise awareness about pit bulls, a maligned "breed" that often bears the brunt of dated, discriminatory legislation that can make it near impossible for these dogs to find a forever home. You can follow along with HuffPost Pit Bull Week here, or on social media where we'll be using the hashtag #PitBullWeek.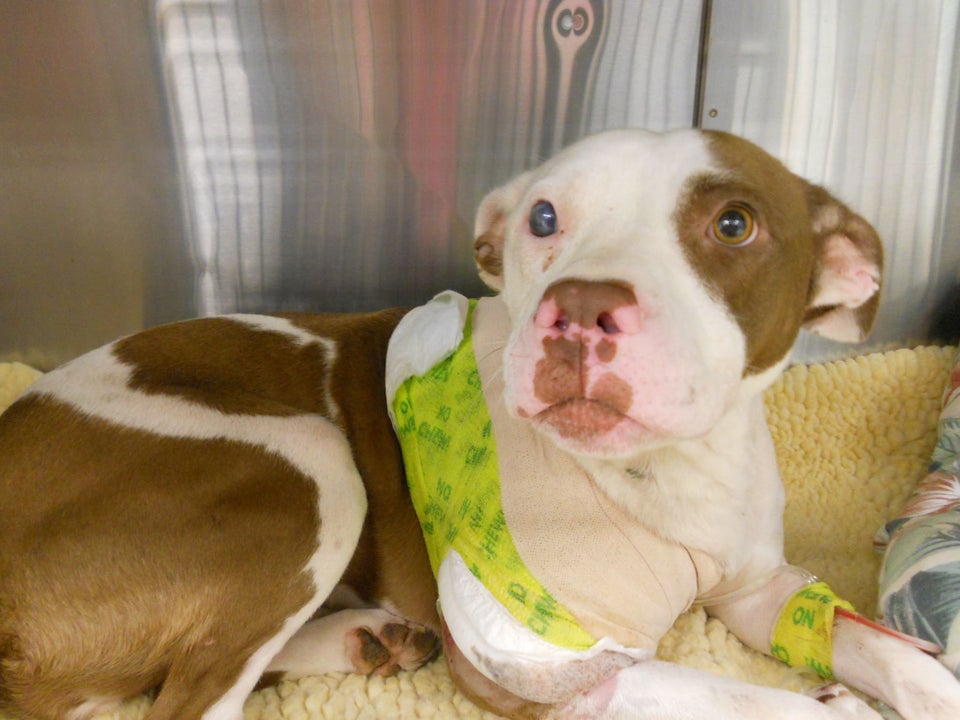 Heroic Pit Bulls