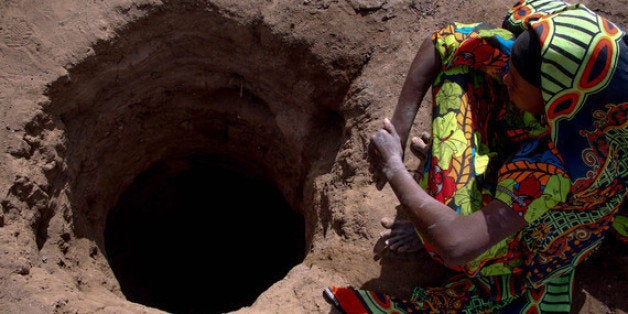 This blog is co-authored by UN Secretary-General's Special Envoys on El Niño and Climate: Mary Robinson and Ambassador Macharia Kamau; and Oxfam International Executive Director, Winnie Byanyima.
As a weather phenomenon, El Niño is a complex concept to grasp. Cyclical ocean temperature changes affect other weather patterns in complicated ways, resulting in drought, floods and more severe storms. To further complicate matters, El Niño is now also interacting with climate change in ways that we do not fully understand.
But when you look a mother in the eye as she tells you that she can't feed her baby due to the drought, El Niño's human cost is suddenly very clear. And when you remember that this mother is one of more than 60 million people affected by the 2015-2016 El Niño, it's clear that we are watching a massive but neglected humanitarian crisis unfold.
Over the past six months we have met with communities in dusty villages in Ethiopia, Honduras, Papua New Guinea, Swaziland, Timor-Leste, Vietnam and Zimbabwe, just some of the dozens of countries around the world that have been most affected by El Niño-linked drought and other environmental impacts.
Women like Victoria Sánchez Pérez in Honduras have told us that when her family's corn crops failed due to the drought, it meant they suddenly had no food or source of income. Now Victoria and her family are faced with selling literally all of their belongings in order to pay for food.
A lack of food or clean water affects every aspect of a person's life
In East and Southern Africa, some one million children already require treatment for severe acute malnutrition due to El Niño-linked drought. For these children access to treatment is literally a matter of life or death. Water shortages have also caused movements of people across arid regions in search of basic needs, disrupting education and livelihoods and creating greater protection risks. Women and girls are disproportionately affected as they are often responsible for fetching water, and may have to travel longer distances and take on greater risks, making them susceptible to exploitation in return for food.
People living with HIV and AIDS are especially vulnerable to food insecurity due to increased nutritional needs. Schools are closing; dehydrated or sick students are unable to focus on their studies. Malnutrition-linked stunting in childhood can also affect lifelong development and wellbeing. Poverty, inequality, competition over scarce natural resources and instability will likely deepen the crisis, threatening human security, undermining the achievement of the Sustainable Development Goals and undoing hard-won development gains.
Significant funding gaps remain
Donors and many national governments of affected countries have contributed generously but significant funding gaps remain. Five billion dollars is needed to address this urgent humanitarian crisis - but less than two billion has been received. In practical terms a funding gap of this size means that far too many people will be going hungry and thirsty; far too many people will not have the support they so badly need.
El Niño-affected communities must not be forgotten. They need immediate and intensified assistance that takes into account long-term impacts.
Tomorrow's problem may be even worse
As we have travelled to these countries and met with communities, governments and those providing assistance, the thing that's weighed most heavily on our minds is that this devastating El Niño is just a glimpse of what is yet to come. The 2015/2016 El Niño was a window into a climate future that is less predictable and more extreme. Although El Niño is not caused by climate change the two are locked in a deadly dance, stepping in time as human-induced climate change continues its march. We must do everything possible to drastically reduce the fossil fuel emissions that are driving the climate crisis. This means urgent mitigation action by developed countries and provision of the necessary financial support to ensure that developing countries can develop without emissions. But even if we are successful, future weather events like El Niño and its equally troublesome sister La Niña will be more frequent and severe than ever before.
This 'new normal' demands a different way of doing things, both in our actions to reduce and adapt to the impacts of climate change, but also in the ways that we prepare for, and respond to, these climate-linked threats. If we fail to do this, already vulnerable communities will become trapped in a never-ending cycle of environmental shocks and partial recovery.
The bottom line is this; when communities require humanitarian assistance for predictable weather events it means our resilience building and preparedness efforts have not succeeded. Communities are telling us that El Niño, La Niña and other weather events should not just be about humanitarian response, the focus should also be on risk-informed development that prioritises prevention, resilience and preparedness. All the evidence tells that this type of early action works, and that it provides exponential returns in terms of human dignity, safety and wellbeing, as well as countries' overall economic and social development.
In order to help communities prepare for, and respond to, this new climate reality, we need to look closely at the way that we operate as an international community. Donors, the UN, NGOs, civil society and communities themselves must work in partnership with national governments of affected countries.
We collectively must break this cycle - and we can. We know what needs to be done to prevent droughts and other weather threats from becoming disasters. We have the technical know-how. And now we are building the political will.
Two of us, Mary Robinson and Ambassador Macharia Kamau, have been appointed as UN Secretary-General's Special Envoys on El Niño and Climate. We will be hosting a meeting today at the UN, focused on alleviating the suffering of this current crisis, and dealing better with the next environmental threat. Winnie Byanyima will be speaking at the event on behalf of the NGO community.
We want to build agreement on defining clear roles and responsibilities for action
We're developing a blueprint for action that will help to guide the way, laying out the key steps that affected governments need to take to build their resilience to these episodes. UN agencies and humanitarian partners are also developing procedures for turning early warning into early action.
This means that long before an environmental threat rears its head, communities will be ready - and we will be ready to support them, in partnership with the governments tasked with protecting and caring for their people.
It is likely that the next climate-linked humanitarian disaster will be upon us even before communities have recovered from El Niño. Our development and humanitarian systems need to be climate-proofed and fit for purpose. If we fail to act now we will be letting down our most vulnerable communities and undermining the foundation principle of the Sustainable Development Goals - of no one left behind.
We have a moral duty to ensure that children and vulnerable communities are not devastated by the effects of El Niño. If we do not succeed in our mission we will be letting down those that need us most and the impacts will be felt for generations.
Photo: Water holes are drying up in Ethiopia. Credit: Abiy Getahun/Oxfam
Popular in the Community