GirlTalk's Founder Sarah Pendrick shares how she turned her worst day into her greatest gift.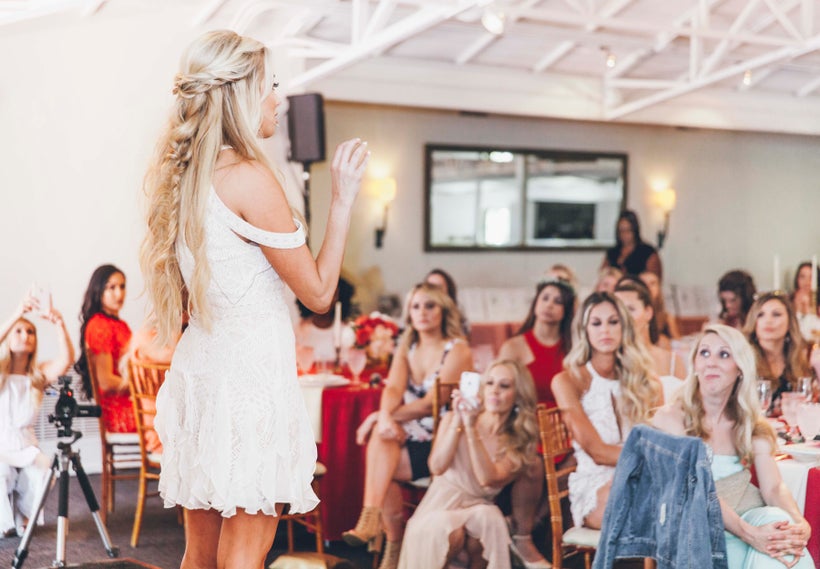 Over the last few days if you have spent any time on social media then you know the echo of "Me too" could be felt all over the world. What initially started as a call for awareness about sexual harassment and assault among women has now shown us that no matter what your gender, race, or sexual orientation you have likely been affected by this in some way.
Now that we understand the gravity of the situation, you might be asking yourself, "Where do we go from here?"
This is a question that Sarah Pendrick, Founder of GirlTalk, is on a mission to answer.
GirlTalk is an organization for women in all stages of their lives. Sarah initially created GirlTalk because of her passion surrounding women supporting each other and living a life full of self love. She wanted a place that any women could go and feel safe, empowered, supported and know that they are not alone. This safe place is created through the GirlTalk online community, her women empowerment event, and the other side of GirlTalk which is the Foundation. The Foundation helps this generation of women through programs and her tour, GirlTalk On The Road. GirlTalk On The Road is a national tour where Sarah travels to schools to give young women support and mentorship. Together they work with an advisor to customize each tour stop to fit exactly what the girls need. They have a whole production that goes on the road, which provides them with a safe place to share, connect, and overcome the struggles that young women face. 
"My mission is to give young women what I wish I would have had at their age and to make sure that women know THEY ARE NOT ALONE."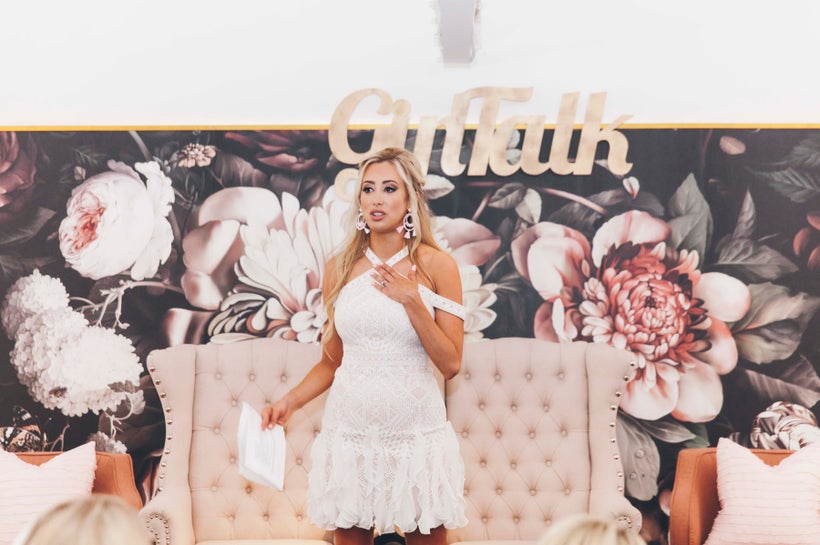 Sarah feels so strongly about this topic because she herself was sexually assaulted in college and she carried that secret with her for years before asking for help. She understands the shame and guilt that comes along with that experience. She recalls wanting to pretend it didn't happen and the fear of being judged and she never wants our younger generation, our sisters, our friends, or our girls to feel that way.
The way that she overcame that shame was through facing her fears, asking for help, and adjusting her mindset around what happened.
"I am not a victim. I am an empowered woman. I wouldn't change anything from my past because it has made me who I am and able to fight everyday to help others. Blood, sweat and tears [went into it], but also knowing I will never give up," says Sarah.
Now she has the opportunity to use her experience to help women. And her advice to others who have been affected by sexual violence is that "healing starts with supporting each other as men and women." Sarah believes the way we can better support each other is "by realizing that we never know what someone is going through and that it is up to us to lay down our judgements and fears and reach out. Sharing and support creates a positive change, when other people talk about any experience they have had it gives others permission to talk about their own experience, invites them to feel comfortable, and also lets them know they don't need to suffer in silence."
The way we can support each other is not by saying things like, "What doesn't kill you makes you stronger." Platitudes like this one can often make someone feel like their story is being dismissed. It takes a lot of courage for someone to admit what has happened to them and what they really need is validation. The way you can validate someone is by saying, "It is not your fault" and "You must have felt so ashamed." Let them release the emotions they have kept bottled up because they need to know that it is safe to do so. GirlTalk is a tribute to how sharing your story not only saves you, but it can save someone else from the trauma and pain they have been holding within themselves.
The power of creating a supportive environment is evident at her events. She has recently been touring across college campuses and during these events she opens it up to questions from the women in the audience. They have a phone number that participants can text their questions to so they may remain anonymous if they do not feel comfortable sharing openly. At a recent event the majority of the questions were asked via text message. She recalls that once she started answering the questions she saw a lot of the women in the audience agreeing with everything that was being said. Soon the girl who asked the initial question stood up and said, "I am the one who sent that text message." The amount of support and love in the room for that one brave girl erupted and was palpable. Other girls then felt the courage to share their stories and soon everyone was hugging and crying and offering support to one another.
It started with one person and as a result of that one person sharing an entire room of women was able to start healing.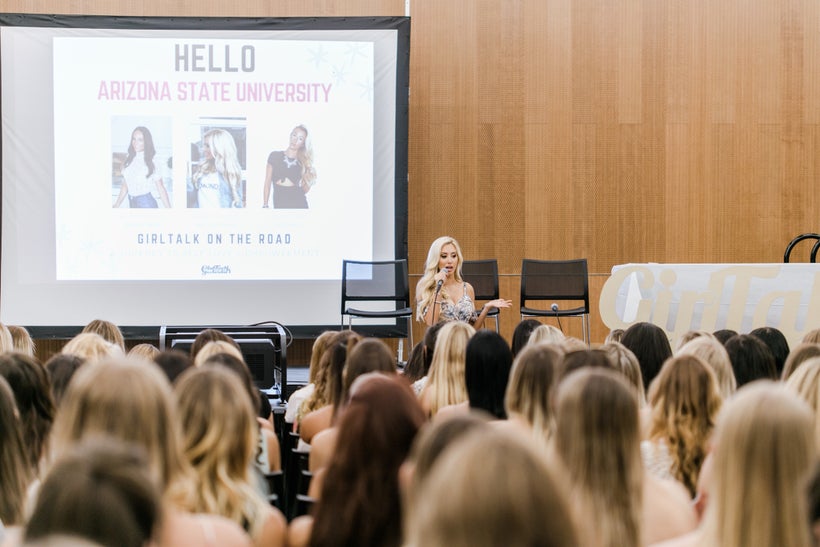 Today GirlTalk is on their Fall Tour and will be finishing up in November in San Diego They go back on the road in late January through May where they will also have some stops on the East coast. Their generous donations and sponsorships have allowed them to continue to strive for their goal of going to as many schools and areas as they can and they are constantly looking for ways they can reach more women!
If you would like more information on how you can attend a GirlTalk event you can follow @girltalknetwork on instagram and watch for announcements as well as ways you can keep the conversation going while being a part of a community where you know you aren't alone. GirlTalk's programs, events and vlog (coming soon!) can all be found on girltalknetwork.org.
REAL LIFE. REAL NEWS. REAL VOICES.
Help us tell more of the stories that matter from voices that too often remain unheard.
This post was published on the now-closed HuffPost Contributor platform. Contributors control their own work and posted freely to our site. If you need to flag this entry as abusive,
send us an email
.