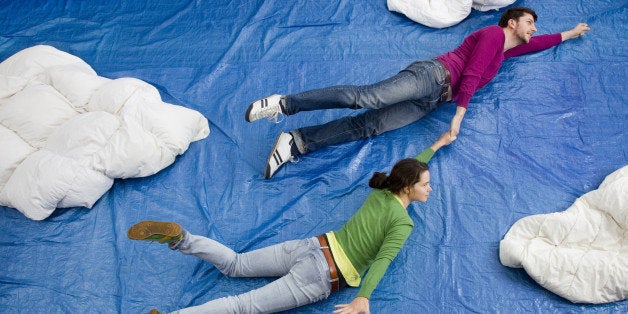 Over the holidays, I had the pleasure of taking an overseas trip, and enjoyed the plane flight so much that when I got home, I wanted another. I talked to some friends, and after we all lamented that another vacation wasn't in the budget for any of us, I decided to host a plane trip right in my house so we could all enjoy the delights of travel again.
Soon, Joan, Herb and his wife, Helen, Carol, Irene, and a few others filed into my front hall, muscling their carry-on bags into the rows of chairs I had packed close together in two aisles, all facing the same way.

"Fasten your seat belts," I instructed.

"Where are we going?" said Carol.

"Istanbul," I said.

"Why does she get to decide?" said Irene.

"She's pilot, flight attendant and food service contractor," said Helen, "so she gets to choose."

"I'm sorry," I told the passengers, "the W.C.'s aren't ready, so we have to delay lift-off. Herb, can you help?"

I handed Herb some stacks of old boxes I'd hauled from the basement, telling him to cram them into my bathroom, and went down to get more. After Herb crammed in so many boxes that the bathroom was really cramped, I started the aircraft.

All of a sudden, there was a noise.

Bang!

"A bomb!" shouted Irene.

"No, it's just my son slamming the kitchen door," I said, as my son passed us and went upstairs.

"I didn't know this was a double-decker four-engine 727 with upstairs business class," said Joan. "Can I peek?"

A few passengers went up and looked at business class.

Soon, it was time for dinner.

"I'll take the chicken de luxe," said Joan.

I handed Joan a paper meal tray with a cut-out picture of a TV chicken dinner pasted on.

"This looks like cardboard," said Helen.

"It is," I said.

Everyone ate their dinners.

After the meal, Irene and Carol fell asleep. Herb and Joan decided to stay up to watch the in-flight movie.

"The screen is not working," I said. "Did anyone bring a movie?"

I got some scotch tape, and taped an iPad to the back of the seat in front of Herb. Soon, everyone was watching videos of Herb's grandchildren.

"I can't fall asleep," said Carol, tossing and turning. "This is too spacious."

"What do you mean?" I asked. "You're totally squashed in."

"There's no seat ahead of me," complained Carol.

Herb moved to the seat ahead of Carol, and tilted his chair backwards until she was practically suffocated.

Carol fell into a deep snooze.

After the cabin grew quiet, I got up to do my favorite activity on a plane: Walking around while everyone else stays buckled into their seats.

First, I went to the bathroom. It certainly was squashed. I could barely turn around, and practically had to climb onto the sink to be able to wash my hands.

Then, I walked up and down the cabin aisle. I nearly bumped into Irene, who was wheeling a big cart. "What are you doing?" I asked.

"Shhh," she said, "everyone's sleeping! It's duty free," she explained.

"How are sales?" I asked.

"Terrific!" she said. "Marge wanted the Princess watch, but she only had a $500 bill, so I had to give her $424 worth of accessory watch straps in change."

Marge was snoozing under a huge pile of small white boxes.
"She'll have to declare those, even if it's duty free," I said. I continued walking up and down the aisle.

"Why don't you go outdoors?" said Herb. "You're bothering me."

"Honey, she can't go outdoors, she'll fall into the ocean," said Helen.

After a few minutes, Carol, who had decided to be co-pilot, announced from the cockpit that we were landing in Istanbul.
Everyone got ready to deplane, including Madge with her watch straps.

"It seems amazing," I said to Carol, as we said goodbye to the passengers, "that all these people wanted to come to my house to pretend they were on a plane."

"Why not?" she said. "Every day, airlines pretend that planes are hotels, restaurants, movie theaters and retail shops."

"Next time," Helen said as she left, "I'd like to try St. Petersburg."

"However," said Herb, "you should add first class seats at the front. I like knowing that I saved all that money."
Calling all HuffPost superfans!
Sign up for membership to become a founding member and help shape HuffPost's next chapter