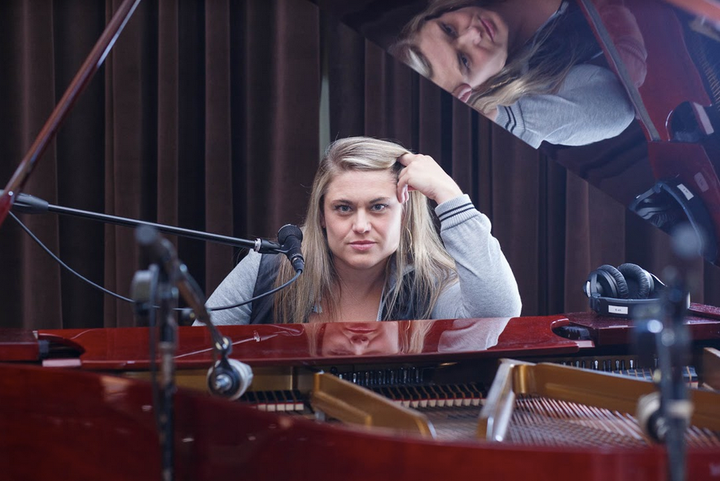 Lindsey Leaverton, aka Elle G, has one of those coming out stories that you wouldn't wish on your worst enemy. At the time, she was an internationally-renowned Christian recording artist and worship leader. She traveled the world entertaining and inspiring. But when she came out in 2009, she lost it all ― friends, family, career, everything.
"I was told by a high up in the world's largest Christian organization that if I didn't end my relationship and denounce my homosexual lifestyle that she would call all the event planners I was already booked with and tell them I was gay and get all my gigs cancelled. Due to a gag order, I can't say her name or the name of the organization."
She could hardly afford her home. Somehow though, Leaverton says, "I never lost my faith in God. But, yes, I lost my faith in religion and especially these so called 'Christians.' They turned their backs on me." A job waiting tables at Pappadeaux Seafood Restaurant saved her skin. And slowly, she put her world back together. Leaverton now lives in Austin, Texas with her five-year-old twin daughters and works as VP/ wealth advisor at BB&T. But her true love has always been and still remains music.
"At seventeen, I got so bored over the Christmas holidays," Leaverton explains, "that I stole my mom's classical guitar from the '70s with one string missing and proceeded to teach myself how to play the guitar and almost instantly began writing songs.
Under her stage name Elle G., after a ten-year hiatus from recording, Leaverton just released her debut album with seventeen original tracks. Fans describe her music as a "unique blend of hip-hop tunes, acoustic jams, piano ballads, and tongue-in-cheek covers." It's music to live by some might say.
Of course, making music for the sake of making music wasn't enough for Leaverton. She wanted to do something that just might change the world, even just a little. When she learned that students who take upper level math in high school are more likely to earn a college degree and that students of color are less likely to take those classes, Leaverton knew instantly that she had to be a part of filling that gap. So she did.
By making a math rap video.
In typical do-gooder fashion, Leaverton lured corporate sponsors and well-known hip-hop artists G. Galindo and SaulPaul; and – this is the best part – Steve Adler, the Mayor of Austin. Lindsey Leaverton got the Mayor of Austin to appear in a rap video about math. Yeah, it's all kind of a big deal.
The video, Mo' Math, Mo' Money, is being officially released today. And, Elle G. says, they have a lot of fun things coming up connected to the video, including a competition. "Think 'ice bucket challenge' or 'mannequin challenge.' Students from Austin schools will re-create the math rap music video and make it their own."
That's the thing about Leaverton, her brain is always going and the direction it's going in is always toward making the world a better place, an actual, truly better place, for everyone. You can feel her passion the minute she walks into a room. There's a buzz about her. And when she gets to talking, well, it's hard not to be inspired by her enthusiasm. It's infectious. That would explain how she took a thought and made it a reality with little more than a desire that just might turn out to be strong enough to create the kind of movement that we are in desperate need of these day.
You can watch the video here.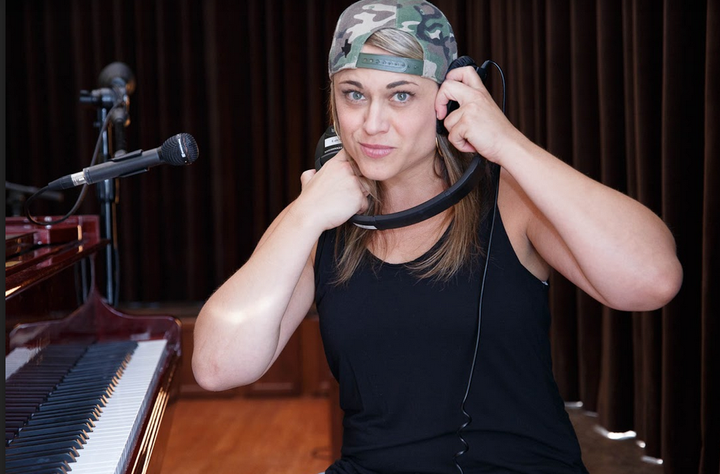 Block: From where on earth did the idea for a math rap video come?
Leaverton: I was sitting in a boardroom in downtown Austin with a dynamic group of non-profit, business, and community leaders. As I listened to the alarming data from E3 Alliance specifically involving students of color and the increasing equity gap as it relates to advance math courses and graduation rates, a fire was lit inside me. Research found that students who take advanced math courses in high school are 3x more likely to complete a college degree.
However, there was a troubling gap between students of color and their White/Asian counterparts. It's been said that education is THE civil rights issue of our day. Students of color are taking less and less advanced math courses. Less educational advance means less options overall. I couldn't just sit there in the meeting and do nothing. In about ten minutes, I'd written a rap called Mo' Math Mo' Money.
E3's Math Matters Campaign needed a culturally competent math rap along with an impressive, relevant music video. The vision was born and I chased it full on. This was going to be more than a music video about math. This would create a movement.
Block: What made you think the idea would actually work?
Leaverton: This project had to happen. I was internally compelled and inspired to write this rap and make the music video a reality. We must meet students where they are. I worked together with countless other passionate individuals and began really doing something.
I feel a moral obligation to confront inequity. No one can do everything but everyone can (and must) do something. Even if it's as small as writing a rap about math to change the conversation about why math matters in hopes of encouraging students of color to take advanced math and join the "3x" more likely group.
If education is the civil rights issue of our time, then we better rise up sooner rather than later and cultivate a culture where we all care about the success of every child.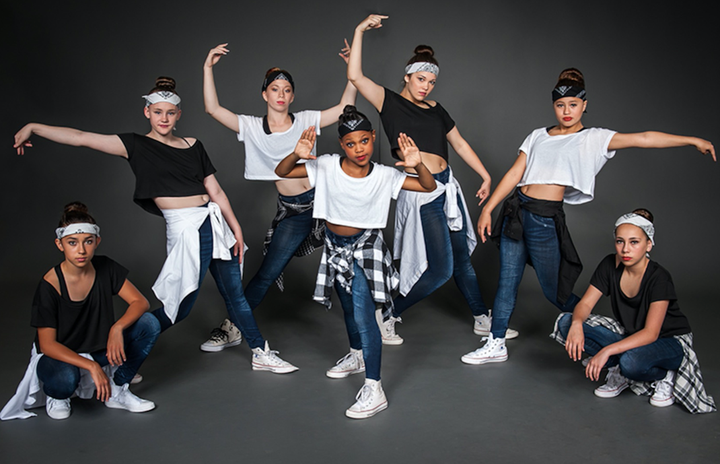 Block: How do you feel about the result?
Leaverton: I never in a billion years imagined it would turn out as well as it did. The final product has exceeded every single expectation I had. At every turn, I found people/organizations who believed in the vision. From Austin's Mayor to professional recording artists to non-profits and business leaders from all over the community, the who's who of Austin came on board. People from all walks of life wanted to help in this effort to spread this message and create momentum for the movement. The final product (music video + math rap) absolutely floored me and everyone was blown away!
Now our hope is that this video goes viral because of its message: If students take advanced math in high school, they are 3x more likely to complete a post-high school degree. Data shows a widening equity gap between our students of color and their white/Asian counterparts.
Block: How did this even happen?
Leaverton: In order to make this project the best it could possibly be, I needed to raise money. Due to the overwhelming support and excitement surrounding the rap, Samsung, Austin Area Research Organization and Elle G Productions came forward (without even being asked!) as the first sponsors.
I hosted auditions throughout schools in the Austin area. The project called for actual students instead of paid actors. I chose two female high school students to sing and rap, along with other students who appear in the video with whom I had a connection. As far as other talent involved in the project, we hit a gold mine and each artist came to me through some type of personal connection!
Hip-hop artists G. Galindo and SaulPaul contributed their original flare to make the rap/video complete, along with myself and the lovely and talented Tina She. The fabulous hip hop dancers at Star Dancers performed an original choreographed dance specifically for the video. Every student featured in the video is an Austin student with a passion for this project.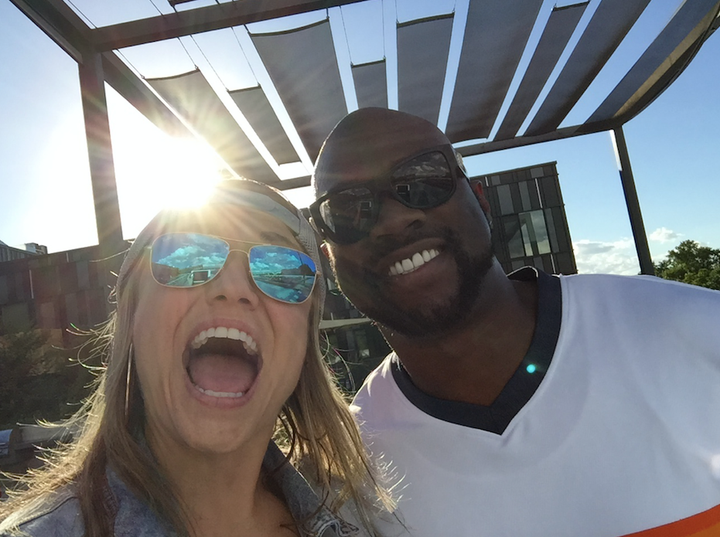 Block: Are you in the video?
Leaverton: While I loved being the Executive Producer of the project, I was hesitant to be IN it. How could a thirty-five-year-old white soccer mom from the 'burbs connect and be culturally relevant? After much thought and counsel, I decided to put my artist/performer hat on. I recorded my favorite line, "The only math problem you gon' have is if you don't take it." You may even spot me throughout the video as a teacher, hype girl, and awkward background dancer.
Block: Who are the other key players in this project?
Leaverton: E3 Alliance and AARO have some of the most incredible people I've ever had the privilege of working with. One of the project's committee members just so happens to be one of Mayor Adler's advisors. We called in a favor because we knew his involvement would be integral to taking the video to the next level. Adler is a highly respected leader who has garnered national attention. With a passion for addressing institutional racism and systemic inequities head-on, I knew he would catch the vision quickly. And that he did!
It is time to dismantle systemic inequity and fight together for the success of all students.
Block: What kind of responses have you received from people who got a preview of the video?
Leaverton: The reactions have been unlike anything I could've ever expected or dreamed. Countless numbers of people, organizations, and influencers are on board. THE movers and shakers of Austin are ready to get this project out to the masses.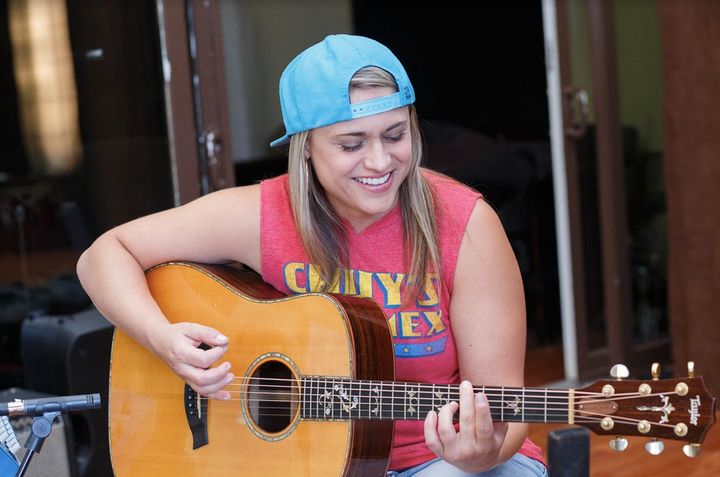 Block: Any future projects on your mind?
Leaverton: I most definitely have plans for future projects similar to this one. Under the umbrella of a 501c3 non-profit organization I founded in 2003, my mission is to create projects that will carry an impactful message while also cultivating a culture of creativity as a conduit for change!
Now that I have experienced first-hand the impact that one project like the math rap video can have, I am driven to further explore the intersection between creativity and change, art and activism, music and movements.
Block: Anything else you want people to know about your project and your passion?
Leaverton: Bottom line is this: Education leads to opportunities and choices. Education is the civil rights issue of our time. Students who take advanced math courses all four years in high school (despite it now being optional) develop the critical thinking skills that have been proven to lead to future success. Plus, those students are 3x more likely to complete a college degree. We must do whatever we can to dismantle the systemic racism and institutional inequity that is damaging our students of color the most when it comes to education.
Popular in the Community