During the ladies' short event, French figure skater Maé-Bérénice Méité carved out a place for herself by skating to music including the Beyoncé hits "Halo" and "Run the World (Girls)." But that's not the only aspect of her performance making waves. Méité emerged from the masses in a bodysuit with pants. Yes, you read that right: A figure skater competed at the PyeongChang Olympics sans skirt.
The 23-year-old took to the ice in black leggings that appeared to be attached to a gold and black sparkly sleeveless top. And her performance was just as dazzling as it would have been in a frilly, flouncy skirt, if not more so, because it was so bold. Méité expressively floated and twirled around the ice winning the hearts of the world, despite her fall, with her boundary-pushing music (this is the first Olympics at which skaters are allowed to use music with lyrics!) and even more daring ensemble. These Twitter reactions sum it up.
Unfortunately, the judges weren't as impressed, giving her a score of 46.62, putting her in ninth place. Did she lose points for her pants? Not possible. According to the NBC Olympics page, "Ladies in singles and pairs can wear a skirt, pants or tights." However, that wasn't always the rule. After Katarina Witt came out on the ice in a few feathers barely covering her behind in 1988, the International Skating Union enacted a rule that women had to wear skirts. That rule was overturned in the early 2000s, bringing back the pants.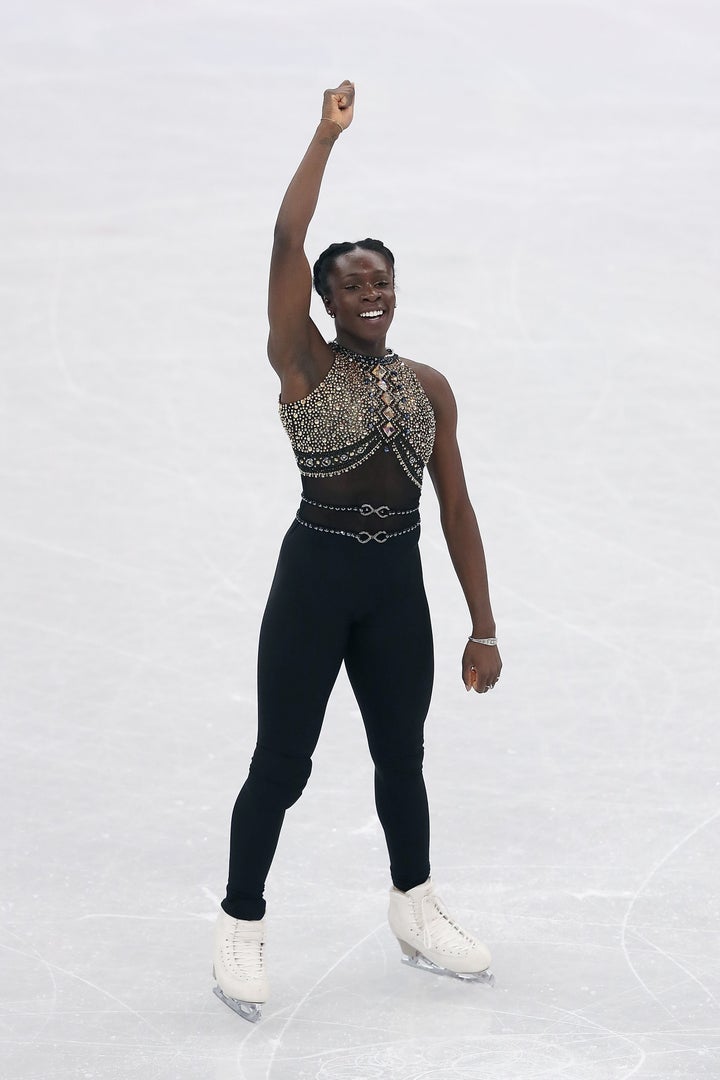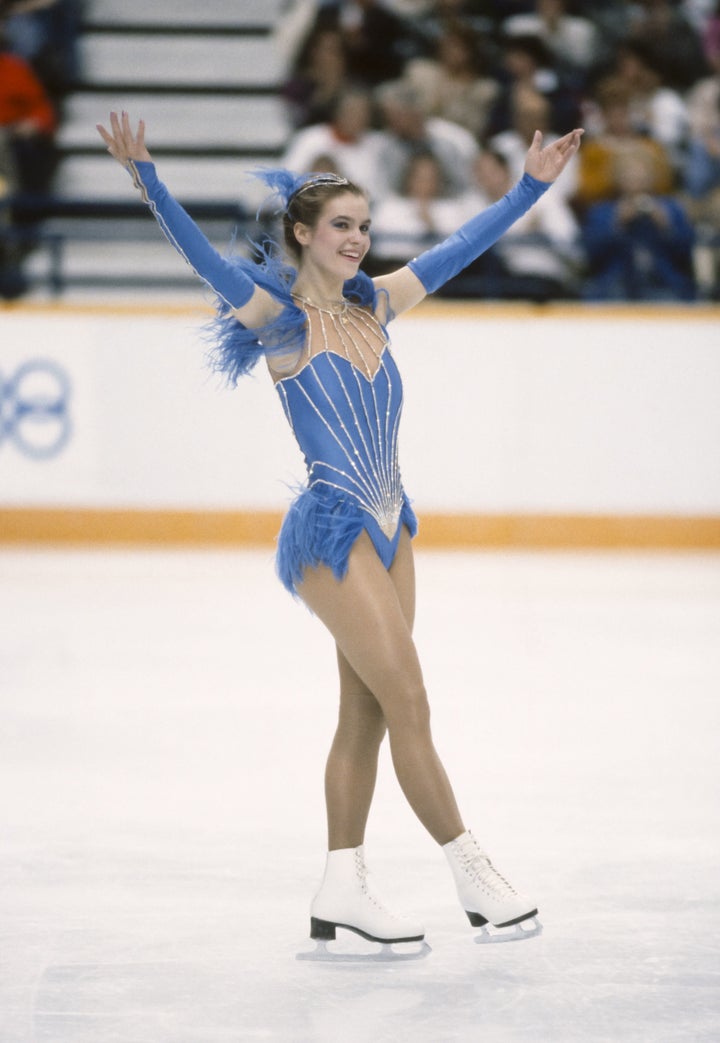 Then why don't more women wear pants? For one, it seems not everyone is up to date on the new rules. Last week, costume designer Jan Longmire told InStyle, "The guidelines change every now and then, but every girl always has to wear a skirt — she can't come out in a leotard on its own."
Plus, skirts are just easier on the eyes and more frequently identified with femininity, which is what figure skating is pretty much all about. But if women can wear tuxedos on the red carpet and not be any less elegant, female skaters can do the same in the rink. And they have.
Méité might prefer pants; she competed in the same costume at the women's short program dance during the Internationaux de France ISU Grand Prix of Figure Skating in Grenoble, France, in November. She also wore pants for her free skate at the 2014 Olympics — the unitard was similar, but the sparkly top was silver, blue, and black.
American skater Polina Edmunds wore a purple bodysuit in the ladies' short program during the 2018 Prudential U.S. Figure Skating Championships.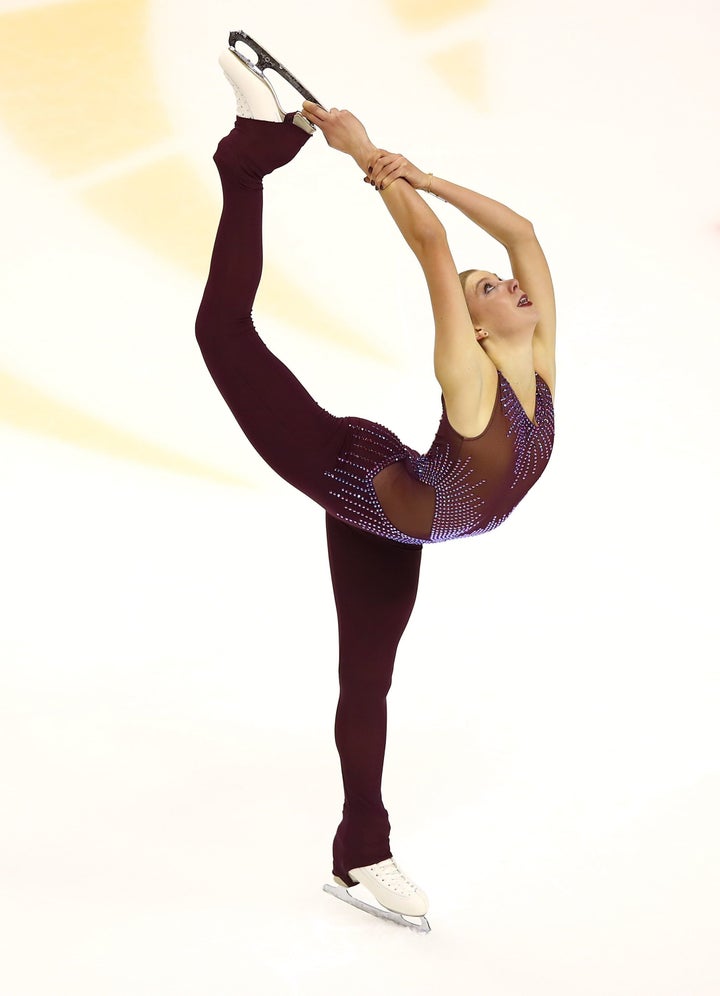 As soon as the skirt-only ice age melted away, Russian skater Irina Slutskaya wore a fiery bodysuit at the 2006 Olympics.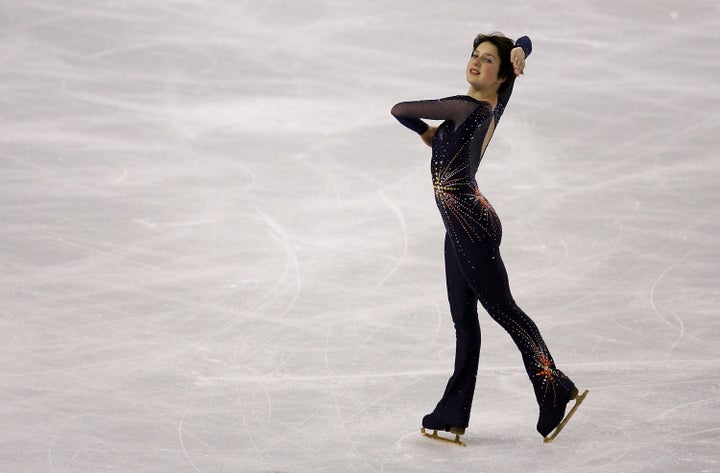 So, Méité might be onto something. In the words of Beyoncé, the pants-clad and badass skater is repping for the girls "who taking over the world."
Related