Alayna Westcom's career goal is to become a forensic pathologist. Forensic pathologists perform autopsies to determine causes of death. While death can be a rather uncomfortable topic for many, Alayna feels that determining this cause can often bring comfort and closure to loved ones. In her words, "Pathology has been important to me because of my family. Having lost family to cancer and other diseases, it's important for me to give answers to families. Knowing what the cause of death is can help to plan for preventative care, genetic research, and many other health care options."
Alayna graduated in 2013 from Bay Path University with a Bachelor of Science in Forensic Science. She went on to complete a post-baccalaureate Medical Laboratory Science Program at the University of Vermont in 2015. In efforts to acquire as much hands-on experience as possible before applying to medical school, Alayna currently works two jobs. She works as an Autopsy Technician at The University of Vermont Medical Center, and a Medical Technologist at Northwestern Medical Center.
In addition to Alayna's healthcare employment endeavors, she enjoys promoting STEM careers to young people, especially young women. Her reign as Miss Vermont 2015 afforded her the perfect opportunity to further this goal.
My work as Miss Vermont 2015, specifically through work teaching STEM education to students at young ages, allowed me to spread these words of wisdom: Do not ever feel like you are inadequate based on what someone else says, please do not invite those thoughts into your mind, know that you are capable of completing any goal and attaining any career, including all STEM careers, as long as you are willing to work for what you want, and be persistent.
When competing for the Miss America 2016 pageant, her platform was centered on "Success through STEM: Science, Technology, Engineering and Mathematics." Included below is a video of her presentation, courtesy of NJ.com.
Clearly Alayna enjoys "bringing science to life" and is highly effective in this hands-on learning technique -- it's a practice she embraced at an early age.
I remember taking part in a science fair for several years. Some years I took home nothing, and some I was awarded first place. Each year we were asked to choose a topic that was interesting to us, and something that could be beneficial to multiple people. I did experiments ranging from trying to relight a match with gas produced by aquatic plants, to making a Braille clock. My favorite part was learning how to explain my experiments to others in a way that they both understood and intrigued them to learn more.
And while her time as the Miss Vermont titleholder has ended, Alayna continues to travel to schools to talk about STEM careers and engage students in fun science experiments. Below is a photo of Alayna at Enosburg Elementary School, located in Enosburg Falls, Vermont.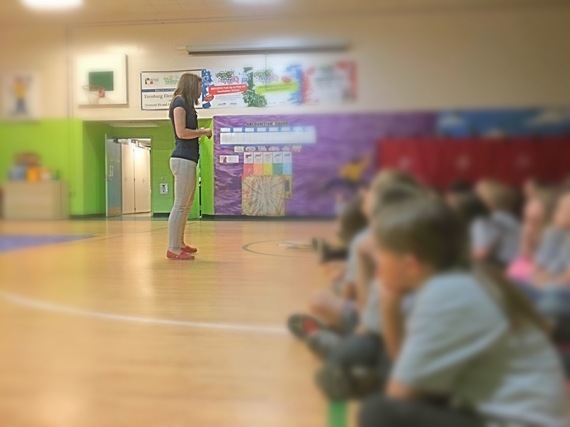 As a recipient of criticism centered on her career choice of pathology, one of her goals is to assure girls that there is no such thing as a "man's job" or a "woman's job" and that women are capable of any career path they choose.
When I was younger, I was told 'Are you sure you want to do that? It's not really a career for young women, is it?' or 'You are too pretty to be a scientist,' and my ultimate favorite comment: 'You do not look like a scientist.' When I was told these things at such a young age, it made me question what I wanted to do. If everyone else thought that I couldn't do it, what made me think that I could?

Looking back at my college years, I knew that attending an all-women's college, (Bay Path University) which offered a very focused degree path in science, would be instrumental in achieving my goals. My alma mater helped me to find who I was as a person--but more importantly, who I wanted to be as a scientist. It challenged me to try new things, and to accept the things that were not right for me. Through many organizations I involved myself in, I learned to stand for what I believed in, and to prove that young women can have any career that they choose. Not to mention, not once in my studies did I hear someone question my career and educational goals. No comments were made about my gender and how that would influence my career.
Women's colleges are of great benefit to young women. Society wins when women are educated and empowered. If you're a college-bound high school girl, I encourage you to investigate colleges for women. A good place to start would be my blog, Advantages of a Women's College, where I provide a complete listing of women's colleges located in the United States.
Follow Diane on Twitter @HerSTEMCareer where she celebrates and champions STEM women from around the world.
Calling all HuffPost superfans!
Sign up for membership to become a founding member and help shape HuffPost's next chapter