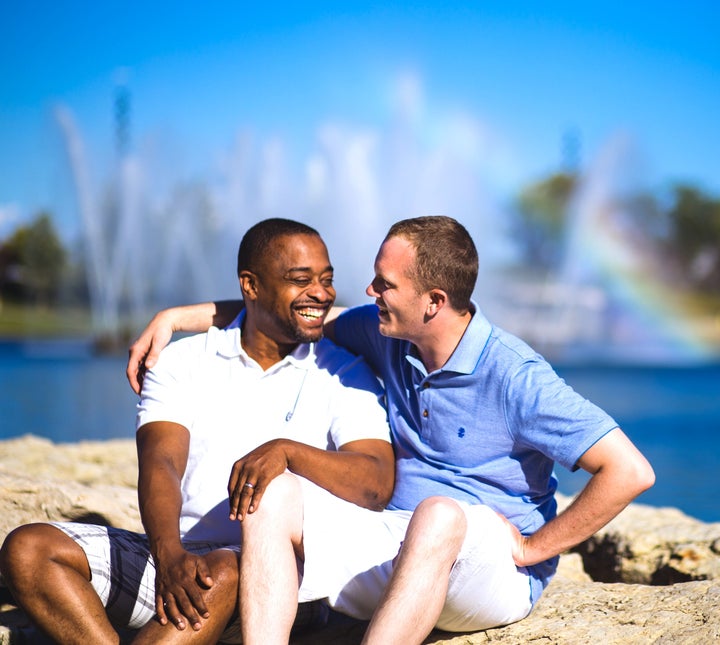 Nebraska is the setting for this RaiseAChild "Let Love Define Family®" series installment for Huffington Post Queer Voices in which contributing writer, Eric Criswell, describes the fast-paced lives of these foster dads.
The alarm clock starts beeping at 6 AM and marks the start of the day for William and Rob Mailander-Chamberlain. They will spend the next hour getting five kids ready, two of them still in diapers. For the next 30 minutes, they eat breakfast, then William and Rob split chauffer duties by taking three of the kids to school in one car, and the other two babies to daycare in another car. Then it is off to their jobs; William works in IT and Rob is a social worker and full-time student. After work, the kids are picked up, taken home for homework and dinner, then bath time around 7 PM and bedtime by 8 PM. This leaves the couple about an hour of 'alone time' before they go to sleep…and prepare to do it all again tomorrow.
Both men, in their mid-thirties, are from large families and always knew that they wanted to be parents. The one thing they didn't necessarily plan on was having so many kids so quickly. "We were so eager to be parents," explains William, "that we began the process as individuals. The laws had not changed at that point when we started and our only option as gay men were as single parents." Rob continues, "Luckily, it was during our training that the laws did change and we could be recognized as a couple for our foster kids."
Knowing that siblings are often separated in the foster care system, the couple made it clear that they were ready, willing, and able to take a pair of siblings. On January 1, 2016, they moved into their new home in Omaha, Nebraska, and on January 4th they received the call they had been waiting for. It wasn't a pair of siblings, but three; a one-year-old, a four-year-old, and a ten-year-old who is non-verbal autistic.
William admits it wasn't an immediate decision, "We talked about it, having initially discussed fostering kids under five-years-old. But Rob had experience with special needs children, and we have a heart and couldn't bear to see this family broken apart, so we said 'yes'."
Rob adds, "We found out almost immediately that their mother was already four months pregnant with another child, and since we had taken the siblings, agreed to take the new born as well."
To outsiders, it may have seemed a little crazy, but to William and Rob, it was what they always wanted, and they were up to the challenge. They admit that the first couple of months were definitely an adjustment period, but it was worth it. Within six months of the creation of their new family, they received a call about another newborn from a different birth family and again, their answer was "yes".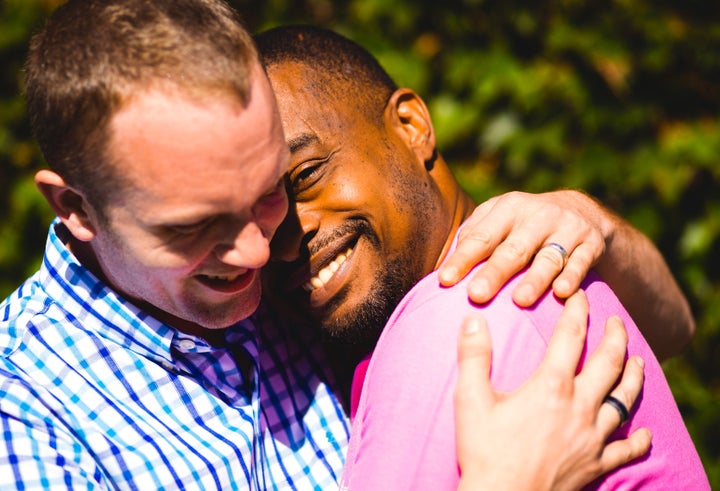 "We had the space in our home and in our hearts for one more." Rob says. "It just was the right fit for us and we're happy with our party of five."
They are quick to admit that they don't do it alone. They have a wonderful support system of friends and family, and get assistance from the foster-adopt agency and other organizations. William shares this main advice to others, "I think it is important to research and use the resources that are available to foster-adopt parents."
For instance, Tommy, their ten-year-old autistic child, required special needs toys. William had spent a lot of money on these and was pleasantly surprised to learn about Nebraska Friends of Foster Care, a local non-profit, that not only reimbursed him for what he purchased, but now provides help with anything they may need to assist with Tommy's upbringing.
Although it hasn't always been easy going from a carefree couple to being the parents of five children, two of which are infants, they do make it look effortless. Rob attributes it to being in sync with his husband. "The most important thing for us, and anyone who is considering being parents, is open and honest communication. Be sure you both are on the same page with what you want and what you can handle. You have to be in agreement, and it's not good if one spouse is only doing it to make the other person happy."
As they go through their days dividing up their responsibilities and driving duties, they look like naturals who have mastered the fine art of running a family. Not only have they learned so much, but hope their example will be a beacon to their community.
"Early on, our four-year old saw my wedding ring and asked, 'where is your wife?' I explained that God made me love Rob the same way that her birth daddy loves her mother. Without missing a beat, she responded, 'that's OK, I can be a little princess to two daddies.' She loves telling anyone that will listen that everyone's home is different; whether you have one mommy, or two daddies, or a mommy and a daddy…. they're all families, and they are all good."
Interested in learning more about becoming a foster or adoptive parent? RaiseAChild is a national 501 (c) 3 nonprofit dedicated to building loving families for foster children™. RaiseAChild has engaged more than 3,000 prospective foster and adoptive parents as the nationwide leader in the recruitment and support of LGBT and all prospective parents interested in building families through fostering and adoption. For more information, go to RaiseAChild.org or call (323) 417-1440.
REAL LIFE. REAL NEWS. REAL VOICES.
Help us tell more of the stories that matter from voices that too often remain unheard.