So sad to hear about the passing of the great vocalist Keely Smith at a still-young-at-heart 89.
A little-recalled fact about her was that she was the first singer to make an entire album of Beatles songs. In mid-1964 she recorded and released an album titled Keely Smith Sings The John Lennon & Paul McCartney Songbook.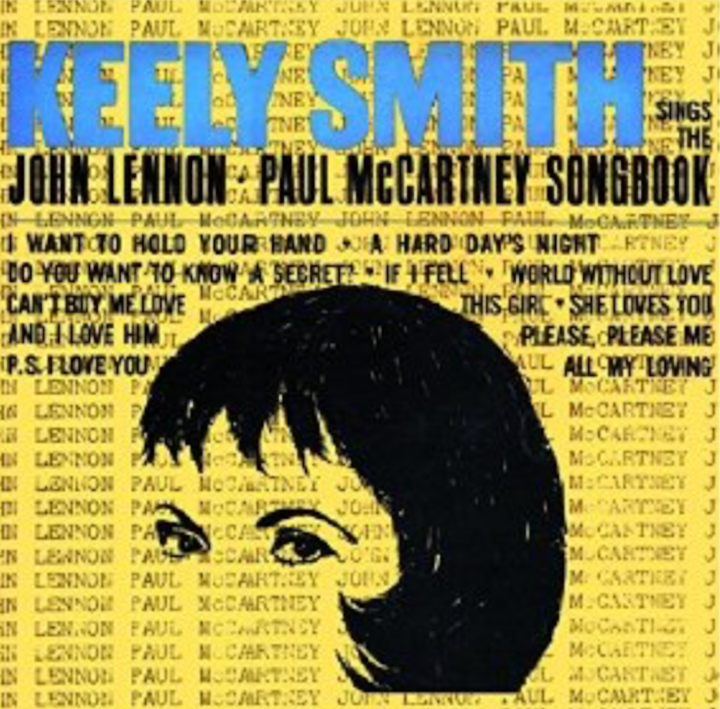 (Around this time the Beatles' brilliant producer George Martin recorded the first of several orchestral albums of their music - but those were instrumental - and of course dear George had the inside track on recognizing their compositional genius - so he was not an outside party discovering and validating their canon as Keely Smith was!)
Keely Smith's album was of huge significance at the time. While a few British pop singers had recorded covers of their songs as singles in 1963 and 1964 - as had the savvy American singer Del Shannon - at the time of Smith's album no musical artist had yet connected the dots that they were songwriters worthy of being interpreted in an album dedicated solely to their writing craft. It was Keely Smith's idea to record an entire collection of their songs.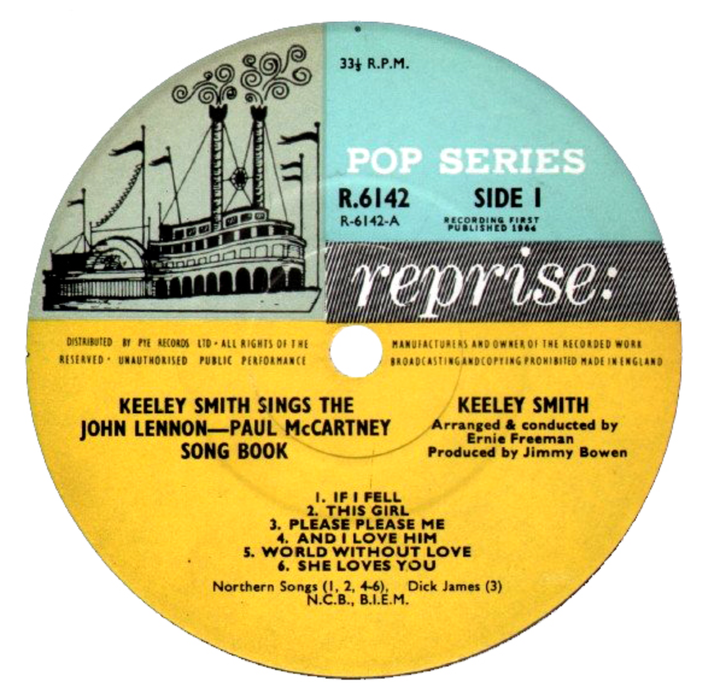 This had significance for a number of reasons. She was an established vocalist lending her endorsement to their writing talent. She was an acclaimed jazz singer - at a time when most (though not all) jazz purists were turning their noses up at pop music and what was considered the inferior quality - compared to the art of jazz - of the Beatles' compositions. And she was not an infatuated teeny-bopper singer. She was an accomplished 32-year-old star lending her valuable imprimatur of the Beatles to older generations.
And the very title of the album was a conscious nod to the influential Norman Granz-instigated and produced Ella Fitzgerald Sings The... series of albums (1956-1964) dedicated to the songbooks of Cole Porter, Rodgers & Hart, Duke Ellington, Irving Berlin, George & Ira Gershwin, Harold Arlen, Jerome Kern, Johnny Mercer. By evoking those eight classic albums - Smith was way ahead of the crowd in understanding that even in their early songs, Lennon & McCartney were rapidly approaching the quality of the pioneers of the Great American Songbook.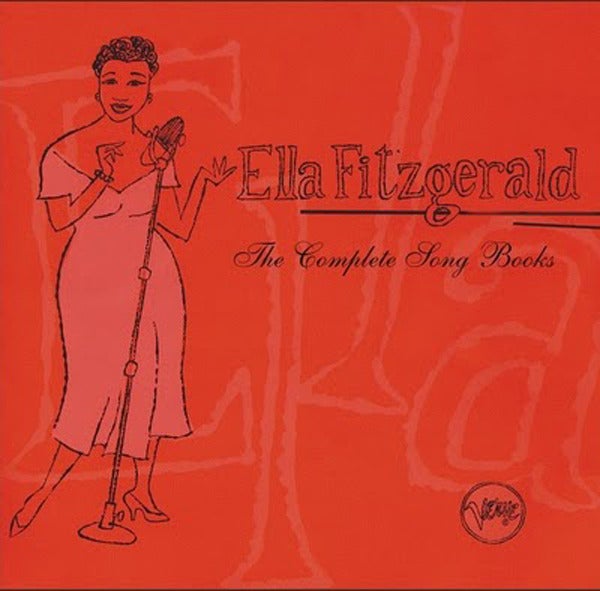 Smith's decision to record the album and the brilliant jazz, swing and torch interpretations she placed on the songs was the starting point for serious musicians - from Leonard Bernstein onwards - recognizing the nascent genius in the Beatles' songwriting. Within a couple of years there were multiple artists recording entire albums of Beatles songs. In every conceivable musical genre - including jazz, folk, bluegrass, baroque, swing, easy listening. There were even operatic Beatles arias by famed American mezzo-soprano Cathy Berberian.
But the delightful Keely Smith was the prescient talent who understood it first. Her album contained twelve swingin' interpretations of early songs written by Lennon & McCartney: I Want To Hold Your Hand, Please Please Me, A Hard Day's Night, Can't Buy Me Love, She Loves You, If I Fell, All My Loving, Do You Want To Know A Secret?, A World Without Love. And on two songs she became the first singer to invert the gender of Beatles lyrics - with her stylings: And I Love Him and This Girl.
The recordings also benefited from the talents of her accompanists - two of the great arrangers of the era - Benny Carter and Ernie Freeman - and their respective sidemen and orchestras.
I had the great pleasure of getting to know Keely a little. We first met in 2006 as guests of our mutual pal Nancy Sinatra when she received her star on the Hollywood Walk Of Fame. We bonded over the post-ceremony lunch. When I told Keely how great a footnote she was in Beatles history she was most touched. It had not really occurred to her at the time - or since. She had simply been following her tastes and instincts. Looking back over 40 years on, she was moved to learn that she'd had an impact.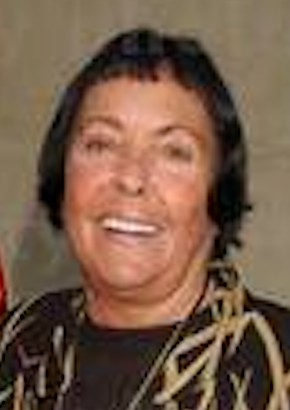 As she was still performing in those days, we started to muse casually on the possibility of her revisiting the Beatles song catalogue. After all, none of the songs she had recorded back then had been written after April 1964. So we talked about her covering songs that spanned the Beatles' creative output from 1965 up to 1970. And then Keely got excited about the idea of also covering some of their post-Beatles compositions.
The sticking point for Keely though became her profound disappointment that the record company for whom she had recorded the original album - Reprise - stubbornly refused to let her have any curatorial involvement in her original recordings. And she very much wanted to reissue her 1964 album in conjunction with any new recordings. She wanted to marry up her "then" with her "now". And the company apparently could care less about her or her wishes. Being (at that time) a 74-years-young pistol she had no time for couching her displeasure at her one-time record label with diplomatic language! So - to my regret - she decided not to explore the idea further. Our great loss...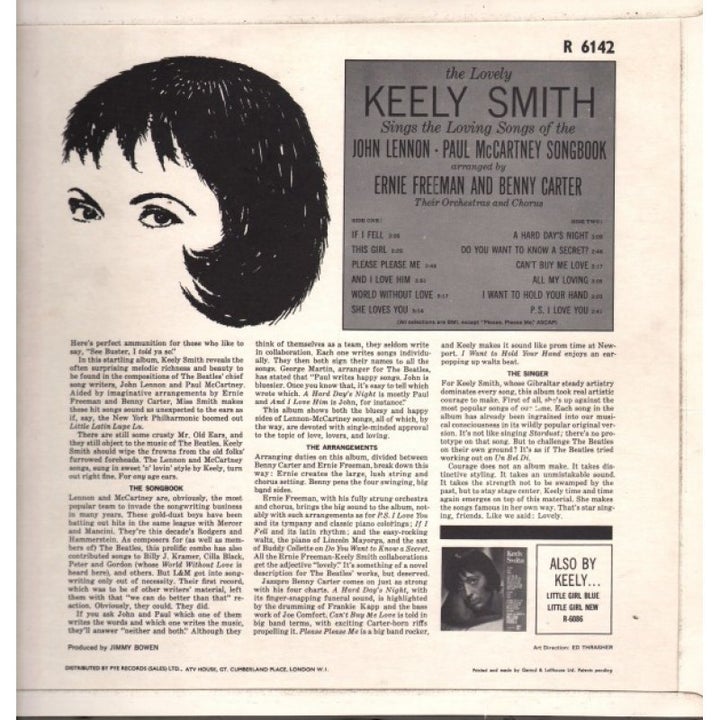 But - as the great Herman Hupfeld (As Time Goes By) wrote in 1931 - "the simple facts of life are such they cannot be removed..."
Keely Smith delighted music lovers for decades. And by her outstanding good taste and prescience she foreshadowed and helped lead the worldwide enduring appreciation for Lennon & McCartney as great songwriters while most critics and musicians were still thinking they were a flash-in-the-pan...
For that outstanding achievement I will always think of her fondly as This Girl...
Related
Popular in the Community