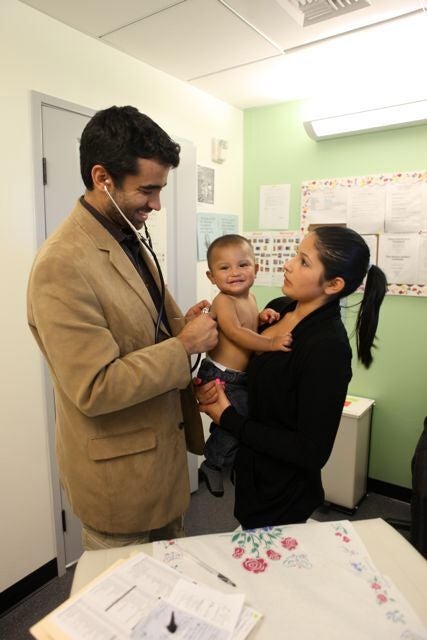 When I started as St. John's Well Child and Family Center President and CEO 20 years ago, the Affordable Care Act (ACA) was not yet in place. South LA was ground zero for the uninsured crisis-- far too many of our community's residents were not even having their basic needs met.
After the ACA passed in 2010, our community started to change for the better. More than 40,000 of St. John's patients received healthcare services for the first time as a result of the Medicaid expansion passed under the ACA-- the impact of which we saw firsthand at our clinics. We had forty-year-old patients showing up to St. John's to see a doctor for the first time in their lives, many of whom had health problems that were exacerbated from a lifelong lack of access to health care. We were able to provide children the early pediatric care critical to their development that they, and many of their parents, had previously been denied. With expanded access to health care under the ACA, we were able to put families on a brighter path towards better lives.
Long story short, our community is stronger and healthier because of the ACA.
For many, #GivingTuesday is a chance to harnesses the collective giving power of individuals, communities, and organizations in celebration of philanthropy worldwide. To St. John's, it's that and more. For us, #GivingTuesday is a chance to give people access to the care they need and reiterate our core mission: that health care is a fundamental human right for all.
The GOP's latest attack on the ACA through their tax bill would kick over 13 million people off health insurance, and serves as a reminder that our fight to protect access to health care is far from over. We must stay vocal and visible in our resistance if we want to protect the gains we have made. Now more than ever, we must remember that the community who fights for the ACA must extend beyond those who rely on it.
LA has the seventh highest rate of citywide income inequality in the nation, with South LA ranked as the largest contiguous area of poverty in the continental United States. St. John's serves our city's most vulnerable populations regardless of income, citizenship status, gender, sexual orientation, or any of the other factors that for too long have been used to deny folks of their basic human rights. Every day, we see firsthand that marginalized folks having access to affordable health care extends beyond just making minds and bodies healthier-- it's a proven catalyst for social, racial, and economic justice, giving folks the care they need and deserve to be successful.
St. John's will never stop fighting to empower our patients. Whether it's through helping our uninsured community members receive quality health care at low to no cost, making strides with our transgender health program, continuing our political activism that has helped save the ACA from the GOP's greedy hands time and time again, running a voter registration campaign, or educating our patients suffering from environmental health issues about their rights as tenants, St. John's is committed to its status as a nonprofit who uniquely provides direct services and advocates for policy change.
This #GivingTuesday, we ask you to make a donation to St. John's so we can continue our important work. If you're unable to donate today, consider sharing this editorial with your friends, family, and networks. Your contribution goes directly towards giving over 100,000 low-income individuals access to quality health care, and it would help bolster the political power that we've built to insure that those services continue for our patients.
During this time of social and political uncertainty, it's now more important than ever to stand in solidarity with our neighbors and community. We firmly believe that when we come together and stand up for what we believe, we can truly change our country for the better-- and that starts with you.
Calling all HuffPost superfans!
Sign up for membership to become a founding member and help shape HuffPost's next chapter
This post was published on the now-closed HuffPost Contributor platform. Contributors control their own work and posted freely to our site. If you need to flag this entry as abusive,
send us an email
.