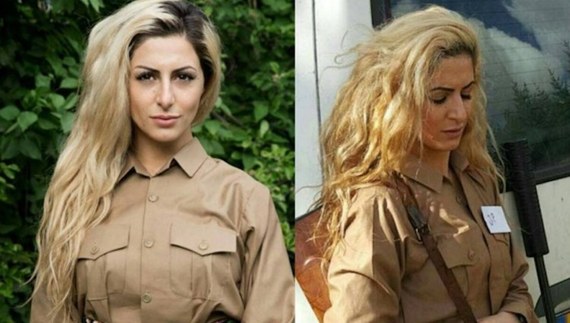 Joanna Palani is a boss. This gorgeous 23-year-old left college to go kill members of ISIS like a badass. But don't get too hyped -- according to her, it wasn't even that hard. "ISIS fighters are very easy to kill," she explained during a recent interview with Broadly.
Palani was born into an Iranian-Kurdish family in a refugee camp in Iraq. Eventually the family fled to Copenhagen, Denmark, where she endured a relatively normal childhood. Until she was 9 years old, the age she learned to shoot her first rifle. Obviously she was destined to be a badass and change the world.
When news broke about what was going on in Syria, Palani was in college studying philosophy and politics. But instead of finishing out and getting her degree, she decided to drop out and join the fight against ISIS.
"On the 14th of November 2014 I went to Iraq, and then I went to Rojova in Syria," she explained. "I was with the YPG for six months and then I was with the Peshmerga for six months, so I was fighting for a year."
One of her greatest victories came in 2015, when she helped liberate a village captured by ISIS. Located outside Mosul, Palani found a large group of children being sexually abused by ISIS militants and helped lead them to freedom.
Unfortunately her military career was cut short by the Danish government when authorities confiscated her passport "under laws intended to stem the movement of ISIS fan boys to the conflict."
"After arriving in Denmark the police sent me an email after only three days. It said my passport was no longer valid, and would be revoked if I was to attempt to leave the country," she explained. "If I was to go back I could go to jail for six years."
Until she is able to return to her military roots, Palani is back in school and livening up her Instagram page, the latter of which we are eternally grateful for.
Check out more photos here.
REAL LIFE. REAL NEWS. REAL VOICES.
Help us tell more of the stories that matter from voices that too often remain unheard.