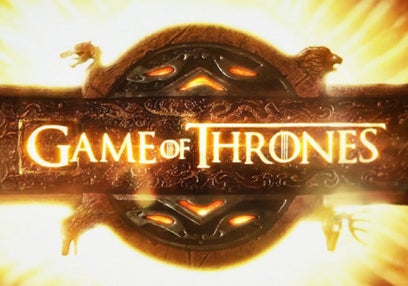 A Lannister always pays his debts', 'I'm Daenerys, first of my name
What we don't know is what usually gets us killed
Thanks to George R R Martin, D B Weiss, Vanessa Taylor, David Benioff and several honorable writers who scripted the epic dialogues in the television show 'Game of Thrones'.
Resuscitation, Rehabilitation, Resurrection, Reincarnation, and Resurgence are not exaggerated words for this show. Women conceive to be Melisandre, Cersei, Arya and Khalisi while men wish to be Jon Snow, Jaime, and Tyrion.
Why always a Guitarist or a band whose YouTube video gets viral? Let's put a foot into the other scintillating side- the Writer's side.
I have tried to include every emotions, character's notion, and macrocosm of GOT. Just as the fans going celebrated for their theme music, now will be the time to rush for adding more words to #FanAnthem.
Enter into the world of chaos, the jungle of bizarre
Where combat is a religion, and ceasefire is cowardliness
Where killing is sacred, and birth is profane
Where layman are slaves, and dwarf is a leader
Where Vengeance is mandatory, and forgiveness is rare
Where slaughtering is holy, and freedom is just temporary
Where realm falls like cards, and cardholders are deceived
Where Ghosts are real, and fairytale is a myth
Where fear is death; but dead do awake
Where Sun shines no brighter, and moon is long-lasting
Where the old stories don't repeat , and the new ones don't cast
Where magic ain't an illusion, and skinchanging is existing
Where angels don't visit often; but witches sojourns frequent
Where fortune-telling is authentic, and satanism is undeniable
Where emotion isn't a feeling, and hunger isn't starving
Where wolves protect, and ravens assist
Where traitors are subtle; but loyalist is ignorant
Where eunuchs guide people, and shrewd manipulate
Where family feud is apparent, and illegitimacy is patronized
Where sex is just lust, and rape ain't a crime
Where kindness kills; but wickedness saves
Where selfishness is for safety, and greed is not cupidity
Where one minute it's love, and the other minute it's hate
Where Butchery and massacre are tamed, and fortitude is handicapped
Where Money is not prosperity; but bloodshed is the measure of maturity
Where addiction is not considered bad habit, and dependency is worst
Where Fire can't burn a dragon; but ice slays snow-men
But one Quora user responded the question saying, "I guess it's (Theme) so awesome that it won't need any lyrics, but having said that lyrics made have it bit average to listen or boring may be repetitively." He may be right because it has been 6 years already and no official lyrics have come up. It's all for the better.
This article is originally published on Medium.com
Calling all HuffPost superfans!
Sign up for membership to become a founding member and help shape HuffPost's next chapter
BEFORE YOU GO
PHOTO GALLERY
If Politicians Were 'Game Of Thrones' Characters