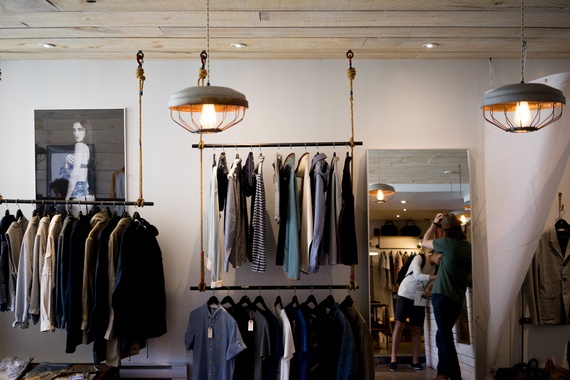 Image credit: Clark Street Mercantile/Unsplash.
Throughout the years that I've been a digital nomad, I've been interested in different ways of making money online that would make you location independent and obviously allow you to live and travel anywhere, anytime.
One of the ways I recently became really interested in is dropshipping and that led me to discover one guy who created an online shop and managed to make $12,000 a month while keeping his full-time job. And that is something most people can't even dream of.
His name is Justin Wong and he's the founder of So Aesthetic. Here's his story.
It was not that long ago that I was working a full-time job and going to university in the evenings. I was frustrated because I was putting in so much effort into both my job and my studies, but I wasn't seeing any valuable returns. I was miserable and needed a real change.
I knew quitting my job and chasing a dream was risky. I needed to replace my income in order to continue my studies, so I went through all the money making tips I could find online - from taking paid surveys to proofreading texts in English - until I found eCommerce dropshipping. I was already interested in eCommerce so I didn't need much convincing to start.
That start eventually led to me earning $11,793.97 in one month!
What is dropshipping?
Dropshipping is an eCommerce model where a store doesn't keep the products it sells. Instead, when a store sells a product, it purchases the item from a third-party vendor and has it shipped directly to the customer. As a result, the store owner never sees or handles the product.
Dropshipping seemed cool because it made starting an eCommerce seem easy: I didn't need to buy products in advance; I didn't need to have space to hold them, and it didn't require extra time and effort to ship the orders myself. Dropshipping does have disadvantages, but it really appealed to me, so I continued my online search.
Was it easy to open your online store?
There are numerous ready-to-use eCommerce platforms like Shopify, BigCommerce or Squarespace. Most of them start at around $20 per month, which seemed like a good deal for a first-time entrepreneur like myself.
It took me two days to set up the store the way that I wanted it to look. Shopify is totally non-programmer friendly. All you need to do is open an account, select a look for your store, and that's it - you're ready to sell.
How did you find a product to sell on AliExpress?
When I set up my store, I had no definite idea of what I should sell. I wasn't sure if I should pick a product I was passionate about or just a random product I was able to find in dropshipping databases like WholesaleDirect.com or the like.
The whole concept of picking products and finding suppliers was slightly overwhelming, but while browsing the Shopify App Store I found Oberlo.
With Oberlo I could upload products, that could be dropshipped to anywhere around the world, on my store in minutes and they also offered a free trial, so I figured it was worth a shot.
I simply installed it on my store, sorted the most popular products in the Women's Fashion category on AliExpress (Alibaba's alternative), set my own prices and imported them to my store the same day. After that, every time I would sell a product, Oberlo would automatically purchase it from AliExpress and ship it directly to my customer.
I went from nothing to having a professional shop that sells hundreds of products in just a few hours! I was ready to sell!
How did you get your first sales?
I'm an active Instagram user. I post pictures frequently and follow many other people, so I was aware that many celebrities often promote products that other people become interested in and eventually purchase. I myself have bought things after seeing those kinds of posts multiple times.
I opened an Instagram account for my store and started sharing my products. I posted every hour and used a lot of hashtags. About a week later, I had more than 1,000 followers. So, yes, lots of followers, but no sales.
I needed another plan. I decided to reach out to the influencers myself, so I used Iconosquare (Instagram Statistics Tool) to identify the most popular accounts. I sent them a discount code and said that they would get a 30% affiliate fee from every sale they made.
Most of them never replied to me, but I did manage to get over 100 partnerships!
The sales came in almost instantly and I reached almost $12,000 in sales in less than two weeks.
What's next?
Every time the influencers' post gets old, the sales stop. I know my marketing strategy is not the most sustainable long-term, but it definitely works short-term.
In fact, my entire dropshipping venture was just a spontaneous one month trial. I just threw it all together to see what would happen.
I'm extremely happy with the results and I will continue building my backup plan until it can replace my day job.
The Internet gave me the ability to start a business in only a few days. It's an opportunity that's there for everyone, you just need to take it.
Related
Popular in the Community