In the '80s, artist Brian Rush took a photo as a kid with Minnie Mouse at Disneyland. Decades later, he recreated that photo and nailed it.
When Rush learned his parents wanted to take a family trip to Disney World with their kids and grandkids, he knew he wanted to recreate a photo from his first trip to a Disney park. He told HuffPost he chose one that was taken either in the summer of 1985 or 1986 at Disneyland in California, when he was around the age of 5 or 6.
"I actually couldn't find many of our original photos, but this one was perfect," he said.
He recreated the photo on New Year's Day 2015 at Disney World in Florida. Most of the clothes for his outfit were found at American Apparel, including the shorts, which were actually a bathing suit on which his wife helped sew the stripes. He used fabric and tape to perfect the look of his shoes. The final touch? The mouse ears hat, which he bought at Disney World.
With Rush's final result, it seemed like Minnie had no problem recognizing him.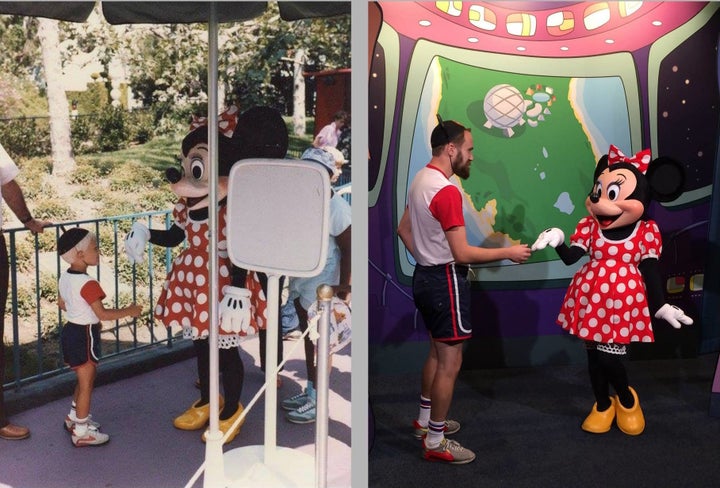 Rush posted the childhood photo alongside his recreated one on Reddit on Feb. 17. He told HuffPost he thought it'd be fun for others to see the pics side by side years later, and explained he took on the project because "life makes it really easy to get stuck in a rut."
"Even on a vacation, which is a break from the everyday, it is so easy to fall in line with what is expected of you," he said. "Go see this tourist attraction, go see that, ride this, wait in line here. Even at a place as ready-made magical as Disney World, bringing a little of your own creativity can elevate the experience."
Rush also said the thought of being embarrassed never deterred him. In fact, it motivated him.
"I'm also a bit of a sucker for embarrassment," he told HuffPost. "Most people avoid it at all costs; I, on the other hand, get a thrill out of, for example, dressing like my 5-year-old self in short shorts."
Waiting in line to meet Minnie sparked what might be the most comical part of the whole experience. Because Rush was wearing the outfit he had put together to recreate the photo under his clothes, he had to warn the family behind him in line that he was about to strip down.
"I turned to the family behind us, who had already watched quizzically as I taped homemade shapes to my shoes, and said, 'Please don't be alarmed. I'm going to take off my clothes now ... but I have more clothes underneath,'" he said. "That is the kind of awkwardness that makes strangers not strangers anymore but sharers of an experience, and it makes a regular moment into a memory."
And because we know you're dying to know, yes, Rush continued wearing that outfit after meeting up with Minnie.
"I changed into that outfit right before the photo shoot but stayed in it for the rest of the day."