Ryan Mirvis knows how to craft a damn good Tinder profile. He's no slouch when it comes to growing a beard, either.
Instead of uploading the standard selfie or a confusing group photo with a bunch of dudes (which. one. are. you?), the 30-year-old comedian went rogue and uploaded pics that showed off his true self. The photos shot to the top of Reddit when someone posted them there Monday night (Nope, Mirvis didn't post the pics himself -- he's no showboat -- but he was thrilled when he saw the thread.)
In one photo, he goes full viking, flanked by a donkey:
In another, he tosses a football while his bad boy beard blows in the wind:
He puts in some one-on-one time with a furry friend here:
And gulps down his beer of choice in another:
In an interview with The Huffington Post, Mirvis said those who swipe right tend to do so out of admiration for the beard, which he's been growing out for as long as he's been able to. As for how how he ended up with such memorable photos, he's just naturally #blessed with being photogenic.
"I don't know if it's because I look so cartoonish or if it's because I tend to live a cartoonish lifestyle, but I've always been lucky enough to get fun photos," he said. "My attitude toward [creating] a profile is simple, 'Would I like this guy?'"
The people of Reddit clearly like Mirvis. Since screen caps went up, he's gotten a lot of love on-thread and even more in his direct messages.
"This whole thing has been insane and my inbox is jam-packed with the kindest, and sometimes dirtiest, messages," he told us. "Maybe my wife is out there!"
So what's he looking for in the future Mrs. Mirvis?
"All I really want in a partner is just that -- a partner," he said. "Someone who challenges and supports me, someone who excites and scares me, someone who I can cause mischief with just as easy as someone who I could binge watch 'Game of Thrones' with. Couldn't hurt if they were an NFL fan, too!"
Ladies: prepare to swipe right.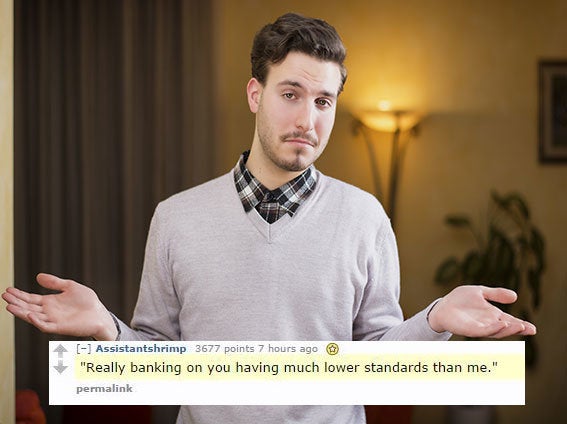 Brutally Honest Dating Profiles
Popular in the Community