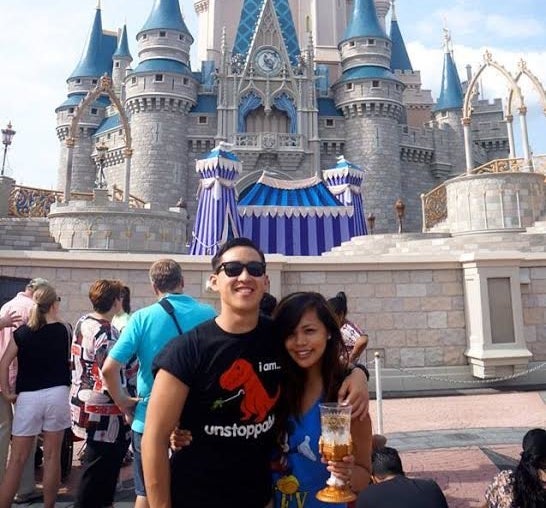 If you want to marry a Disney lover, you must plan a proposal fit for a princess.
And that's exactly what Curran Wong did when popped the question to his very own Princess Jasmine (a.k.a. Shari Hakim) at Disneyland in Anaheim, California on Oct. 8.
Over the last year, Curran and his friend Tim Gettys spent time plotting a Disneyland proposal that would incorporate Shari's love for movies like "Aladdin" and "Up" without causing a big scene that could get them kicked out of the park.
"Shari went to Disneyland every year [growing up]," Curran told The Huffington Post. "In our eight years together, we've been through multiple annual passes. I knew what Disney meant to her, and that magic found its way to me."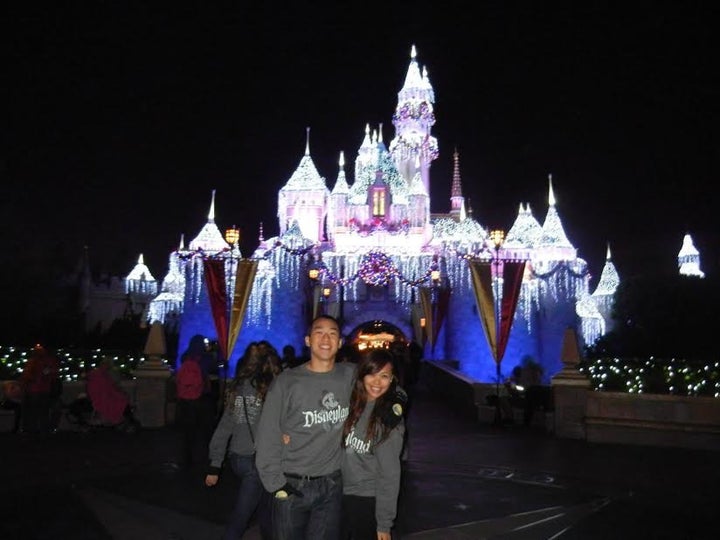 The plan went a little something like this: Tim, co-founder of the Kinda Funny YouTube channel, pretended that he was shooting a rap video at the theme park. Shari was there to help ― or so she thought. Standing in front of Sleeping Beauty Castle, Tim handed his phone to Shari, telling her to watch and listen to a video.
When she put in the ear buds and saw Curran dressed as Aladdin on the screen, she quickly realized she was in for a surprise.
"On October 17, 2008, I asked you to take a leap of faith by taking my hand and trusting me," he said in the video. "So for the next few minutes I'll need you to do just that."
He continued: "It's going to take quite a few balloons to take us where we need to go," he continued. "It was only through the courage and strength of my friends that I believed I could fly and take you to a whole new world."
That's when the couple's friends and family approached in groups, all wearing balloon T-shirts in reference to the balloons that carried Carl's house to Paradise Falls in "Up."
Curran then instructed Shari to take off the headphones and turn around. There he was standing behind her.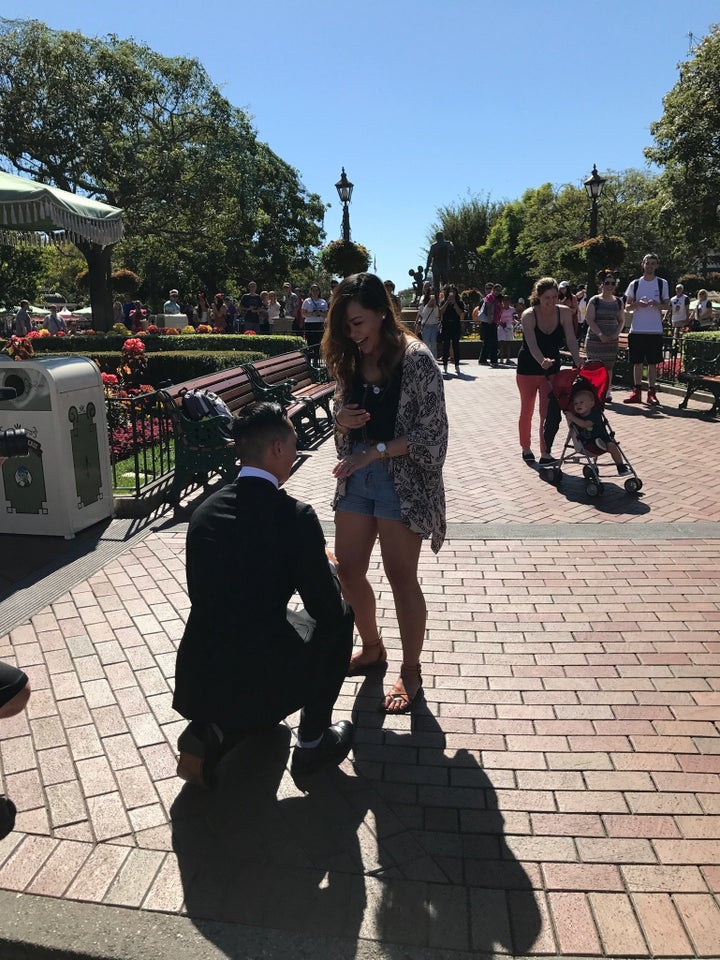 "Eight years ago I rubbed the magic lamp and asked you to be my girlfriend,' he told her. "And in those eight years we've become so much more. You've become my ultimate supporter, my girlfriend, my better half, my beautiful Princess Jasmine. And I know that with you by my side, adventure will always be out there."
That's when he got down on one knee and presented her with a gorgeous ring.
"She was absolutely stunned," Curran told HuffPost.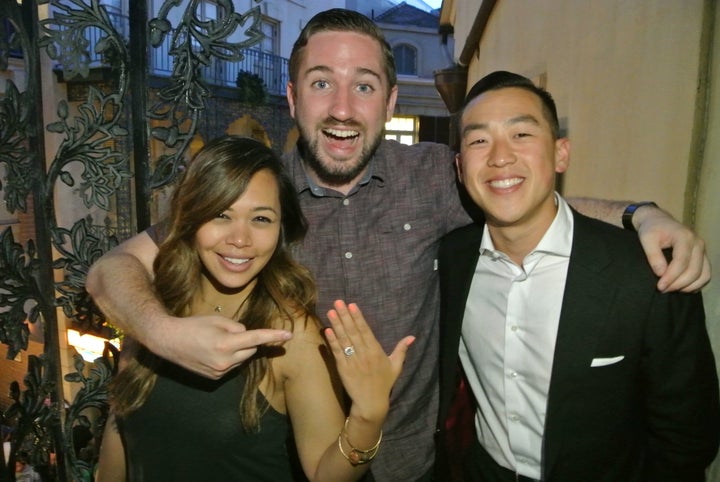 Disney has long been a part of the couple's relationship. When Curran asked Shari to be his girlfriend in 2008, he did so by putting on a live production of Aladdin that included a Genie (played by Tim), a rendition of the song "Whole New World" and even a makeshift magic carpet ride. Yeah, this guy goes the extra mile.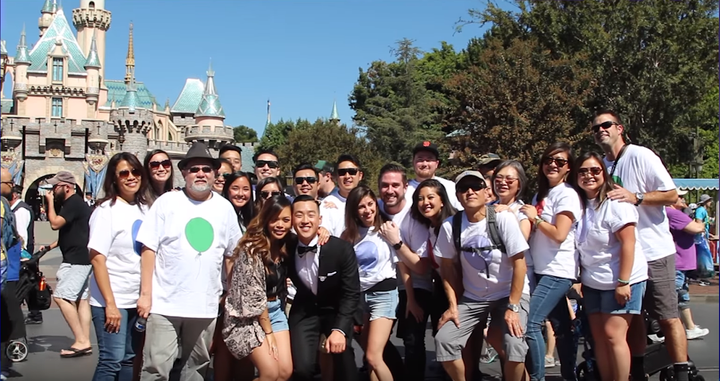 Curran told HuffPost that gathering all the family and friends ― some of whom flew in from Sacramento and San Francisco ― required a lot of planning, but it was all worth it when he saw her happy tears.
"As each group approached her, you can see her break down more and more," he said. "I could not be happier with the results. Every day since has been like waking up from a dream only to realize it's reality. She's cried tears of joy every night."
Watch the enchanting proposal above. ✨
Before You Go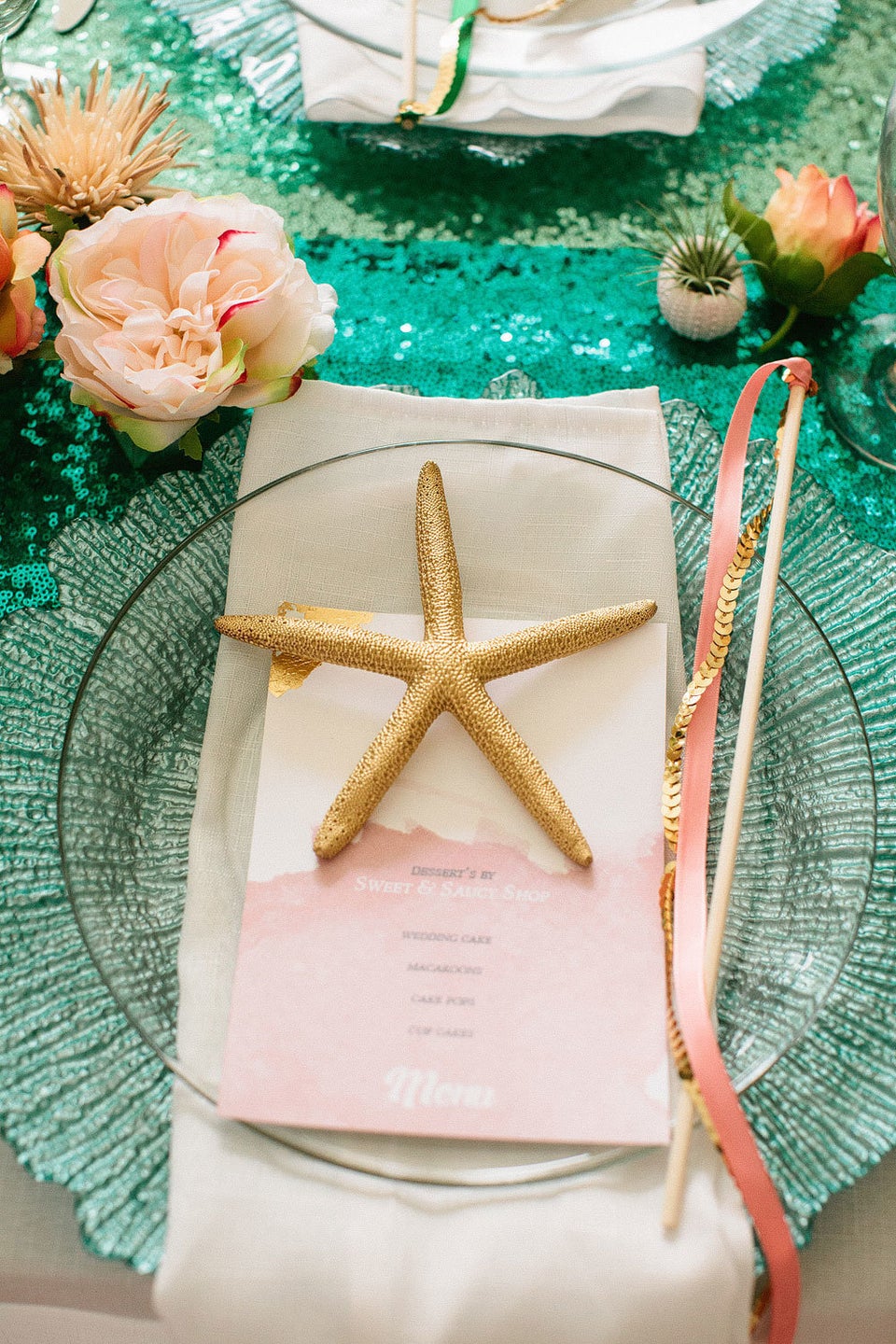 Disney Wedding Ideas