Tears were starting to well up in my eyes. My heart was aching. The tiled floor was merely feet from my face. Honestly, "down on all fours" was not how I expected this shopping trip to end. But in the middle of Kohl's, I found myself hating the holiday season with a passion. It all began earlier that week.
I'm the Chef for an elite private school in The Woodlands, Texas. My days are filled with squealing students, thousands of pounds of food, and a tremendous workload. After serving in the Army, and after using my G.I. Bill to attend culinary school, I never thought I'd leave fine-dining to work for a school. However, I love my job. Nothing tests your culinary chops like having to cater to the discerning palates of kids on a daily basis. I wouldn't trade it for anything.
Our school is a very giving school. Every year our students/families give to breast cancer research, pet agencies, Habitat for Humanity, the No Kid Hungry campaign, just to name a few. I've never been around a group of people who so very regularly come together, united for a cause, to make a positive difference in the lives of those who need it most. This article is about one of these missions, and my experience in participating.
Every year, for over 20 years, our school has supported "The Angel Tree."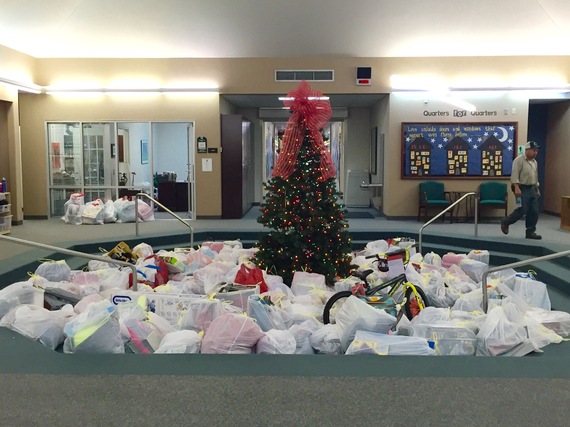 Christmas truly is the most wonderful time of year. It is especially magical when you are a child. Unfortunately, this time of year can be an additional burden to an already difficult situation for families in need. The Salvation Army offers assistance year round to help these individuals and families trying to make ends meet. But during the holiday season, extra effort is made so that their Christmas is just as magical.
For this reason, the Salvation Army has a Mall Angel Tree program. When you are out this holiday season buying presents for your loved ones, look for the "angels" adorned on Christmas trees at participating malls. All you have to do is select an angel tag hanging from the Christmas tree. Purchase a gift for your "angel" (the tag will have the child or senior citizen's name, gender and gift suggestions). Place the unwrapped gift in the bag provided and return it to the tree where you found the angel.
Last year more than 20,000 children and seniors in the greater Houston area received a Christmas gift. With your help, this year will continue to be just as magical.
This year, I called a colleague-- Margie-- on campus who heads-up this beautiful endeavor. I asked if there were any more "Angels" left on our tree. She told me that there was only one! I immediately asked her to pull the Angel tag for me, and told her that I'd swing by her office to pick it up after my afternoon meetings.
When I got to her office that afternoon, she wasn't there. But, she left my Angel tag on her desk for me.
When I picked up the tag, I couldn't stop the smile that spread across my face.
You see, I am a disabled combat veteran, and come from a loud, large, Southern, and very religious family.
My Angel tag bore the following information: "David: age 68. Disabled Veteran. Items needed/wanted: church pants, walking shoes, and Old Spice cologne."
Some would call that divine intervention; others might call it fate. Whatever the label, I knew that this particular Angel tag was meant for me. David and I had a connection from the very moment my hands touched that tag. Veterans have a bond that transcends age, or when you served. He was my brother.
I immediately made up my mind that I was going to knock this one out of the park.
I started my journey by heading to Target. After digging through every single rack of "church pants" in the store, I discovered that the largest size carried by the store was a 40 in waist.
My veteran was a big fella. Size 44X32 in pants. Size 3XL-T in shirt. Size 12.5 shoe.
I left Target, and went to Walmart. Nothing.
I left Walmart, and went to over 15 different stores.
For over 6 straight hours, I was consumed by finding David some church pants, walking shoes, and Old Spice.
At one point I called my mother for help/advice.
I struck out at every single store I visited. And that takes us back to the beginning of this article.
I found myself on my hands and knees, digging through every box of shoes in Kohl's. At this point, I had tears in my eyes. If it was this horribly challenging for ME...a reasonably healthy (and financially stable) individual to find basic clothing and shoes for David, how much more incredibly difficult is it for David to do so on his own?! Heart-breaking.
I know those folks in the store probably thought I was a crazy person. There I was, on all fours, wearing my chef's coat, crying in the men's shoe department. All I wanted to do was to find him a decent pair of shoes. After all, he might not have a chance to get another pair until next Christmas, right? Most shoe brands don't make a men's walking shoe in size 12.5.
I'm not a very religious person these days, but I did say a little prayer. I just stared down through the tears at the tiled floor, and whispered, "God, or whoever is listening, if you're out there, I'm trying to do a good thing for a man in need. Please. Just let me find David a pair of shoes. And clothes. And Old Spice. Even if I personally don't get a thing for Christmas, let me help David out."
Feeling defeated, I began to stand up, and just to my right I found them. True story.
Words can't describe the feeling that washed over me.
With tears streaming down my face, I gathered them up and went to check out.
Several hours later, I found a store that sold "Big Men's clothes." When I entered the store, I noticed that I was the only customer in the store, and there was only one employee present. She approached me and asked if she could offer me some help. When I explained what I was attempting to accomplish, and that I needed to stretch my money as far as it could go, she had tears in her eyes.
For the next hour she walked through the store with me, and assisted me by digging through every single sales/clearance rack they had. We moved on to the checkout counter, and I was able to buy him a few nice pairs of church pants. Even more touching than her interest and assistance with what I had set out to do, was the fact that she included two $50.00 gift cards for David to use on additional items.
I was so overwhelmed by the emotional and touching experience of shopping for David, and the beautiful people I encountered during the journey. But, I still hadn't found any Old Spice.
It was very late, and traffic was horrible. I finally decided to give up for the day.
The deadline was the very next day, so I was under a bit of pressure. I walked over to talk to Margie about it, and told her a bit about the struggles which I had faced. I mentioned that I had one more item to grab for "my guy," and she asked what it was. I told her that I had not been able to find Old Spice.
Margie's eyes lit up, as she exclaimed, "Roman, don't even worry about it. We bought a few extra things to donate, and one of the items I picked up was Old Spice! I just figured one of the older men in need might like to have it!"
I squalled like a baby. It's funny how things come together.
I hope David is the most stylish man in the choir.
I hope David is the quickest walker at the track.
I hope David is the best-smelling man at Bingo next week.

More importantly, during this holiday season, I hope you're able to find your David.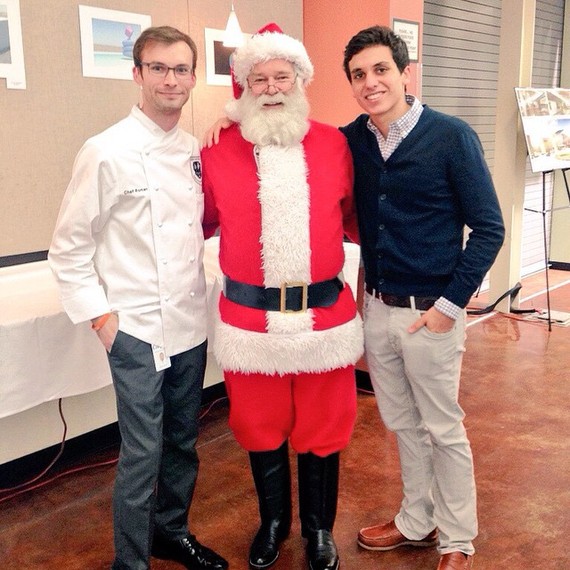 REAL LIFE. REAL NEWS. REAL VOICES.
Help us tell more of the stories that matter from voices that too often remain unheard.