Were they able to, most Americans would want to buy their legal weed at a pharmacy or at its own store. And they really want to, with 80 percent thinking that marijuana should be regulated like alcohol. That's according to a new survey from TheStreet analyzing consumer opinions on legal marijuana sales.
According to TheStreet's data, 69 percent of Americans think legal marijuana should be sold at a pharmacy, 60 percent think it should be sold at its own marijuana store and 39 percent want marijuana sold at a liquor store. Only 17 percent think that marijuana should be sold at coffee shops and even less, 13 percent, think it should be sold at the supermarket.
Take a look at The Street's breakdown from their survey: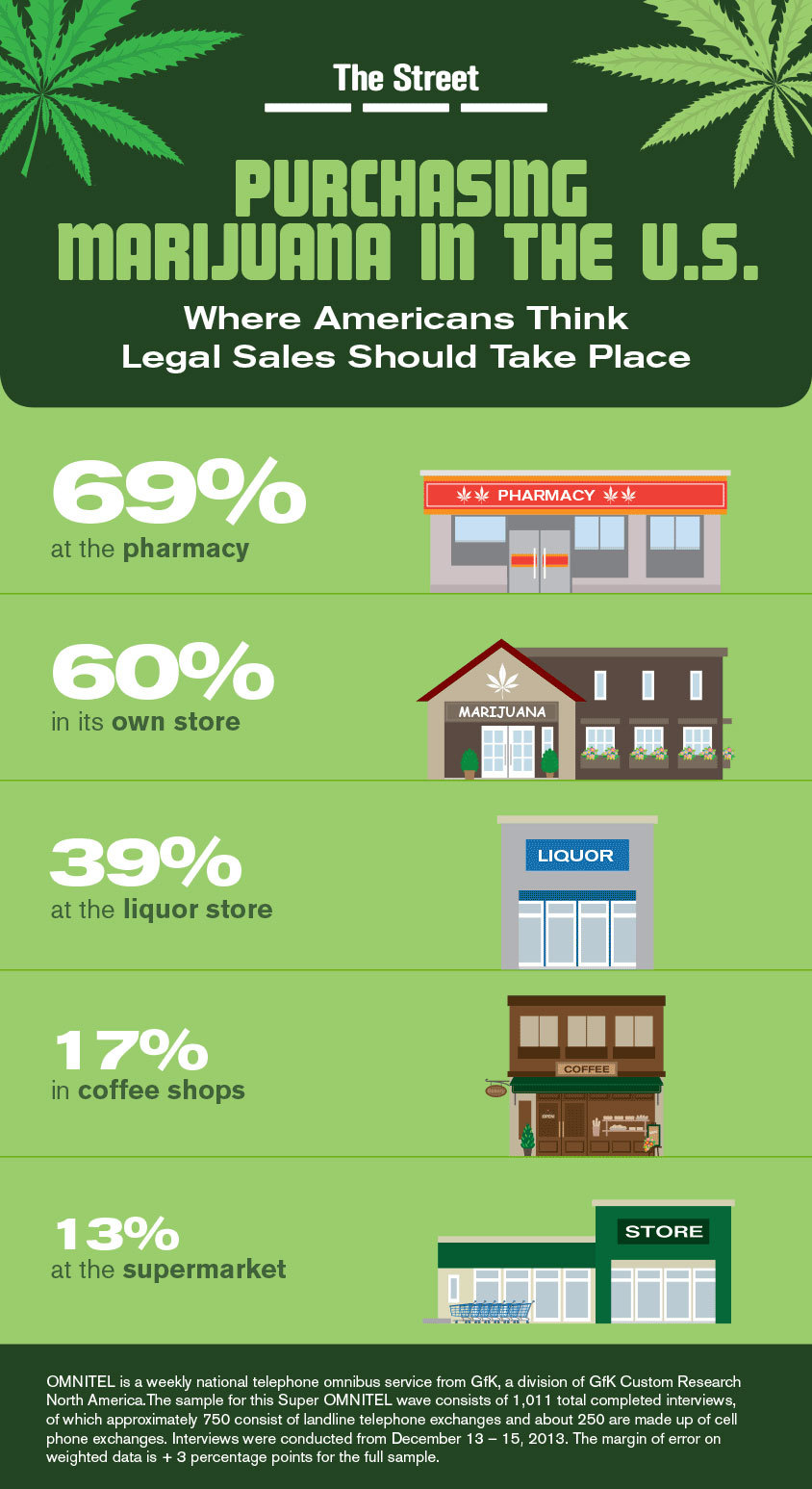 And as it turns out, when it comes to recreational marijuana buying and feelings on legalization, men support it and support it in just about every setting. Women were less supportive.
"Men and women were equal in favoring medicinal marijuana over recreational marijuana," said Debra Borchardt, market analyst for TheStreet, to The Huffington Post. "But then when it came to recreational, 33 percent of men were in favor and only 22 percent of women supported that. Men and women equally felt it should be regulated like alcohol and were in agreement on the age limits. There was a big difference between men and women on the sale and possession of small amounts of pot being legal. Forty-nine percent of men think a small stash should be legal, while only 36 percent of women felt that way."
TheStreet's survey supports data from a recent report from the U.S. Department of Health and Human Services which showed that men are more likely than women to use drugs, 9.6 percent to 5 percent, respectively.
"However, this same study shows that women are beginning to increase marijuana use," Borchardt said. "So maybe as it becomes more acceptable and legal women will catch up to men. Since men are already open-minded about pot, then it follows that they are much more open-minded about where to buy it."
Both male and female adults in Colorado will get a chance to buy the first bags of legal, regulated recreational marijuana in U.S. history beginning Jan. 1, 2014. But Borchardt says that with factors like a majority of Americans supporting marijuana legalization, the marijuana marketplace could expand rapidly.
"Attitudes are changing as fast as they changed towards gay marriage," Borchardt said. "People are just accepting that marijuana will be legalized by at least 2016. States don't see this as a battle worth fighting. As a result, the market will explode into the millions. We are already seeing numerous companies being created just to jump into this market. In fact the first marijuana related company has filed to public on one of the major stock exchanges."
REAL LIFE. REAL NEWS. REAL VOICES.
Help us tell more of the stories that matter from voices that too often remain unheard.
BEFORE YOU GO
PHOTO GALLERY
27 Reasons Why The U.S. Shouldn't Lead The War On Drugs