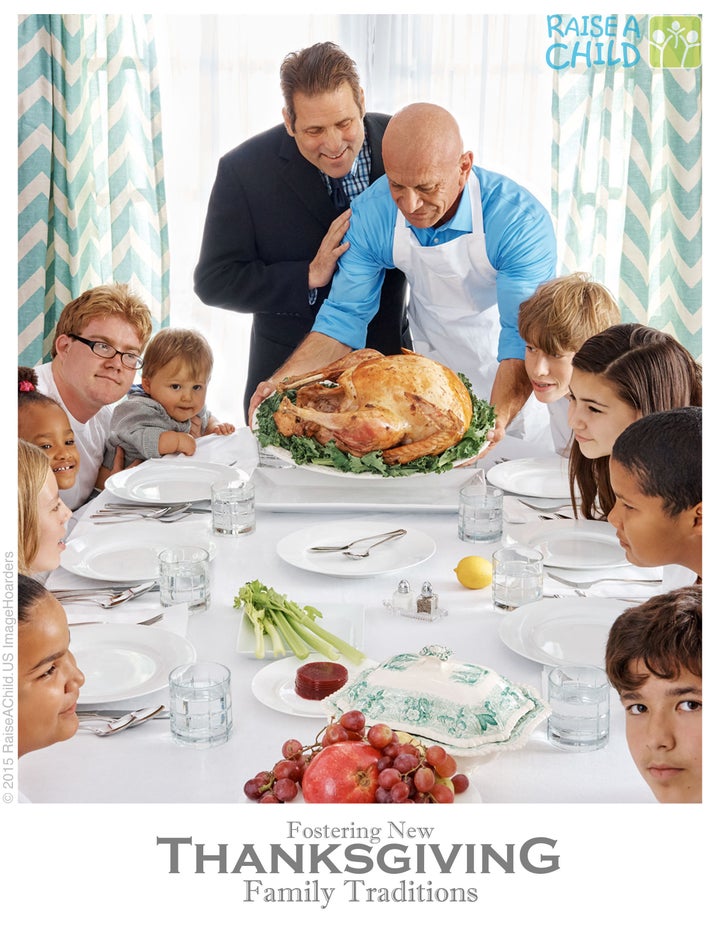 The Thanksgiving tradition that Alex Wexler, Gregg Milano and son Jacob established is so heartwarming that it inspired the RaiseAChild.US staff to honor their family in a unique way. Image Hoarders and Charles Nichols volunteered with us to help update an iconic work of art. This time, the American classic is reimagined as Alex and Gregg host adopted children at their holiday table. Contributing writer, Beth Hallstrom shares their story in this RaiseAChild.US Huffington Post Gay Voices "Let Love Define Family®" special series installment for National Adoption Month.
Turkey and all the trimmings are served with generous portions of love and hospitality by Long Beach, California, residents Alex Wexler and Gregg Milano, whose Thanksgiving feast for foster children brings new meaning to the notion of dining "family style."
Preparation for the dinner, now in its seventh year, begins the day before as Gregg and Alex roast turkeys, cola-glazed hams and whip up cranberry sauce with shredded coconut, yams garnished with See's Candies and Gregg's world famous bacon, green bean and mushroom soup casserole.
"The dessert table goes on for years and the kids all get to take something home," Gregg noted. "At our house, we never run out of food because I don't know how to cook for just a few people."
Each Thanksgiving, Alex and Gregg welcome about 60 guests to their feast. It is tradition that they guest list includes their closest friends and relatives. But the majority of their Thanksgiving feast invited guests are youth and teens of the Los Angeles County foster care system.
The joy they derive from filling hearts -- as well as bellies, Alex said -- is worth every dirty pan, burned finger and crumb on the floor for a host of reasons. But mainly it is because the event brought them together with their adopted son, Jacob, who is now 19 years old.
Alex, 56, who is a writer and real estate developer, and 52-year old Gregg, a buyer for an electrical supply firm, have been together ten years after meeting one summer weekend at Silver Junction, also in California.
"I was looking at Gregg out of the corner of my eye and could see him smiling at me. I finally smiled back. I don't remember much that followed except that an incredibly passionate kiss was involved," Alex recalled with a chuckle.
"We aren't married -- yet. We've been engaged for so long, but it's definitely on our to-do list," he added.
Being dads was also a priority for both men so they began their journey to fatherhood by attending an open house event at an agency called Kidsave. Then they enrolled in the 10-week training course to become certified as foster parents. They met Jacob, then 13, during that time at a Halloween celebration where, according to Alex, "this crazy, red-haired knucklehead caught our attention and our hearts."
Jacob had been in the foster care system his entire life, living in a total of ten different homes, Gregg said.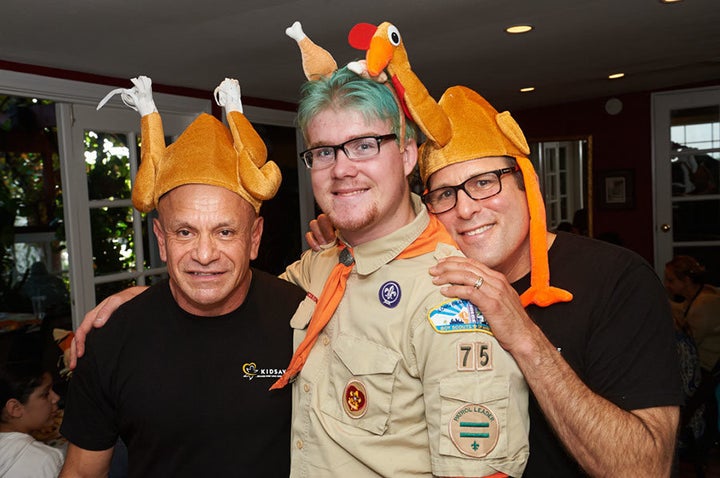 "It was during this time Gregg was inspired to host foster children from Kidsave at a Thanksgiving celebration," Alex said, picking up the story. "The first time I saw that little leprechaun, I knew. But Gregg wasn't completely sold. So he came up with this idea to support the teenage foster youth and to support Kidsave as well."
"It was a hullabaloo and everyone had such a good time we decided that year to make it an annual event. Jacob spent the day gorging himself and wandering through our garden."
As the day ended and Alex and Gregg said goodbye to their guests. Jacob stopped and paused. He turned back to his hosts for a final hug.
"Jacob's emotions were so deep and the hug so tender. In that moment, he reminded me of Gregg. I just knew he was going to become part of our life," Alex recalled.
At first, Alex, Gregg and Jacob participated in Kidsave's weekend hosting program. Sometimes, according to Kidsave, the adult volunteers become the child's adoptive family, guardian or long-term foster family while, in other cases, they maintain a mentor relationship with the child.
Alex said he and Gregg decided to mentor Jacob while they learned more about him and his learning challenges.
"His time in foster care was winding down. Jacob was on his way to a group home, where he would age out at 18 and be on his own. We saw that he had few life skills. So we decided to help this kid out," Alex explained.
Soon, they went from mentors to Jacob's adoptive Dads. Today, Jacob is a student at Long Beach City College and enrolled in an independent living program with three roommates in an apartment just minutes away from Alex and Gregg.
"We get the biggest kick when he shows up at our door and says, 'Hey, Dads, let's have dinner,'" Gregg remarked.
Alex added with pride, "He's thriving! He's an Eagle Scout and an ambassador for Kidsave, often appearing on the local news on their behalf. He's so charismatic and well spoken. It's quite amazing to see how far he's come."
Jacob's lifelong passion for Legos is being put to good use as he majors in mechanical engineering, planning to become a toy designer, Alex noted.
"All this time, Jacob's life has been on a 50-50 trajectory. But, somehow, every day, he pulls through. His school district was not supportive, but Gregg and I saw to it that Jacob received the special services he needed after graduation. We often wonder, if he had had the proper intervention from the beginning, where he would be now. But, he's in college and doing great," Alex said.
Jacob, as he's done for the past seven years, joins his parents for the Kidsave celebration and will be with them again for the family Thanksgiving dinner on Thursday.
"He has to be part of it. It's too important to him," Alex said.
On the day of the feast, Gregg will rise before dawn to get the turkeys and hams in the oven, finalize his many side dishes and prepare a table groaning with desserts. The house glows with warm Autumn colors, candles and lights.
"It's just like a dream," said Alex. "They all want to live in our house. They all want to cuddle with our dogs and they always ask, 'When I move in, which will be my room and which will be my dog?'"
After stuffing themselves with seconds, thirds and even fourths at dinner, the children will play games on the patio and activities in the backyard as they romp with the family's dogs, Cleopawtra, Flukey and Ulah. As the festivities comes to an end, each child was given a gift from Alex and Gregg, who maintain they are the ones who receive the most and are filled with gratitude on that day.
"It may be a lot of work, but to see them enjoy the food and see the happiness in their eyes and smiles on their faces, it's worth it. For a lot of these kids, it's their first big holiday dinner with a family and to be able to provide that, we are truly thankful," Gregg added.
Have you considered building a family through fostering, adopting or weekend hosting? RaiseAChild.US would like to help you. Visit us at www.RaiseAChild.US and RSVP to join us for free, fun and educational RaiseAChild.US events throughout Southern California:
Tues., Dec. 1 6:30PM to 8:30PM Andaz West Hollywood Hotel
Wed., Dec. 2 6:30PM to 8:30PM The Prado at Balboa Park, San Diego
Thur., Dec. 3 6:30PM to 8:30PM The Art Theatre of Long Beach
Sun., Dec. 13 2:00PM to 4:00PM Museum of Art History in Lancaster, CA
RaiseAChild.US is the nationwide leader in the recruitment and support of LGBT and all prospective parents interested in building families through fostering and adoption to meet the needs of the 415,000 children in the foster care system. RaiseAChild.US recruits, educates, and nurtures supportive relationships equally with all prospective foster and adoptive parents while partnering with agencies to improve the process of advancing foster children to safe, loving and permanent homes. Take the next step to parenthood at www.RaiseAChild.US.
Special thanks to Alex, Gregg, Jacob, Image Hoarders, Charles Nichols, the children and their families, and all who participated in the shoot and the creation of the image.
Popular in the Community