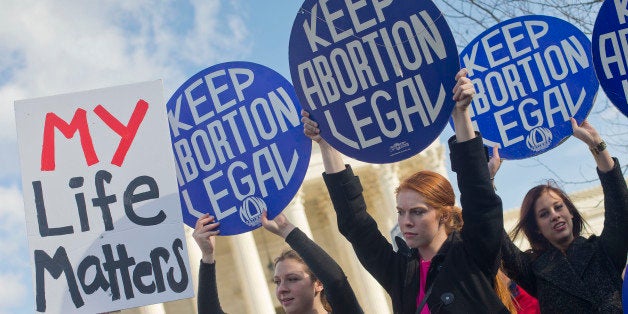 A friend of mine is a midwife and an abortion provider. That sounds like a paradox, right? When we conjure up the image of "midwife," we see this nurturing, maternal woman who is likely dressed in linen and silk, rubbing our shoulders as we usher in this new life. Abortion brings up this whole other image. For me, it's being in a dark alley in Central America with a marching band playing in the distance and a doctor whispering to a nurse in German while I will myself to stay in my body, making promises that it's only a few more minutes, surely. It's cold noodles doused in peanut sauce, blackberry juice and two good friends that held my hands through this very intimate, terrible, horrible day. Except that I felt buoyed by the sisterhood, and there wasn't a moment I felt alone. I felt the company of every woman who has experienced everywhere in the world for all time. For me, it's the nurse that held my head and wiped the tears off my cheeks, forgoing this learning opportunity to give me comfort. This woman who chose to help other women in a country where abortion is illegal and could go to jail for wiping those tears and holding my head. But I'm digressing.

A friend of mine is a midwife and an abortion provider. This week, she met a boy and he asked her what she did for a living. So she told him. He called her a "liberal scum." He told her she was "soul-less." He accused her of pretending to be a midwife when she clearly does quite the opposite.
The word "midwife" means "with women."
I've been angry for the last few days since she told me this story. That she has to be the receptacle of someone else's hate, someone else's misinformation, someone else's politics or religious belief system is heartbreaking to me. We both work with babies. She takes care of the babies that are not going to be a part of this world this time around, and I take care of the babies once they are here, wanted or not. We joke that we have very similar jobs but as a social worker who works with babies, when I tell people what I do, they praise me. Every. Fucking. Time. So you can understand why I'm offended. As a woman. As a woman who has had an abortion. As a woman who is part of the birthing community.
Here is the other thing that makes me mad. Every time I tell another woman the story of that dark alley in Central America, I am almost always met with a similar story. And I'm angry that we're not allowed to talk about it. We're not allowed to grieve. We're not allowed to doubt. We're not allowed to celebrate. We're not allowed to feel certain. We make that choice in the dark, and we never are allowed to process it without the fear of being judged, ridiculed or condemned. Even I am afraid. The daughter of liberal parents, free of religious guilt, and a supporter of CHOICE from the day I was born. I don't want to make that choice for another woman and I don't want someone to make it for me. What I do want is more handholding, more support, more love, more compassion, more space for grief and anything and everything else that comes up.
This friend of mine is braver than a lot of people and she chose to respond out of love and compassion. She is, in her own words, a compassionate and driven healthcare provider, dedicating her life to ensuring that women get the healthcare they deserve, whether that's a pap smear, a healthy birth, adoptive services or an abortion.
She stood up for herself. And I wanted to stand up for her too. And for me. And for all of us who have made that choice and for those of us who will in the future. And thank goodness for the sisterhood, for the men and women who believe a woman has jurisdiction over her own body, and for the hands that hold yours in the dark alleys.
Calling all HuffPost superfans!
Sign up for membership to become a founding member and help shape HuffPost's next chapter