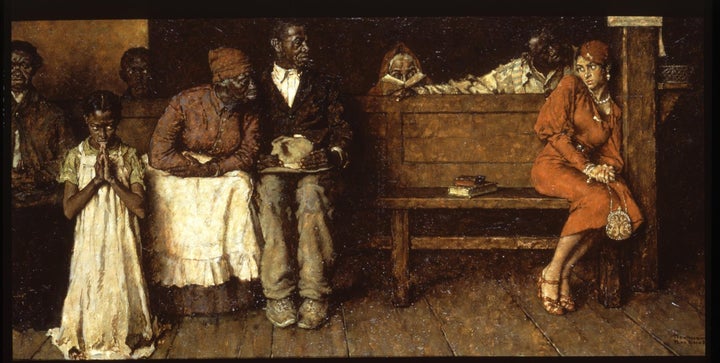 Her name is Florence Rebecca Wade Bush.
She is 90 years young. A Baptist Reverend's widow, mother of three sons, each his own force of nature. She found her voice and became a minister after her husband suddenly passed away. Her church dubbed her "sainted" with a wooden plaque. She is stopped on the street by people who are anxious for her wisdom and effortless grace.
I have known and adored her for many years, the mother of one of my great loves and best friends. She is petite in stature and enormous of spirit — she is imbued with her love of the Lord, and she speaks of him as a companion and her closest friend. Her God is everyone's God, "We all love the same God; Muslims, Baptists, Jewish people, Christians..." Sparkling eyes and a wide smile that calmly envelops her gentle, yet strong, face — her boundless energy and enthusiasm are infectious. She bounces out of her recliner to her feet in moments of pointed excitement.
Yet I never knew till this week that she had picked cotton and tobacco leaves when she was six years old down in South Carolina. She would start at the beginning of daylight until she could continue no more as evening fell. She used to pray to God each day that he deliver her from this never-ending fate and tedium.
When she was 19 in 1946 her older sister sent her a ticket to NYC — she took the train up north and blossomed remarkably from there. In a mere five years, she found employment, had met her first husband who died within the year of their marriage, and she was left an inheritance with which she bought a house as an investment. A second marriage with children and a bustling life as a pastor's wife then filled her days. She was known for her fresh apple pie with its perfectly browned, crosshatched crust on top... and an always positive, shining spirit. Considerable obstacles and hardships came her way in her life but she has navigated them with an unruffled certainty in God's will and love for her.
The white landowner from her childhood servitude did an exceptional thing. He gifted Florence's family with his land — they paid a small sum to satisfy the court and the land is theirs to this day. The Wades from South Carolina still reside there.
Her story is an American story. THIS is America. This is America. Something we need to keep repeating to ourselves in the days ahead.
If we remember where we have come from — each with our respective, interconnected stories — we will figure out where we are headed together.
It is up to us to remember, remind each other, and live that truth every day. And love one another along the way.
She didn't expect to see me the other day — she embraced me and said, "You should be a Bush, you're supposed to be a Bush!" And I said, "I am a Bush already!"
REAL LIFE. REAL NEWS. REAL VOICES.
Help us tell more of the stories that matter from voices that too often remain unheard.
BEFORE YOU GO