It seems this story has finally come full circle. Annie Moore, the Irish teenager who was the first to alight at Ellis Island, came into my life back in 2002. Working on a PBS documentary, I discovered that the Annie Moore who had been so frequently credited was actually born in Illinois.
I told the appropriate parties and waited, but no one seemed interested in correcting the error, so in 2006, I impulsively blogged a contest offering $1,000 for the first proof of the real Annie. In just six weeks, a virtual gang of genealogists solved the mystery and found Annie. The resulting family reunion was featured on the front page of the New York Times.
Last month, I wrote about Annie again - this time about a photo that was discovered (by Michael Shulman) that appeared to be Annie with her brothers on the day of their arrival at Ellis Island. At that time, I was asking for help proving it was them.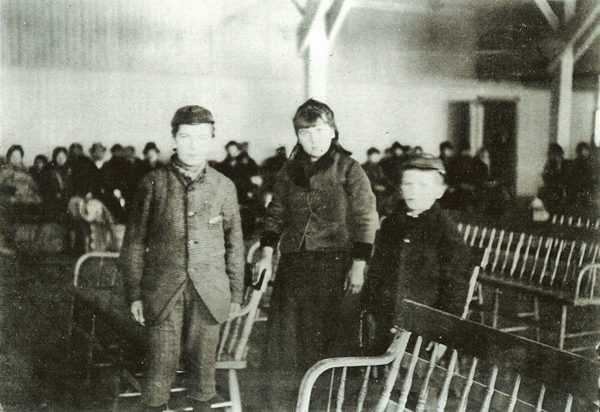 Since that time, I've received additional assistance and have done more digging, and as a result, have reached the conclusion that this photo is indeed Annie with her brothers, Anthony and Philip, at Ellis Island. In fact, I'm so sure that I'm putting my money where my mouth is and offering $1,000 to anyone who can prove me wrong. If anyone can provide convincing evidence to the contrary, please share it with me. But since I'm doubtful that any such evidence will be forthcoming, I'm pleased to take this opportunity to introduce everyone to this iconic image Annie Moore at Ellis Island.
Here's a summary of my reasoning:
The photo shows a trio of children of the correct genders and approximate ages to be Annie and her brothers.
Maureen Taylor, described by the Wall Street Journal as "the nation's foremost historical photo detective," has examined the photo and concluded that the children are dressed in attire that identifies them as being from the British Isles in the late 1880s/early 1890s. She also noted that the children are separated from all the others, indicating that a special event is being recorded.
The others in the background look quite different (wearing heavier and longer clothing), which fits given that there were only eight Irish on the Nevada, with most of the others being Russian and German.
A search of all the newspapers of the day for articles recording Annie's arrival turned up descriptions that all match the girl in the photo (e.g., bareheaded, having a "sack" (jacket) buttoned closely about her, etc.).
Provenance also supports the claim as the photo was found in an album donated to Ellis Island by descendants of John B. Weber, the first superintendent of Ellis Island. He was the one who presented Annie with a gold coin upon her arrival, and only worked there until April 1893. Weber was a politician and one of his descendants remarked that he would have been well aware of the importance of commemorating the opening of Ellis Island. While the photo is part of a collection of images that's mostly of assorted immigrant clusters at the Barge Office in 1890, it is one of the few that is unlabeled and has a different look. Since the opening of Ellis Island is considered to be the highlight of Weber's tenure, it's clear why he would have wanted to include it.
Subsequent to the discovery of this photo, two photos of Annie were found in different branches of her family. The odds were that these other photos should have shown us someone who looked different enough that we could have dismissed this entire notion, but instead, they both look very similar to the girl in the photo. A facial analysis done by Tim McCoy (see below) shows how the faces in the Ellis Island image and of Annie as a young mother closely correlate. Thanks to these photos, we can also dismiss one of the two pieces of conflicting information - a sketch of her in the Irish World newspaper. Although it was already quite apparent that the sketch was inaccurate, the lack of any resemblance to Annie confirms that it was not based on her, but was instead, an artistic rendering.
There are relatively few known images of the initial Ellis Island where Annie arrived because it burned down in 1897, but those located show the same posts with a trio of struts/braces (two solid ones and one double one) as those in the photo of the children (see my previous article to view a comparison). As can be seen below in this sketch of the construction of Ellis Island, the scale and structure of the room correspond with images and descriptions of the original building. Benches seen in the photo of the children are also similar (e.g., featuring vertical spindles as opposed to the horizontal slats on the benches in the rebuilt Ellis Island), as is the bead board on the walls.
The only remaining piece of conflicting evidence is the denial by Ellis Island that this photo is of Annie and her brothers. The counterclaim is that this photo is of a random group of immigrants at the Barge Office. But as this illustration from an 1891 issue of Harper's Weekly shows, the Barge Office looked nothing like the room in which Annie and her brothers are standing.
It's also unfortunately relevant to point out that Ellis Island has been mistaken before. While I have great respect for the facility and its associated institutions, I was assured that they had the correct Annie when I first informed them that they were dealing with an accidental impostor back in 2003. Extensive research unearthed the true Annie on that occasion, and research now indicates that Ellis Island is mistaken in its claim about this photo.
That's why I'm putting $1,000 at stake again. The last time, it restored Annie to her rightful place in history, and this time, I want to do this same with this photo - because it matters. Ellis Island is synonymous with immigration, and as the first to arrive, Annie symbolizes the fabled American dream that so many came here to pursue. As an Irish girl, she also represents the Irish diaspora which is so intertwined with the story of Ireland itself. On the surface, she may seem to be a random teenager who accidentally stepped into history, but when she did, she became an important symbol for two nations. This image captures that moment and belongs to all of us.
[Many thanks to Michael Shulman, Maureen Peterson, Maureen Taylor, Marian Smith and Tim McCoy who have contributed so substantially to this research.]
Calling all HuffPost superfans!
Sign up for membership to become a founding member and help shape HuffPost's next chapter