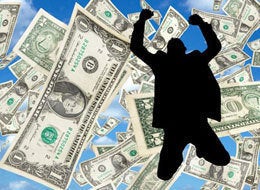 The happy dance. That's what people in a high-spirited and infectious TV ad campaign do when they win the lottery. It's a powerful message, and each time I see the ad, I feel the urge to get up and move. And, yes, while I'm dancing, to carry on out the door to buy a ticket.
Who doesn't want to win big? But is there another way to get that same feeling, a way where the odds aren't stacked against you, a way that you can do the happy dance and help others do it, too? Yes, yes, yes.
Finding work that offers more meaning and helps us make a difference in the world is a sure-fire way to get the kind of satisfaction that money just can't buy. Thousands of people like you and me are becoming New Radicals -- that is, they are discovering how to put skills they acquired in their careers to work on some of the world's greatest challenges (for more, see archived articles). Best of all, this is one dance that just keeps giving.
Earlier, I wrote about the first three questions New Radicals pose as they're reinventing their work, "What do I have to offer?", "What moves me?", and "What does the world need?". Now, it's time to answer the central query of the New Radical journey, "What is your new role?" Will you become a New Radical Activist, Entrepreneur, or Innovator?
My choice of the word "role" is intentional. Clearly, our new work is so much more than a job -- it's about discovering where, given your particular skills and passions, you can make the greatest difference. As Aristotle put it, "Where your talents and the needs of the world cross, there lies your vocation." But "role" also captures the idea that we are each playing a part in the unfolding of this movement -- one part in a play that is much larger than us.
Choosing a new role isn't as easy as it sounds -- or as we hope it will be when we first imagine changing our lives. Consider our first careers: so often, they were what others wanted us to do ("My son, the lawyer"). If this sounds familiar, it may comfort you to know that you're not alone. Even some of the world's most successful people were originally encouraged to do something different. Isaac Newton's father, for instance, wanted him to take over the family farm.
Or, even if you did choose for yourself, you may have found that it was easy to get onto a particular track and just stay with it. Melissa Dyrdahl, formerly senior vice president of corporate marketing and communications for Adobe Systems describes it this way, "I got started on this wonderful path, and opportunities kept coming my way. But eventually it becomes the path of least resistance."
At midlife, Melissa stepped off this familiar and comfortable track to become a New Radical Entrepreneur. Along with Drew McManus, another Adobe alumni, Melissa founded Bring Light [bringlight.com], a business that puts her marketing, technology, and business background to work for the non-profit sector. The Bring Light site makes it easy for people to donate to a wide range of worthy causes, and its project focus (such as a program established to help people on fixed incomes be able to afford service dogs) helps philanthropists actually see how their dollars are being used. Plus, Bring Light is a social network, so donors with similar interests can create Giving Groups and collaborate on specific projects.
The biggest challenge people face at this point in their reinvention process is to get specific. As many New Radicals discovered, when you're still uncertain about what your new role will be, everyone applauds your desire to save the world but no one knows how to help you think things through or where to place you. Rocco Rossi , who left the corporate world to become a New Radical Activist (he leads the Heart and Stroke Foundation in Ontario), experienced this firsthand, "I soon discovered that if you only have a vague sense of what you want to do -- looking back, I realize I was pretty incoherent, talking about wanting to do good -- no matter how bright or talented, or what your record is, they don't know what to do with you, and it represents too much of a risk to present you. I knew I needed clarity, but I had none."
The luckiest among us already know what we want to do. But if you don't have a ready answer to the question, "What is my new role?", how do you find it? Next Saturday, I'll write about how New Radicals-in-the-making achieve clarity, and how you might, too. So that you can do your very own happy dance.
Typing this, my head is filled with an image of thousands of people jumping up in offices and kitchens around the world and dancing their hearts out. We're like so many bees in the giant hives of our cities, signaling others that we know where happiness really lies.