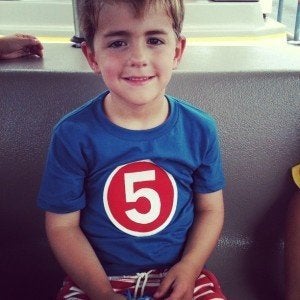 This post is the fifth in the series "This Is Childhood," which captures moments in our children's lives, from age 1 to 10.
Five wears stickers on his shirt, which is getting to be too small and bares a wee bit of belly, Spider-Man light-up sneakers, and a face half-painted to look like Iron Man. Five has swagger to spare.
Five is a whole hand. It is no longer a baby, not even a toddler or a preschooler. Five is a big deal.
After the slow, rickety, listen-to-every-click-of-the-wheels climb to the top of the rollercoaster that is the first four years of parenting, five lets you pause for just a moment at the apex. In the brief stillness, you suck your breath in as you look back on the journey that brought you there, anticipating the free fall and the loop-de-loops beneath you that will carry you toward adolescence and teenagerland and the great beyond. Five is both an end and a beginning.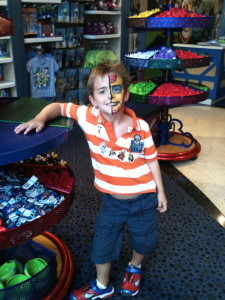 Five is silly. Five is savvy. Five is blessedly unselfconscious and bold. Five is tall enough to ride bigger rides, to jump off high dives, to swim from end to end of the pool. Five can take on the monkey bars and zip lines successfully with nary a glimpse of fear. Five still holds your hands with small but sure fingers in crosswalks, still wants to snuggle at night, and still tells you he loves you without hesitation. Five can be an exasperating master at the art of whining and cajoling, but he also listens to reason a little bit more than his 4-year-old brethren. Five wears his heart on his sleeve. Five has an uninhibited belly laugh that is positively infectious.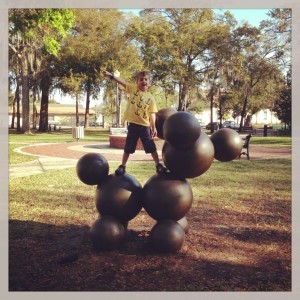 Five goes to Kindergarten, to the world of big kid school: a graduation for both child and (often sniffly, incredulous) parent. We spend years wishing for maybe just another hour of preschool, for just a little time before the overtired and needy chaos returns home. Suddenly, we find ourselves in the thick of full-time school, and we miss that chaos. We miss the endless questions, the "Mommy, look at me!" We miss PBS Kids providing the background soundtrack of our weekday mornings (just me?) We mourn the loss of the majority of our children's waking hours. We feel, more acutely, the ache of the passage of time. Five shows us how fast it goes.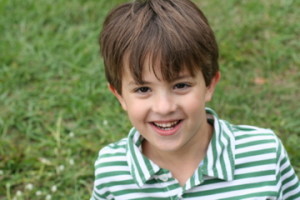 Five is excited to dress up on Halloween and understands what it is and what it means -- CANDY -- but little five-year-old legs, even when dressed as superheroes, are still not quite ready to trick-or-treat for hours on end yet. They might require Daddy's shoulders or a wagon to carry them instead. But 5-year-old hands never tire of holding bags full of candy.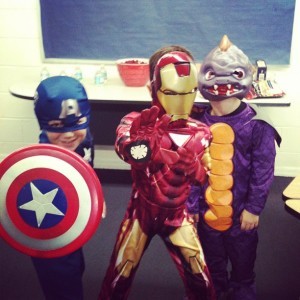 Five makes handprint turkeys at Thanksgiving, but he won't eat anything except a little bit of turkey and some macaroni and cheese on the big day, along with a roll or three or six. Don't let the turkey touch the macaroni, though, or there will be a very angry, suddenly-not-at-all-hungry 5-year-old giving you the big old stink-eye. Don't expect that the corn muffins he loved yesterday will still be acceptable today, either. Try to keep up.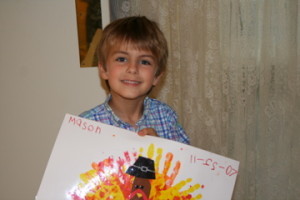 Five still believes in Santa Claus. He writes a Christmas list in big, scrawling, often backwards letters with a possibly broken crayon. On his list: "1. A TV for my rum. 2. My own rum. 3. Legos." Five wakes up early every day before Christmas and searches for his Elf on a Shelf, whom he has named "Winter" because that's what his class elf is named, of course. Five goes to the holiday carnival and gets his face painted like a reindeer. Rudolph, natch.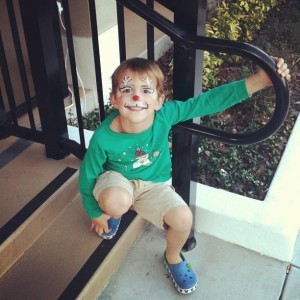 Five is impossibly bigger than his baby sister, but also still so little next to his big brothers. His baby face thins out and reveals the boy and young man he will look like; his baby belly begins to fade from view as his torso lengthens. Five has a first wiggly tooth that hangs on forever until it can do tricks like a Cirque du Soleil performer in his mouth and then finally falls out -- a moment both horrifying and giddy. Five can dress and undress himself, but still struggles to unbutton his shirt or a stubborn pair of shorts sometimes. He proudly wears his superhero underwear. Five is not too cool to hold baby dolls with the girls on the playground. He even brings his own one day.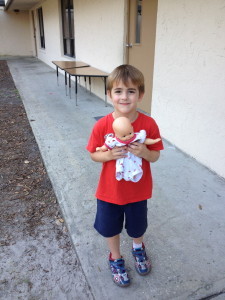 Five loves nothing more than a potty word, a fart joke, or a naked booty dance, especially if he can take his mother by surprise. He's the perfect sidekick to an older brother and his favorite thing -- besides Minecraft or Skylanders -- is his baby sister, to whom he coos and sings daily. Five is happy to turn on the baby "thermometer" (aka the monitor) to watch the baby while she sleeps, and he never fails to steals her pacifier from her mouth "because I can't see her smile!"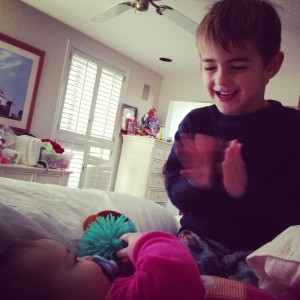 Five is often the moment when a parent experiences true, authentic magic: the switch flips, the light turns on, and suddenly, a child can read. I'm on my third 5-year-old, and watching a child learn to read and write never gets any less amazing. Five asks, "How?" and "Why" and also how to spell words about a zillion times, but you comply and spell everything out because it's so cool that your child can write. To bear witness to a 5-year-old is to watch a miracle of expression and learning unfold every day. Sometimes, that expression will make you cry, like when he decides to use his new letters and words to write a love note to his baby sister.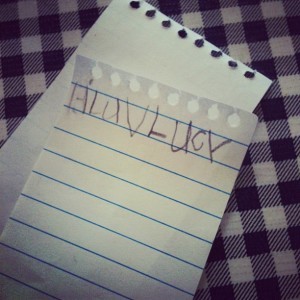 Five still has a hard time getting ready and off to school in the mornings, but reports that every day was a "GREAT DAY!" His favorite hotel is the "H" hotel -- the Holiday Inn. Five loves spontaneous trips to playgrounds and after-school trips to the ice cream shop for vanilla ice cream with gummy bears on top. Five covets the caterpillars for sale at the Farmer's Market every Saturday. Five brags to his little classmates that he knows just what to get you for your birthday -- pink jewelry.
This is five. Five is love and magic and independence and wonder and innocence. Hold on tight to this moment before the rollercoaster tips over the edge and takes you with it. Five does not last, but it is impossible to forget.