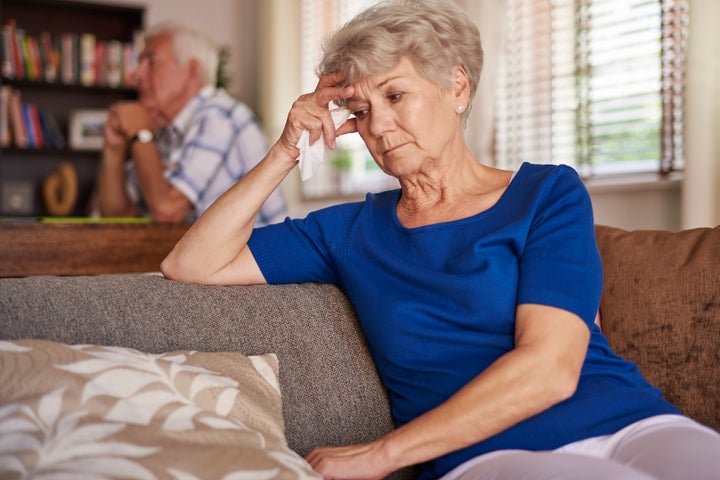 The National Academies of Science, Engineering, and Medicine just published a very sobering look at the state of family caregiving in the U.S. Here are some of the things the group found. 
1. Washington needs to get real already.
Public policy lags woefully behind today's reality. There are nearly 18 million people caring for a relative who is 65 or older and yeah, they pretty much all need help. The report said caregivers aren't being supported, are cracking under the strain, and therefore it behooves the next administration to actually deal with the problem. We'd add that perhaps the two main party presidential candidates would like to elaborate on what they intend to do for the the nation's family caregivers ― in total there are 34 million of them ― whose unpaid services are worth about $500 billion a year, according /www.rand.org/news/press/2014/10/27.html"}}">to the Rand Corp. 
The Academies' report found that people caring for elderly family members devote 253 hours a month to caregiving — almost the equivalent of two full-time jobs. Five years is the median duration that family members care for older adults with high needs and that's one heck of a long time to live in purgatory. 
Plus those who do step up and take on the responsibility get financially dinged as a thank-you. Caregivers miss work, don't apply or accept advanced jobs because of the time commitment, and some just drop out of the workforce altogether to care for their loved one. The report says that lost wages and benefits average $303,880 over the lifetimes of people 50 and older who stop working to care for a parent. Plus for added insult to that injury, a lower earnings history also means reduced Social Security payments for caregivers when they become eligible.
2. As a nation, we've been asleep at the wheel.
Way back in 2009, a solution to that last problem was proposed and its simplicity is hard to understate: Just give caregivers a Social Security credit for a defined level of deemed wages during a specified time period. So far, nothing has happened.
And while you're at it, how about some job protections for workers who carry the weight of caregiving on their already overburdened shoulders? 
The federal Family and Medical Leave Act doesn't cover 40 percent of the workforce. The FMLA lets eligible employees take 12 weeks of unpaid time off to care for certain family members, but only applies to those who work for federal, state and local governments and private companies with more than 50 employees. And ineligible family relationships for leave include sons- and daughters-in-law, stepchildren, grandchildren, siblings, nieces and nephews. More to the point: Who can afford to give up 12 weeks of pay? 
In 2011, 17 percent of caregivers didn't take leave because they feared losing their jobs, according to the report.
Again, a simple solution: Make caregivers a protected class under existing job discrimination laws and make sure employers support their workers caring for family members.
3. You can't care for the patient without caring about the caregiver. And nobody cares about caregivers.
Beyond just the economic costs of caregiving, the report notes that the social and physical toll of caregiving gets little attention ― and it damn well should. 
"If their needs are not recognized and addressed, family caregivers risk burnout from the prolonged distress and physical demands of caregiving, and the nation will bear the costs," the report said. Preach it, man, preach it.
Caregivers have told us how they lose themselves and life becomes entirely centered on the patient. Cathie Harmon, who cares for her husband, told us about going for her annual physical only to have the doctor spend most of the visit asking questions about her husband. "I only get probably 18 minutes a year with a health professional," she told The Huffington Post. "I realize I am a boring patient and that his case is likely fascinating for them, but as a caregiver, I need my appointment to be about my health."
Spot on, Cathie. Instead of delivering "patient-centered" care, health-care providers should adopt "family-centered" models that include making sure that caregivers don't lose their identities ― or minds.
4. Caregiving can actually kill you.
Family caregivers were found to have lower physical well-being, higher stress levels, higher rates of chronic disease, and greater risk for depression, social isolation and financial losses than their non-caregiving counterparts, notes the report. It's called "Caregiver Syndrome" and a Stanford University study reported that 40 percent of Alzheimer's caregivers die from stress-related disorders before their patient dies.
5. Caregivers are daughters, sons, and spouses. They are not skilled nurses.
Until you've become a caregiver, you just have no idea what it entails these days.
In a nutshell: Caregivers do what nurses used to. They deal with feeding and drainage tubes, catheters, dialysis ports and other complicated medical devices; they perform wound care, deliver injections, test and record glucose and blood pressure; they perform personal hygiene tasks for their patients and prepare dietician-directed meals. They do a whole bunch of other things that they never in a million years would have thought they would be asked to do and many of those tasks are extremely unpleasant. Among themselves, family caregivers share tips online about how not to puke when you change your father's diaper. Or how to handle it when you are wiping his behind and he orders you to "go deeper to where it itches." 
And yes ― surprise, surprise ― delivering these services that once fell squarely into the purview of trained, skilled medical professionals causes caregiver stress. The study's authors noted that most caregivers are "learning by trial and error and fearing that they will make a life-threatening mistake." Think about that. You put forth your best effort and you might accidentally kill someone.
"He can do home dialysis," one well-meaning visiting nurse suggested to me in reference to my husband's need for kidney dialysis. In-home dialysis means I would be the one inserting sterile needles into his arm and hooking up tubes that remove his blood from his body, put it in a machine for cleansing and then return it to his body. All this in the comfort of our bedroom! This is presumably something we'd have to do at night because it's necessary that I monitor the process and during the day, I go to work. There was no mention of when I would sleep. And why was that? Because I'm just the caregiver, not the patient.
6. Caregivers are often unwilling participants and most always voiceless ones.
Medicare and private insurers are to blame for the unwilling part. To save money, they rush to discharge patients from the hospital with the implicit expectation that family caregivers can support the patient at home and manage the transition from hospital to home ― again with little or no training.
Family caregivers must deal with a wide range of providers in a variety of systems ― doctors, nurses, social workers, pharmacists, physical and occupational therapists, insurance companies, and billing offices. They routinely provide information about their patient's health history, medications, past diagnoses and previous treatment attempts. Caregivers are on the job every day and are the first to see changes in a patient's well-being or temperament. Simply put: We know when something is going wrong.
Yet nobody listens to caregivers. Despite the integral role that family caregivers play, "they are often marginalized or ignored" when it comes to having a voice at the table, the report said. Caregivers are regularly excluded from treatment discussions and decisions by the very providers who assume the availability and willingness of those caregivers to carry out the tasks included in that care plan. 
And public policy allows that to happen. The Health Insurance Portability and Accountability Act (HIPAA) law protects a patient's privacy and can mean the doctor doesn't have to talk to family caregivers, notes the report. The report also noted that there are financial incentives to not spending time with family caregivers. Dealing with family caregivers takes time, and time is money. Let's face it, there is no insurance or Medicare billing code for taking a call from your patient's wife. Harsh, but true.
7. Things are only going to get worse.
It's really just a numbers game. While the need for family caregivers is increasing, the number of available caregivers is decreasing. 
The 65 and older demographic was 46 million strong in 2014 and is projected to be 98 million by 2060, according to the Administration on Aging. The percentage of the elderly who are projected to need caregiver support is expected to jump from 27 percent in 2012 to 37 percent in 2050. Lower birth rates, a hike in never-married or divorced older adults, and geographic distance from family members, all indicate that the pool of potential caregivers is shrinking.
So now that we all know this, the question becomes "what are we going to do about it?"
Calling all HuffPost superfans!
Sign up for membership to become a founding member and help shape HuffPost's next chapter
BEFORE YOU GO
PHOTO GALLERY
Tips For Choosing An Elderly Caregiver