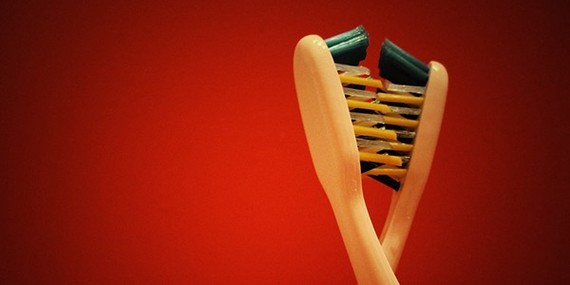 Ever since the all-important question of how long travel-sized shampoo lasts was answered, I've been wondering about the life expectancy of other travel-size items. Like... how long should a travel-size toothpaste last?
I always want to be sure I'm packing not too much, not too little, but just the right amount of everything, especially when it comes to toiletries. Those little toothpaste tubes the dentist generously gifts me at every cleaning are perfect for traveling, but it's impossible to guess at how many will cover me for a trip.
Sometimes I throw in an extra half-empty one -- or half full, you know how it goes -- and hope it'll do, lest I end up on the squeezed-out generosity of friends. (As someone who brushes her teeth generously three times a day, that's not a position I enjoy being in.)
To begin figuring out how long it will actually last, there's the question of serving size, or how much you should be using. Dentists unanimously say a "pea sized dab of toothpaste" is all that's necessary to properly clean teeth. We are talking standard pea-size, here -- no genetic modifications.
But what amount am I actually using? There isn't as much variable here as Erica dealt with when testing out shampoo, because most adult mouths are about the same size, though there's the matter of personal hygienic preference. I like to squeeze out a ribbon covering the length of my toothbrush, somewhere in the vicinity of a 1/8 teaspoon. (That's more than pea-sized. In fact, it is more like peas-in-a-pod sized and the doctor-prescribed amount would be closer to 1/16 of a teaspoon.)
If I were to continue with my normal toothpaste usage, I'm using about .02 ounces each time. So a standard .85-ounce (24 g) toothpaste would last me about 42.5 uses, or just about 14 days, if I'm brushing thrice daily. If I dropped down to the dentist-recommended pea size, I could double the amount and stretch it out to 28 days.
To get a better sense of how long a tube should last you, we've compiled some estimates based on varying personal habits and toothpaste usage (including a real tooth-brushing experiment, to see how these estimates held up):
To discover whether this actually held up, Erica took my hypothesis for a test run (she brushes twice a day like recommended and doesn't pay attention to how much she puts on the tube, like a human normal being). Now, I'm not making this up, but she found that a toothpaste tube lasted exactly 21 days or 42 uses for her. That's complete with wringing the toothpaste out to each and every drop.
There's definitely some margin of error here but at least now we've all gotten a good gauge of how much minty fresh breath one tiny tube will afford you.
Karina Martinez-Carter is an assistant editor at Map Happy. She has written for BBC Travel, BBC Capital, Travel + Leisure, Thrillist and more.
Read More
:
Related