After years of telling us we need to shampoo every day, the hairstyling world has had a change of heart. Many stylists and barbers have embraced the anti-shampoo, or "no poo" movement, which says we should shampoo our hair far less frequently—or even, not at all—since the sulfates in lots of commercial brands strip hair of its natural oils. The no poo-ers claim that, after an initial period of funkiness, bypassing shampoo will make our locks silkier and more manageable.
It doesn't necessarily mean you don't wash your hair, however—just that you eschew shampoo. The process works like this: "Not shampooing works by using friction alone to remove unnecessary sebum," says Michael Dueñas, celebrity hairstylist and founder ofHair Room Service. "Water and friction combined with a gentle no-poo product—or even conditioner—is enough to remove buildup."
The thing is, while this may work for twenty- and thirtysomethings, many older women need special consideration, thanks in large part to the hair changes that accompany menopause.
"When menopause comes around, the change in hormone levels is often a shock to the body, and our skin, hair and nails are an exterior representation of interior issues," says Stephanie Johnson, a Dallas-based hairstylist and beauty educator who runsHairFacePhoto.com. Johnson herself is in menopause, after a battle with breast cancer. "The hair will often feel more dry, not just because of hormone changes, but because grey hair is more coarse. On top of that, we add drying products like hair sprays." Hair coloring and chemical treatments deplete your hair of moisture, as well, as do your:
Medications
Exposure to the sun
Diet
Combined with menopause, these factors make your 'do dryer, more brittle, and more prone to fly-aways, which can be exacerbated by shampoo.
Many argue that dryness and unmanageablility doesn't necessarily mean you should stop shampooing permanently. Kristin Desmet, Spa Supervisor at Bella Santé luxury day spa in Boston says, "At Bella Santé we are anti no-poo movement. Menopause causes hot flashes and with sweating your scalp produces extra oil that needs to be clarified with a shampoo." The cleansing, she reasons, keeps hair open to other moisturizing products. "Shampooing removes any oil build-up on your scalp and hair. It also allows your hair to be receptive to conditioner and have more body."
Yet, some peri-menopausal and menopausal women remain intrigued by the possibility of going no-poo. Johnson emphasizes that the decision, "is really dependent on multiple factors," and recommends taking the following into consideration:
Type and texture of hair: "Grey hair or curly hair need moisture. Oily hair, not so much."
Hair loss: "Oftentimes, the thinning of hair can be traced to clogged pores."
Lifestyle: "Someone who styles out their hair regularly will have specific needs and issues as opposed to someone who doesn't. If they color or bleach their hair regularly, there's chemical and mechanical damage to consider."
Willingness or habit: "Some people just don't like how it feels to not shampoo or to not have that part of their routine."
If you're considering going no-poo, see an expert first. "A licensed hairstylist would have to determine what is right for each individual client based upon their hair, their desire and their lifestyle," says Johnson. Older women with drier locks, thicker strands, few styling concerns, and whose hair doesn't become oily easily, are good candidates to try going shampoo-less.
Products that work
What if you want to continue shampooing, but don't want to use sulfate-heavy brand names? "The first thing I recommend for those who are worried about the drying or 'stripping' of shampoos is to switch to a sulfate-free / paraben-free option," says Johnson. "Many companies make them, now, and they're often found even in the drug stores. Be aware, however, that sulfate-free shampoos don't foam up like the sulfate-filled counterparts. It's working—just with fewer bubbles." L'Oreal has a popular line, available on Amazon.
If you'd rather go the natural route, Dueñas—who isn't opposed to no-poo—suggests, "peppermint and/or tea tree-based conditioners, a little baking soda and water, cleansing conditioners and, as I mentioned before, friction." The friction keeps sebum from collecting, a common issue as we grow older.
Finally, there's dry shampoo. "Dry shampoo is a powder that you shake onto the scalp to absorb the oil and freshen up the hair," says Johnson. "[It's] a great option for someone who doesn't have to worry about a lot of product build-up, or they're trying to retain moisture and hair color. It's perfectly acceptable to just rinse the hair (not shampoo), apply conditioner, rinse and move on."
Desmet concurs, adding: "It's great for elderly men and women who do not have the ability or strength to wash their hair every day, and also as a touch up tool if you have a perm or hairstyle that's done weekly or monthly." Her favorite products are Oribe Dry Texture Sprayand Rene Futerer Naturia Dry Shampoo.
Ultimately, to poo or not to poo is your own decision, depending largely on the condition of your hair. But isn't it nice to know there are options?
Read more from Grandparents.com: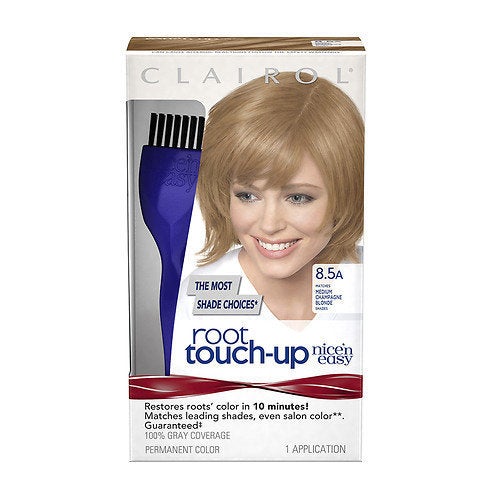 Best At-Home Hair Color
Related
Popular in the Community