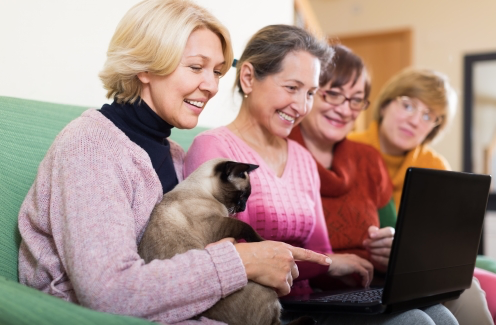 An individual can reinvent oneself through a variety of measures; you can do it via a change in careers, your perspective, or making new friends and forming different relationships. It takes hard work, consistent effort, and focus, but it pays off immeasurably. If you want to reinvent yourself, you must start with a game plan of action, address your flaws, and continue to learn.
Here is a list of the quick strategies to commit to before creating a game plan:
Be honest with yourself
Ask tough questions
Read books
Find something you're good at
Give up unhealthy habits
Know yourself
Spend time living your dream not worrying
Take action
The experts at Seniorcare.com Aging Council suggest useful strategies when reinventing one's life after retirement. They cite places to go to learn how one can change their life without spending a lot of money. Check them out:
"Alaska – aside from enjoying the wonders of the Northern Lights, this place also offers great elder employment opportunities. Thailand – a warm and exciting culture. The low costs of living also assure boomers of a comfortable stay. Mexico – not known to many, Mexico not only provides great cultural experiences, but also safe and practical stays. Health care and costs of living are affordable!" Leandro Mueller, FreeMedSuppQuotes.com.
"Online communities are always great at providing advice on how to readjust retirement. In fact, there are thousands of tips available online that share how you can adjust your retirement budget to save more or find cheaper ways to get coverage for long term care. ALTCP.org and AARP provide a wide range of topics that center on retirement, from the planning stages to the twilight years." Samantha Stein, ALTCP.com.
"The public library often has shelves of books on starting a business from home or learning new skills as a hobby. The internet is also flush with communities and clubs (free to join) that are entirely dedicated to seniors who want to get the most out of retirement. From financial advice to vacation planning, there are senior groups for every interest." Dav Mordehi, AdviseandProtectcc.com.
"If you're retired and want to reinvent yourself/your career, examine your skills to see whether they are translatable to another job or field. For example, if you are an editor and can't find a job editing, you can use your skills as an English teacher. Internships for older workers are a also good way to gain experience in different fields." Evan Farr, Farr Law Firm.
"When we envision a major life transformation, such re-inventions are typically built around a change of career, travel to a new destination, or the result of significant new education. On the surface, all three of these activities require a lot of money. But maybe not...with a disciplined approach, let YouTube's 1B videos (300k new each day) serve as your library, travelogue and coursework." Stephen Forman, Long-Term Care Associates, Inc.
"There are organizations helping seniors reinvent themselves after retirement. Not all seniors want another job. They should dream, what do they want to do or BE? With a goal in mind, find ways to accomplish with help of an organization. Travel, volunteer, write, invent, create, or work? AARP has good information but they are not the only ones who can help depending on goal. Reach for the stars!" Kathy Birkett, SeniorCare Corner.
"Follow your heart and/or your hobby. There are events on social media all the time covering anything from glass blowing classes to salsa dancing. You never know until you try it. If you're good at a hobby, try selling your services or products on www.fiverr.com or www.etsy.com. You would be surprised how many people show up to local farmers markets selling their products." Scot Cheben, Senior Providers.
The following tips come from Wendi Burkhardt, Silvernest. They may not "fit" a specific strategy for reinvention, but the suggestions will open your mind to discovering things you may enjoy doing, which has potential to create a new you!
"Tutor at elementary schools – many schools are often short on after-school tutors to help kids with their math and reading. Lend a hand at the Humane Society – if you're a pet person, sign up at a pet rescue to take animals for walks, groom them, coordinate visits or organize donations. Sign up to be a baby cuddler – Children's hospitals enlist volunteers to cuddle babies and provide the human touch that they desperately need, particularly those who are too tiny or sick to go home. Offer companionship and a watchful eye – Often times, aging adult couples like to go places together, but one doesn't participate in the activity. Volunteer to sit with the spouse while the other plays golf, tennis or takes a class. Look up opportunities at the library – There are lots of options to volunteer at a local library – help check out books, read to kids at story time or even deliver books to others."
What inspires you? Hopefully, one of the tips or a few suggestions opens your mind to new adventures.
Related
Popular in the Community