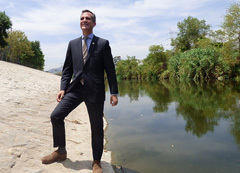 L.A. is water. Our story begins on the banks of the L.A. River -- and it was man-made rivers we built that provided the lifeblood that allowed our city to grow from its original pueblo into the global metropolis we are today.
Now, amidst a record drought, water is becoming increasingly scarce -- and increasingly precious. Currently, Los Angeles is forced to use expensive, imported water for 80 percent of our needs. This is both environmentally and economically unsustainable.
We need bold action, which is why I have issued an executive directive to reduce Los Angeles' water use by 20 percent by 2017 and our Department of Water and Power's purchase of imported water by 50 percent by 2024. This means reducing our use of water and renewing our local water sources. Of particular importance is reducing outdoor water use, which accounts for 50 percent of residential water consumption.

City government will lead by example. I am directing the city to reduce watering and replace lawns and other water intensive landscaping at city buildings, on street medians, and sidewalk parkways.
It's just as critical, however, that Angelenos do their part. That's why I've launched a public awareness campaign on social media with #DroughtHack highlighting the many opportunities and incentives our city is offering to those who reduce their water use including a twenty five percent increase in the lawn replacement incentive. That means if you have a water-thirsty lawn, the City of LA will pay you $3.75 per square foot that you replace with California-friendly, drought-resistant plants.
We are also asking residents to take the following steps:
Voluntarily reduce their outdoor watering from three to two days per week
Ensure pools have pool covers to reduce water evaporation
Use DWP rebates to replace high-water use plumbing fixtures and appliances, and to make their businesses more water efficient as well
For a more complete list of steps you can take, visit my office's #DroughtHack HQ. However, it's impossible to come up with a fully comprehensive list because there is always another, better idea to reduce water use. Some people take a bucket with them to the shower. Others take another person. I want Angelenos to brag about and share all the creative methods they devise to conserve water. That is how we #DroughtHack.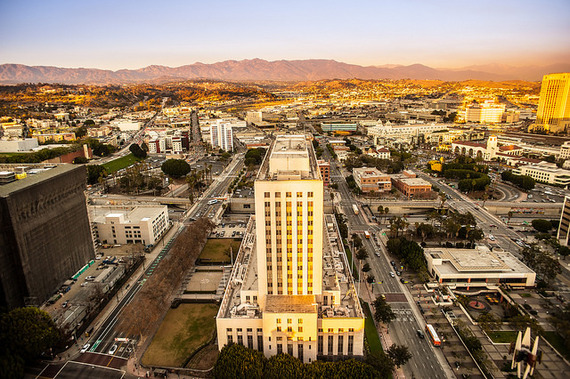 The fact is 4 million residents live 4 million very different lives, which is why my directive begins with voluntary actions, spurred by city incentives, to reduce water use. But, the California drought is real and serious -- and our response must reflect that. That is why, if we are not on track to reach our water goals, mandatory measures will be implemented. These will include new outdoor watering, swimming pool, and car-washing restrictions.
The targets that must be met are a 10 percent reduction in per capita fresh water use by July 1, 2015 and a 15 percent reduction by January 1, 2016, leading up to our overall goal of a 20 percent reduction by January 1, 2017.

Keep in mind that reducing water use is not just good for our environment, it lowers consumer water bills. Reaching our goal of reducing water use by 20 percent would save ratepayers up to $120 million every year.

The actions in this directive help us prepare for the future, and create a more resilient city and economy. Given the reality of climate change, our snow pack is greatly reduced and our precipitation is less predictable. And water piped in from hundreds of miles away is more vulnerable to disruption after an earthquake or other major disaster.

For our city to thrive, our relationship with water must evolve. We cannot afford the water policies of the twentieth century, which were focused on pumping as much water out of the ground as possible, and when it ran out, taking it or buying it from hundreds of miles away.

We must instead conserve, recycle, and rethink how we use our water to save money and make sure that we have enough water to keep L.A. growing.
And to those who don't believe that we can both grow this city and reduce water use, our history is the best rejoinder. We currently use the same amount of water in Los Angeles as we did 30 years ago despite one million more residents in the city. Angelenos know how to #DroughtHack. Now is our chance to show the world how it's done.
REAL LIFE. REAL NEWS. REAL VOICES.
Help us tell more of the stories that matter from voices that too often remain unheard.