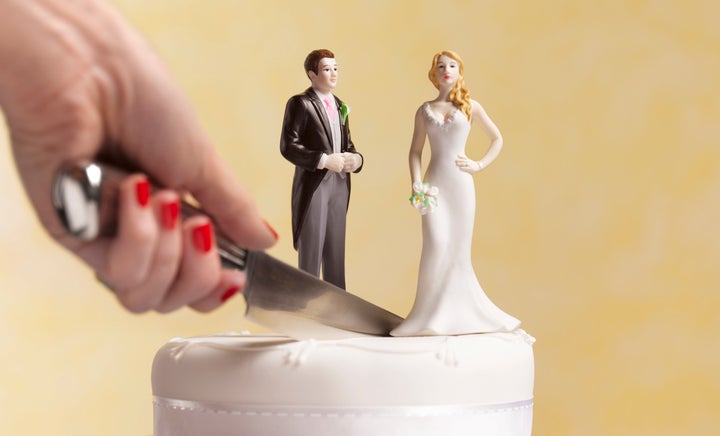 Wedding planners aren't just experts at wrangling vendors and securing the perfect venue. They're also pretty adept at telling which marriages are made to last ― and which are about as stable as a five-tier cake being hauled down a back country road.
Below, wedding planners from across the country share 10 signs a couple is all but fated to divorce.
1. She's a total bridezilla (Or he's a groomzilla.)
"Some people give new meaning to the term bridezilla. I've seen brides call their fiancés despicable, expletive-filled names. You name it, I've heard it. When I see that happen, I have to fight every urge not to lunge over my desk and give the other person a big hug. In my opinion, when the bride-to-be is borderline verbally abusive (and in public nonetheless), it's a sign of some serious disrespect and disdain. Obviously, it's probably not a good idea to get married."― Jenny Orsini, owner and creative director at Jenny Orsini Events, Inc. based in Berkeley Heights, New Jersey
2. The best man or maid of honor doesn't mention the new spouse in their speech.
"I think it is so telling when the maid of honor is giving a wedding toast and doesn't even mention the groom. It's not the best sign if if she talks about him, but in a sarcastic or passive aggressive way, either. If your friends or family members are not impressed by the person you're planning on spending your life with, you may want to stop and ask why that's the case. These are the people that love you most! They might have a read on something you're missing. It makes me so happy when I see an amazing connection between the couple and each other's friends. You can tell that the friends feel like they are a part of the love and I think that makes for a lasting relationship." ― Chelsea Forcum, co-owner and planner at CK Events in the Portland, Oregon-area
3. One partner makes decisions about the wedding behind their S.O.'s back.
"When the couple starts calling me independently of each other, trying to reverse big decisions they made together, it makes me nervous. They'll say things like, 'No need to mention this call' or try to get me to 'take their side.' If they can't get on the same page about the location of their wedding or their guest count, I am concerned for how they'll handle real issues that crop up in the future." ― Tracie Domino, founder and creative director at Tracie Domino Events in Tampa, Florida
4. They're more interested in the wedding than the relationship itself.
"Planning big budget weddings is obviously good for my business, but I often get concerned when I see people spending lots of money while seemingly paying very little attention to their soon-to-be marriage. Ideally, the wedding planning process is extremely romantic and you should be able to feel the love emanating from the bride and groom. But sometimes, we work with very young clients who seem to be unprepared for the enormous commitment of marriage and are, instead, thrilled to be hosting a big party on mommy and daddy's dime. Or we'll see older clients who are spending their own money and want to use the wedding to show everyone how successful they are. In either case, I wonder how the relationship will sustain itself once all of the tables and chairs have been broken down and the dance floor is empty." ― Randi Lesnick, CEO and principal planner at Randi Events in Nashville, Tennessee
5. The in-laws are already meddling or making hostile remarks.
"I once saw a mother-in law scream at the bride while they were taking family pictures. A father-in law at one of my weddings once mocked the groom during a toast, 'joking' that his daughter could have done better. The truth is, early on, you have to stand up for your spouse and make it clear you're always going to stand up for them. Some people don't do that." ― Liz Coopersmith, owner and primary planner at Silver Charm Events in Los Angeles, California
6. They get wasted at the wedding.
"We love seeing our couples party and have a great time with their friends and family. But no one is having fun if the bride is asleep at the head table. Pacing yourself on your wedding day is key, but if you find yourself or your partner throwing back the cocktails before the ceremony begins you may want to ask yourself, what is happening here? Nerves are normal but calming those nerves with a bottle of tequila is not ideal and will not make for a wedding day you will remember." ― Kayla McCaul, co-owner and planner at CK Events in the Portland, Oregon-area
7. The couple has a "divide and conquer" mentality while greeting guests at the reception.
"It's always a little heartbreaking to see couples completely separate while visiting with guests during the reception. As an extrovert, I totally understand working the crowd because so many loved ones are present to support you, and you don't see them on a regular basis. But some couples take this to the extreme, and there have unfortunately been weddings (like one where a groom explicitly ignored his new bride the entire night long to go chain smoke outside) with behavior that demonstrates a lack of respect and consideration for their new life partner." ― Kelly Dellinger, owner and principal planner at Kelly Dellinger Events in Nashville, Tennessee
8. One partner is completely disinterested in the planning process.
"I know some men couldn't care less about flowers, linens and stationery, but at the very least, they're usually present at the wedding planning meetings and show some small sign of emotional support for their fiancé. When I see partners at meetings who are mentally checked out or constantly saying, 'Oh I don't care,' 'I don't give a sh-t' or ― my favorite ― 'What the f-ck do we need that crap for?' I get a very bad feeling." ― Jenny Orsini
9. They go into debt for the wedding.
"Listen, weddings are how I make a living so telling couples to not dish out cash for their wedding is sort of unwise on my part. That said, I do believe it's extremely risky to spend money you don't have and go into debt over your wedding before you even start a life together. Starting a marriage with $50,000 of debt is a recipe for disaster." ― Emily Reno, owner and primary planner at Weddings & Events by Emily in Las Vegas, Nevada
10. They're totally dismissive of the needs of their guests (or worse, the needs of their future spouse.)
"I once worked with one couple where the bride was a vegetarian. But the groom refused to order any vegetarian entrees, because there were only a handful of guests who would eat them. The vegetarians ate side salads. He insisted on side salads, even though the caterer was happy to make the bride a pasta dish. They're both single now." ― Liz Coopersmith
Support HuffPost
A No-B.S. Guide To Life
Popular in the Community