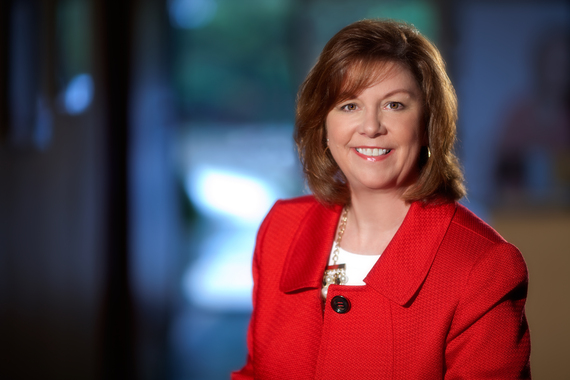 Barb Giamanco is widely known for her expertise in management and sales, and expertise comes primarily from one thing: experience. "I carried a bag, managed corporate sales teams, busted quota through the years selling to multiple customer types: enterprise, small medium business, distributors, retailers, and channel partner customers," Barb says.
After years of working her way up the corporate ladder, Barb ended her corporate sales career at Microsoft in favor of working independently as a sales advisor, speaker, and author. She's written books on social selling and has been featured in the Harvard Business Review. She built a successful company and brand from her passion for sales.
I was privileged to speak with Barbara last week, and she not only had some interesting and novel insights on being a woman in a predominantly male industry, but also offered some genius ways to combat workplace gender bias and get closer to achieving your career goals.
Growing up with brothers, Barbara says she was a tomboy. Maybe this is what made her well-suited for the male-dominated tech industry, where she got her start in sales.
At first, it was difficult figuring out the new, unclear gender boundaries -- Barbara remembers double checking her outfits to ensure she wasn't dressed inappropriately, being left out of male-only work gatherings, and feeling compelled to over-prepare just to compete with male colleagues.
And that wasn't all. Although she refused to use her gender or appearance to help her climb the corporate ladder, others weren't always so principled.
In order to be taken seriously and seen as the capable professional she was (and is!), Barb took the "nip it in the bud" approach.
She focused on being objective and evaluated her work wardrobe, taking out items that didn't fit the image she wanted to present.
She considered her selling personality, behavior, and the ways she interacted with colleagues. Although remaining true to herself has always been important, she understood that being smart and objective about her behavior and actions meant she could avoid awkward, inappropriate, or even dangerous situations at work.
Her growing self-awareness made her hungry to learn more about interacting with her colleagues in the most efficient way.
She heard about the DISC personality theory and studied it closely, eventually receiving a DISC certification and applying her new knowledge in her professional and personal life.
DISC theory focuses on becoming aware of the personality types of your colleagues and then adapting your own actions and behaviors to efficiently collaborate with them.
With her new training and certification, Barb was able to look at her work surroundings in a clearer way.
She noticed that some female colleagues, in an attempt to avoid inappropriate interactions and gain respect from men in the office, were very aggressive in their sales and social behaviors.
She also noticed that those colleagues tended to miss out on promotions, sales, and valuable professional connections, not to mention that they were often regarded negatively in the office.
Barb told me that in business, women should aim to be assertive, not aggressive. "Know your stuff, but learn to adapt. Moderate yourself," she advises.
Some women are naturally more dominant and aggressive, but some take on this behavioral style at work in an attempt to fit the "salesman" stereotype more closely: Fast talker, firm handshake, gregarious, persistent, and forever dominating the conversation.
But why is this dated stereotype still around in 2015? Barb says part of the problem could be the gender-biased language we use surrounding sales -- in job advertisements, internal communications, and more.
Using gender-biased words like destroy, kill, hunt, ninja, and rockstar in sales job listings may be enough to turn a qualified woman away from a position, according to recent studies. One way to eliminate gender bias in the sales industry is by balancing the percentages of men and women in those positions to begin with, and that means bringing in more women.
In fact, as a test, I went to monster.com and searched using the terms "sales rep" and a few common gender-biased keywords.
Sure enough, with just a few simple searches, I found several job descriptions that could discourage potential female sales reps from applying -- otherwise well qualified women sales reps -- that are just put off by the unwelcoming language in the job description. Check these out:
A company selling a CRM solution in Broomall, Pennsylvania:
Be part of something amazing! We are seeking a rock star Inside Sales professional to join our client's growing Account Development team.​ We're looking for a bulldog with high energy and a knack for engaging with prospective customers - get 'em on, get 'em over, get 'em in! The ideal candidate is able to contribute to the team's success with minimal coaching and offers new ideas for approaching prospects within our client's target market.​ If you have a sales background and desire to join a fun and dynamic group, read on.​ Help us kill it.
A bottled water company in Phoenix, Arizona:
Are you an upbeat and outgoing person? Are you motivated and driven to succeed? Do you enjoy talking to people but hate the thought of being stuck behind a desk all day? [REDACTED] of Valparaiso is seeking "Rock Star" candidates to sell the best drinking water, water treatment and filtration systems. Don't be a Chump. Join Now.
Barb really has a point. Organizations must learn to be more inclusive of women sales reps across the board, and it can begin with something as simple as the language we use.
Barb is passionate about being a woman in sales, and it's clear when you look at her work, accomplishments, and understanding of the industry. Learn more about her by visiting her website and connect with her on Twitter at @barbaragiamanco.
REAL LIFE. REAL NEWS. REAL VOICES.
Help us tell more of the stories that matter from voices that too often remain unheard.