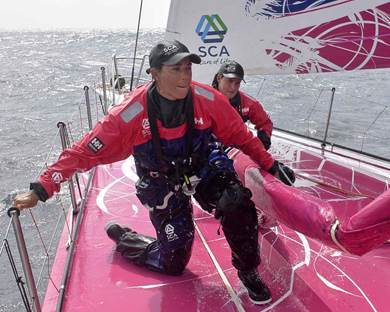 How do you live an exciting life without regrets? You decide what you want and then go get it.
That's what Sara Hastreiter, Team SCA sailor, did.
Sara grew up on a farm in Wyoming. Her dream was to be a rodeo princess. That didn't work out, but because she's been open to opportunity, she's found something a little bit more exciting.
"If you don't do things that scare you and push your boundaries, you'll never know how far you can go or what you can achieve."
It all started when she jumped at the opportunity in college to visit Africa to raise awareness about HIV/AIDS. While there, seeing the impact this disease had on the people of Africa made Sara want to do more. This lead her to an internship in the Caribbean doing more work with the disease and also exposed her to sailing while working as a deckhand on a day-charter catamaran.
When she discovered you could race big sailboats on the ocean, she knew she wanted to do that. She found a boat that was looking for sailors and was willing to train and sailed 6,000 miles with them. Sara found out that if you are serious about sailing, you go to Newport, Rhode Island. She did and eventually logged 40,000 miles sailing, breaking into the sailing scene, including the Cookson 50 Privateer and other top teams.
In August of 2012, Team SCA was looking for a crew.
By now, you know what Sara did. She applied right away, but shortly after, she broke her ribs. If she couldn't recover in time, this would be the end of the road. But fortunately, she recovered and was called back to training camp -- but there were no guarantees they would keep her.
"I just knew I had to show dedication at all times," Sara says.
Sara got what she wanted. She eventually got word that they wanted to keep her. Now, as a member of Team SCA, she is currently racing in the 2014-2015 Volvo Ocean Race.
When I asked Sara why she doesn't just work a job and come home and watch TV, she said, "Honestly, I couldn't think of anything worse. There's so much to do in life and I love the experience of doing different things."
Sara believes we shouldn't let other people tell us what we need to be happy. Each person should determine what they need to be happy and then go after it.
Her biggest piece of advice is to just be nice. She says it's amazing how far that will get you in life.
Related