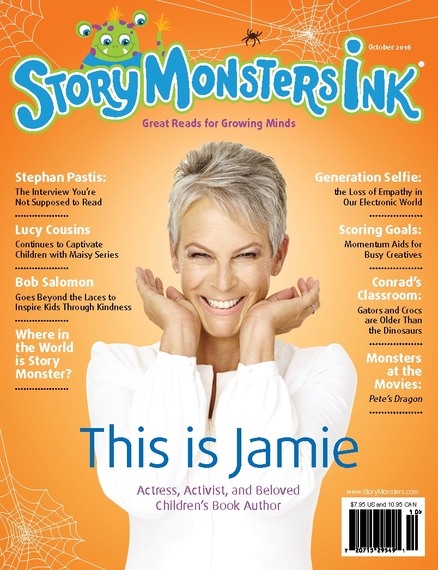 Jamie Lee Curtis has a knack for simplifying complex topics, such as adoption and human emotion, and interpreting them in a way children can easily understand when reading her books. Her latest title, This Is Me: A Story of Who We Are & Where We Came From (Workman Publishing) is about emigration, immigration, and the idea of leaving the old behind for the promise of the new. It's a celebration of diversity and self, helping young children to begin the process of discovering what makes them unique and what connects all of us together. "This book is an exploration of adventure," says Curtis. "It's about the possibility of a new life, which is what our country was built upon."
Curtis was born in 1958 to movie stars Janet Leigh and Tony Curtis. "Reading books was not a family activity," she says. "I don't have any memory of my family making reading a priority." Nonetheless, Curtis recalls a few favorite childhood books, including Go, Dog. Go! by P.D. Eastman. "After the big dog party in the tree, when the dog asks, 'Now do you like my hat?'" recalls Curtis. "Somehow that one line changed my life. The non sequitur, out-of-left-fieldness of it appealed to me. I couldn't spell a word, but deep down, I knew that was funny."
Later, Curtis discovered how books can serve as an escape. At age 12, she was whisked away to Sardinia to vacation with her father and his new family. "Here I was with a man I barely knew," she said. "He had remarried and had a new baby. I felt very isolated on that island." On the bookshelves of the home they were renting, a glum Curtis found King Rat by James Clavell, a book about life in a prisoner of war camp. "I felt like that book somehow saved me at a crucial point," she says. "Books do that to me all the time as an adult, but that was the first time I experienced it. That was powerful."
Curtis struggled through her teenage years. "I was a terrible student," she says. "I barely got out of high school. I felt battered by the social and emotional components of life, and the academic aspect never took any precedence." According to Curtis, the only class she did well in was an 8th grade history class where the teacher assigned oral reports instead of tests and papers. After a unit on the Revolutionary War, Curtis gave an oral report on Paul Revere's ride. "I dressed up like a flea on Paul Revere's horse," she says. "I slipped on a green leotard and little green antenna and I walked up to the board and said, 'I'm a flea, and boy, do I have a story to tell you!' I got an A+ in that class. It was the only A+ I ever got in my entire academic life. I finally had a chance to be creative."
Once out of school, Curtis became an actor. "I didn't have any training," she says. "I fell into it." In 1978, she made her movie debut in Halloween. Other movies followed, such as Trading Places, A Fish Called Wanda, and True Lies, which earned her a Golden Globe Award. She also garnered a Golden Globe Award for her work in the TV show Anything But Love. She's currently appearing on FOX's comedy/horror series Scream Queens.
In 1984, Curtis married Christopher Guest. They have a daughter, Annie, and, a son, Tom. Curtis never dreamed of writing children's books until her children inadvertently began providing her with fodder. For example, the day 4-year-old Annie approached Curtis out of the blue, hands on hips, and matter-of-factly said, "When I was little, I used diapers but now I use a potty." Amused, Curtis wrote the episode down. It formed the basis for her first book, When I Was Little: A Four-Year-Old's Memoir of Her Youth. "She presented the fact that she had a past the way I might talk about shag haircuts and bell-bottoms," Curtis says. "It was hysterical."
Once she had written the book's text, Curtis sought out Laura Cornell, a children's book artist whose work she had admired, and was adamant that Cornell illustrate the book. "I realized that her illustrations look like the world I see through my eyes," says Curtis. "She draws from life. The kids have their hair askew, nothing matches, there are Band-aids on their knees. I love it because it's real." When I Was Little was released in 1993. Since then, the team of Curtis and Cornell have produced many popular children's books, including New York Times bestsellers, Today I Feel Silly & Other Moods That Make My Day and My Brave Year of Firsts: Tries, Sighs, and High Fives.
When she's not writing books, Curtis is voraciously reading them. She recently served as master of ceremonies at Book Expo America. "I read every day," she says. "I've joined book groups. I've organized book groups. I've employed a professor to come in and lecture a book group on a topic. I'm a book maniac."
Curtis has even devised a formula to ensure she gets the most out of what she reads. "I have this rhythm," she says. "Typically, I read fiction, then non-fiction in the same general area of interest. Then I read a historical fiction piece set in that time, a biography on someone prominent during that time, then watch a movie or listen to music from the period to give me more verisimilitude of that time and place. Then I move on." This immersion is a way Curtis can retain and contextualize what she's read. "I'm an experiential learner," she says. "I need all of it. I need to have that perspective. I love books so much I just want to absorb them and all of their information."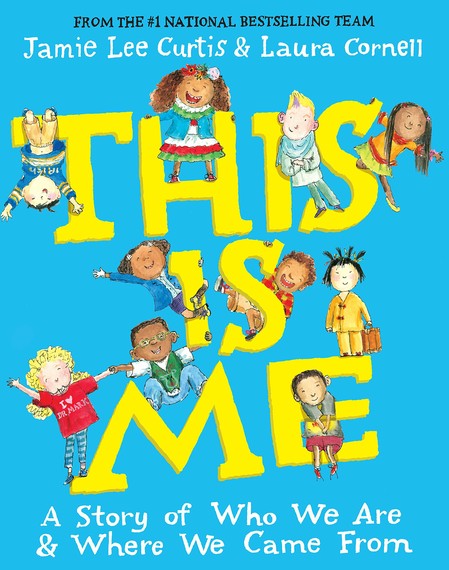 Unlike her previous books which were largely inspired by her children, This Is Me was inspired by adults: a friend who is a teacher, and documentary filmmaker Michael Moore and his film Where to Invade Next. Both introduced Curtis to the idea of using a suitcase as a tool to teach children about emigration. Curtis felt it was a timely topic and an exercise worth exploring at a young child's level, so she included a pop-up suitcase in the back of the book. "The book creates the conversation about the things we own and how much we can whittle down our possessions without losing our sense of self," says Curtis. "The pop-up suitcase offers an opportunity for practical application. Have the kids go get their favorite toys and treasures and see if they'll fit."
The storyline for This Is Me follows a teacher who tells her young students about her great-grandmother's immigration to America from China long ago. "It's not meant to be a political book," says Curtis. "It's not about fleeing a country under duress. It's ultimately a positive story about a new life."
Curtis says she hopes This Is Me will get kids thinking about both their personal histories and our collective experience as a nation. "This entire country was built by immigrants," she says. "Every one of us has an immigrant story in our family. It's a huge part of our American identity. I wrote this book to honor that connection we all share."
Cover photo by Andrew Eccles. Article by Melissa Fales, Story Monsters Ink magazine, October 2016
Calling all HuffPost superfans!
Sign up for membership to become a founding member and help shape HuffPost's next chapter