Like a lot of moms, most days after I've run some errands, helped the kids with their homework and finished dinner I sit down at my computer to catch up on some emails. Tonight was no different, except for one email with a photo attached that I haven't been able to shake from my mind.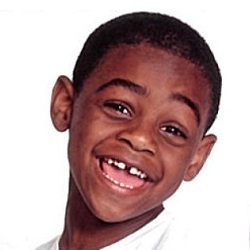 About a week ago one of my colleagues (and most treasured friends), Shannon, sent me an email to ask if I would help her find a family for a child in Ohio in foster care. Shannon, like me, spends her days passionately advocating for the thousands of kids that don't have a permanent place to call home. It's not unusual for me to get an email from her well into the night, an email that includes a new idea on reaching more people, a new product or website that might help the kids or just a note to tell me how inspired she is by the work we're doing. She often makes my day.
But this email had a sense of urgency like few others. And when I saw his picture with his huge grin, my eyes instantly welled up with tears. I want to hug him. I want to tell him I know there is a family for him. I want to reach through my computer and wrap my arms around him and try to help him heal from whatever trauma he has endured in his short life. At just six years old, he's already spent three of those years in foster care.
But I can't do that. I can't immediately connect with him. And sadly, I can't promise him that I will find him that family. So I've decided to do whatever else I can to try. I am writing this blog. I am sharing his photo, his profile, his story with every person and every group and every forum I can find.
After all, Marcus deserves at least that.
And so do the other 75 children featured along with him on the Ultimate Wish website. So do the other 100,000 kids just like them who are "legally free" for adoption and waiting for a family.
Shannon and I and the entire One Simple Wish team work tirelessly every day to try to give these children some sense of hope and normalcy and love. It's never easy. At times it's beyond disappointing. It never feels like enough. But we don't give up.
Marcus needs to know that. All of the kids need to know that. We won't ever give up.
I am hoping this blog is shared with everyone who has a child... actually I am hoping this is shared with everyone who has a heart. Maybe you aren't Marcus's future family. But maybe someone who reads the post you share is.
And maybe if you can't foster or you don't want to adopt, you'll still find another way to join me and Shannon and the awesome crew at One Simple Wish in finding some way to share a little bit of the love you have inside. Imagine how much bigger Marcus would smile if we all did that.
Calling all HuffPost superfans!
Sign up for membership to become a founding member and help shape HuffPost's next chapter