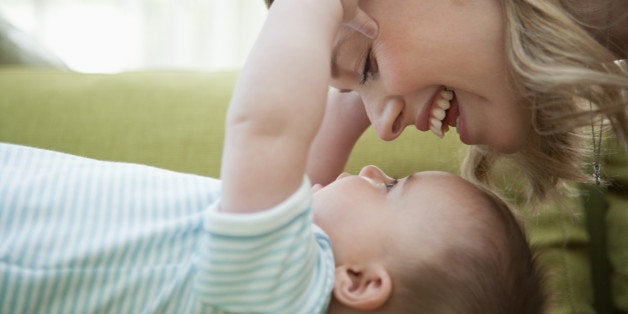 Recently, Lark was battling a cold for a week and then an ear infection the next. No fun. I was so unbelievably tired after a week of long nights, but as I was sitting with her in our living room rocking chair at 2 a.m. one morning, I thought to myself, "This is motherhood." Which got me thinking...
So often people use the phrase "That's being a mom" to describe the situations that are less than ideal that moms have to deal with. But, in reality, mommyhood is so, so, so, so, so much more. Sure, there are lows, but what about all of the amazing highs?
Motherhood is the awe you feel knowing that your body made something this amazing. "Yeah! Go my body!"
It's learning to survive late nights and early mornings, whether by sneaking in naps, buying some killer under-eye makeup, or through a newfound coffee addiction. (Hello, my name is Joey and I am a coffee-aholic.)
Motherhood is the down-on-your-knees playtime, watching little hands trying to mimic your own. It's being sillier than you've ever been while trying to get a deep belly laugh out of a little body (not to mention watching your husband jump around and screech like a monkey trying to do the same).
It's watching their eyes light up with wonder and amazement when you pull out an everyday item, like a coaster or an especially bright bowl. It's having your eyes light up with amazement the first time they use a sign correctly, make an animal sound, or attempt a first step. Motherhood is feeling proud, every single day.
Motherhood is a messy house, an un-showered you, and dishes piling up in the sink. It's realizing that people don't care if your house is a mess because they came to see you (wellllll... mostly to see your baby). It's finding out that you have a kick-ass support network just waiting to pitch in and help when you need it most.
It's wondering and worrying. Can a baby live off of Cheerios alone? Is she gaining enough weight? Is she touching her ears more than is normal? Is she too attached to me? How many leaves is it safe to eat? Am I a good mom?
Motherhood is wondering how on Earth your baby finds the smallest fuzzies and crumbs on your floor after you just swept! It's saying, "Don't eat that." "What's in your mouth?" "Don't eat that." "Are you chewing something?" "Don't eat that!" On repeat. All day. Every day.
It's realizing that suddenly shopping for them is waaaaay more fun than shopping for yourself. Also, that shopping alone is waaaaay easier than shopping with them!
Motherhood is hard. It's sometimes feeling sad, overwhelmed, lonely, and not good enough. It's also knowing that each day is different. Motherhood is trying your best again tomorrow.
It is the utter contentment you feel while you stroke the soft, downy, bird-feather hair while your baby sleeps soundly in your arms.
Motherhood is the best damn rollercoaster ride that I've ever been on. It's the good, the bad, the wonderful, the silly, the sad, the happy, and the everything in between.
Motherhood is cutting this blog post short because my baby just woke up.