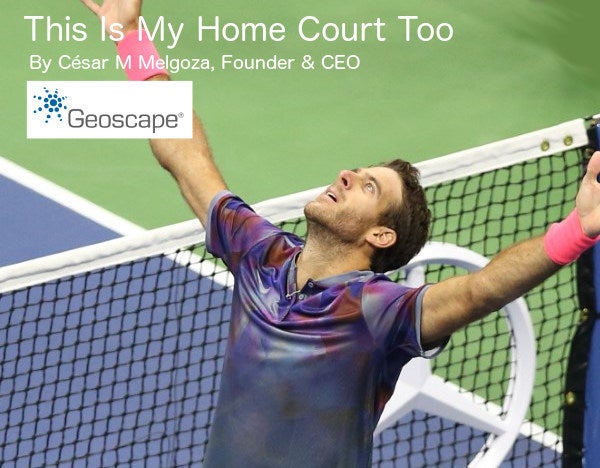 This Is My Home Court Too
Even if you're not a tennis fan, you would have been excited, impressed and enlightened by Juan Martin del Potro's performance in the U.S. Open tennis quarter finals Thursday night when he pulled off a mind-blowing upset of future hall-of-famer Roger Federer.
Prior to getting to the quarter final, Juan Martin (affectionately known as DelPo) pulled off another amazing upset against Austria's Dominic Thiem – DelPo was recovering from a severe flu and was far behind earlier in the match until the crowd's cheers inspired him to perform at a near superhuman level.  At the conclusion of that match, DelPo graciously congratulated his opponent and thanked the crowd – which included hundreds of Argentineans vivaciously cheering-on their tennis star – crediting them for inspiring him to fight and win despite his unfavorable physical condition that day.
Roger Federer is very well-liked the world over.  He is, according to DelPo, the greatest tennis player in history. DelPo is always very generous and gracious in his praise of Federer whom he defeated in the U.S. Open finals back in 2009.  He also is a great philanthropist, soft-spoken, and a highly athletic finesse player who is gracious in both victory and defeat.
Conspicuously absent from the coverage during this U.S. Open were two very important facts: (1) DelPo won the Silver medal in the 2016 Olympics with an outstanding set of grueling, daily performances, and (2) DelPo had suffered a long bout with wrist issues, surgeries ongoing pain and two-years of downtime due to these injuries.
The New York capacity crowd of nearly 24 thousand was clearly in favor of Roger Federer, partly because he would face Spanish tennis superstar Rafael Nadal in the semi-finals.  There was much anticipation of that match – and frankly an expectation that Federer would handily defeat DelPo in the quarter finals due to his superior ranking (3 vs 24) and because of DelPo's recovery from both the grueling match on Monday and his lingering flu.
That was not the case after all.  I also was expecting Federer to win but hoped that DelPo would at least put on a tough fight.  To my surprise, DelPo won the first set by a close margin, lost the second set and then the real battle began.  Rather than do a play-by-play, I recommend you view the match somehow instead.
Let me get to the main point of this article.
During the post-game in-stadium interview, DelPo once again thanked the crowd for their support, inspiration and contribution to his victory.  When the ESPN interviewer asked "…anywhere Roger Federer plays, typically he enjoys a pretty strong home-court advantage, how would you describe what you heard from this crowd tonight?"  DelPo's answer, "…well, I think it's my home-court too…"
As a fellow Latino, DelPo made me proud.  He would make anyone, any athlete proud due to his determination, assertiveness and classiness.  That he explicitly claimed his equal home court advantage – although he is Argentine, both he and Federer are technically foreigners in the U.S. This statement took personal courage on DelPo's part.
"…well, I think it's my home-court too…" - DelPo
Oftentimes, Latinos are made to feel that America is not our home.  America, after all, is a Spanish name and the Spaniards colonized much of the hemisphere even prior to the British and other Europeans.  Both Latinos and other Americans would be well-served by a reminder that we are Americans too and that we also are on our "home court".  Many of us are immigrants, most of us were born here and – regardless of the political rhetoric we hear each day – all of us buy into the American dream and the values this nation stands for. We fight in our nation's wars, we work hard build this country's economy and to realize this dream for our families and for all Americans.
This is our home court too! Just sayin'...
Calling all HuffPost superfans!
Sign up for membership to become a founding member and help shape HuffPost's next chapter
This post was published on the now-closed HuffPost Contributor platform. Contributors control their own work and posted freely to our site. If you need to flag this entry as abusive,
send us an email
.