Filmmaking is a chance to live many lifetimes.
Robert Altman
Some people are movie buffs. Some aren't. But I defy you to find anyone who can't rattle off at least one movie line that at some point in their lives moved them, inspired them, tickled them, spoke to them in some special way, to the point that it became for them not just an ingrained memory, but a catchphrase of sorts, their tag-line, a veritable mantra. Movies affect us like that. The best ones become so closely intertwined in our memories with events in our own lives (a good date, a bad date, a sad time, a happy time) that it's as if those two hours in a darkened theater, immersed in a fictional world, were not just entertainment, but a necessary adjunct - an extension or expansion, perhaps an explication - of our own real life, our actual relationships, our most deeply felt emotions.
Most of us can still remember the first movie that we ever attended in a theater, and the attendant sights, sounds, smells, tastes. That extra-large bag of popcorn, the smell of the butter and, of course, that magic moment when the lights went down and the opening credits flashed across the screen. The excitement was overwhelming. And the ensuing experience was, and continues to be, transformative.
Growing up in Jersey City, we had a couple of gorgeous old-school movie theatres. I remember, as if it were yesterday, sitting in one of them as a young girl and watching "Grease." I was transfixed. And permanently hooked on cinema. I've been a movie fanatic ever since. My heart hurt -- physically -- when ET said his final goodbye to Elliot. I laughed hysterically every time the gopher stole a scene in "Caddyshack." From Disney to "Star Wars" to "Jaws," there's something about the nostalgic chord a remembered movie experience strikes that cannot be reproduced by any other medium. What's more, we recognize fellow travelers in those who share our movie likes and dislikes. (Any time I hear someone quote the "Princess Bride," for example ("As you wish ..."), I know instantly that I've found a kindred spirit.) At their best, the movies actually help us to discover (or at least to make sense of) our own identities.
In my own case, strange as it may sound, I found at least some of the inspiration I needed to start morphmom in Michael Keaton's character in "Night Shift" (not at the top of most critics' lists of great cinematic moments for women), who dubs himself "an idea man" and is constantly recording his latest outside-the-box innovations on his dicta-phone ("Put the mayonnaise in the can with the tuna!"). Morphmom might not be quite so revolutionary as mayo in the can, but, hey, you gotta start somewhere.
Kidding aside, I am forever grateful to the movies and to all of the people involved in getting them to the screen -- from the producers to the writers to the directors to the cinematographers to the camera and lighting crews to the sound folks to the actors - for the pervasive, positive impact they've had on my life.
One of those people is Nora Skinner, EVP of production at Indian Paintbrush. Nora is a friend, one of my absolute favorite producers - and a morphmom.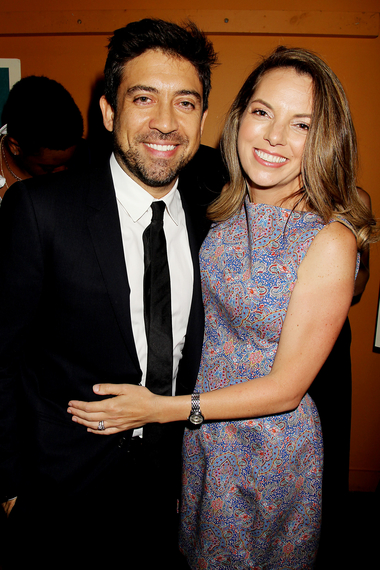 Alfonso Gomez-Rejon (Director) and Nora Skinner (Executive Producer) of "Me and Earl and the Dying Girl"
© Todd Williamson/Getty
I was introduced to Nora a few years ago and we became instant friends. She's humble and kind and thoughtful of others and an amazing producer to boot! Last, but certainly not least, she's the mother of three wonderful boys. That she has somehow managed to raise her sons while at the same time being part of the filmmaking team that bestowed upon all of us such influential and touching cinematic gifts as "Doubt," "The Reader" and "Extremely Loud and Incredibly Close" is nothing short of astounding.
Nora's latest project, the recently-released "Me and Earl and The Dying Girl," based on the novel by Jesse Andrews (who also wrote the screenplay), was this year's Winner of both the Grand Jury Prize and Audience Award at Sundance. Alfonso Gomez-Rejon directed the film, Steven Rales, Jeremy Dawson and Dan Fogelman produced it, and Nora served as the executive producer. Fox Searchlight is releasing the film. Awards and accolades aside, it is a film about respect and empathy and kindness - the very virtues that Nora herself displays as a mother and a friend. (Nora, you had me at the trailer! Here it is: http://meandearlmovie.com)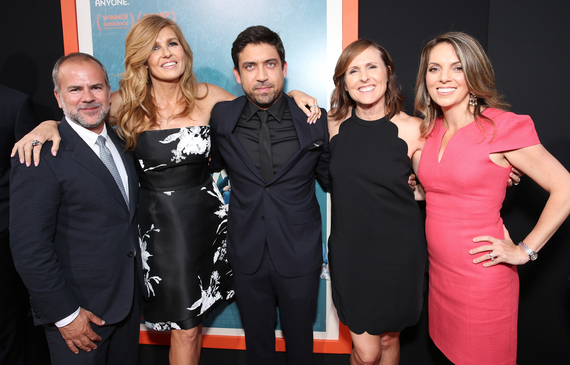 Jeremy Dawson (Producer), Connie Britton (plays 'Greg's mom'), Alfonso Gomez-Rejon (Director), Molly Shannon (play's 'Rachel's mom'), Nora Skinner (Executive Producer) of "Me and Earl and the Dying Girl"
© Todd Williamson/Getty
How on earth does one succeed so dramatically as both a high-powered Hollywood producer and the mother of three? Nora concluded that the only rule is that there is no rule book. No script to follow. That realization can be both liberating and daunting. But a willingness to work hard, loving what you do and believing it to be worthwhile all go a long way.
In fact, in a male-dominated industry, Nora has realized that the skills and tools she has learned as a mom have come in quite handy. As a producer, for example, delegation and multi-tasking - two things that successful moms master early on -- are critical. It seems that nurturing a child from infancy to adulthood and nurturing a movie from an idea through opening weekend have more in common than meets the eye. And it seems that Nora has, all along, been following what she identifies as some of the best advice she's heard recently: DO WHAT YOU'RE GOOD AT.
One thing Nora's great at as a producer - putting stories worth telling out into the world - has also proved crucial to her success as a working mom. One of the biggest challenges of being a movie producer and mother is the amount of time on the road, on location, away from home. Nora credits her husband of thirteen years, Dave, for making it possible for her to travel when work calls for it. Dave's work also requires travel, so they cover each other at home when the other is away - and they do their best to stay connected to the kids while out of the home. What does Nora do? She captures memories and emotions and puts the stories worth telling into letters to her kids. She also creates calendars (below) so her kids know where she is on any given day, and when she's going to be home again.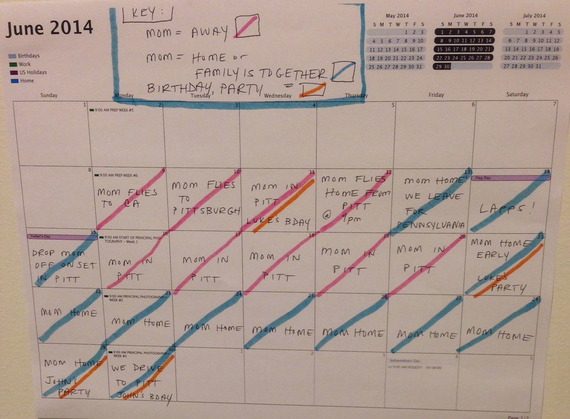 And when frequent letters still aren't quite enough? Field trip. Thus, when production on "Me and Earl and The Dying Girl" took Nora to Pittsburgh last summer, she used it as an opportunity to give her boys a unique experience. They joined her on the set, met the actors, the crew and one of the world's greatest cinematographers, Chung-hoon Chung, in a cramped high school cafeteria where a key scene in the movie was being filmed, and made a memory that they'll share for the rest of their lives.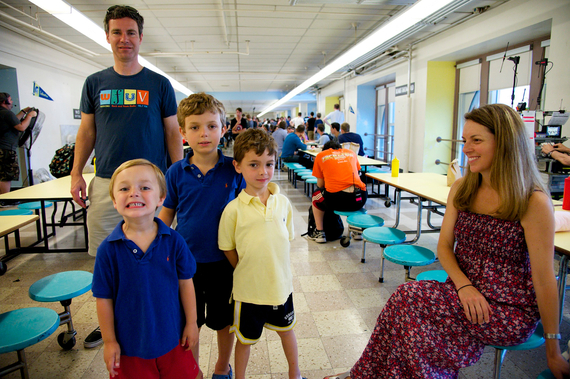 DO WHAT YOU'RE GOOD AT. Nora's achievements make clear that any aspiring morphmom should heed this excellent practical advice. As Nora explains, you should always follow your passion, but adjust that to your skills. If you're passionate about the movies, find the niche that matches your talents and aptitudes. If you can write, write. If you can act, act. If you can delegate and multitask and team-build and passionately ensure that the stories worth telling are told, produce. Or be a mom. Or both.
I am forever grateful that Nora did what she's good at and devoted her time and energy to bringing the stories worth telling to all of us. Like most morphmoms, Nora feels incredibly lucky to be able to do the work she loves while raising a family. Thank you, Nora, for sharing with the world the gifts that your sons benefit from on a daily basis. Your most recent gift, bringing "Me and Earl and The Dying Girl" to the big screen, will allow me to make some memories with my own kids when I bring them to see it. And, of course, to have that extra-large bag of popcorn with butter.
Calling all HuffPost superfans!
Sign up for membership to become a founding member and help shape HuffPost's next chapter