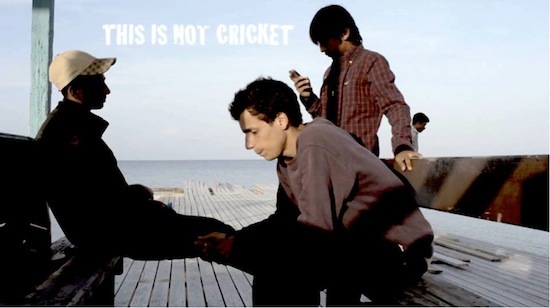 Even if according to the Farnesina -- the Italian Ministry of Foreign Affairs -- there are technically many ways to become an Italian citizen these days, the fact remains that it's incredibly arduous to prove blood lineage. And even harder to collect and submit all the required documentation for those who do not trace their roots back to Italy and wish to naturalize, a procedure that ultimately needs the approval of, get this, the Italian President.
In a documentary titled This Is Not Cricket, currently crowdfunding on Aflamnah, Italian director Jacopo de Bertoldi and British producer Suzy Gillett (the team behind First Eleven Films) have paired up to tell the story of two boys -- one Italian, one Indian -- who form an unlikely friendship through an unusual sport. Rebuilding their beloved Piazza Vittorio Cricket Club in Rome fuels the boys' imagination, lets their energy flow but also inspires their need to create a different Italy, one where northern Italians, southern Italians and people of all descent live hassle-free, side by side. Idealistic? You bet, but isn't that what being young is all about?
I caught up by email with filmmaker de Bertoldi and was pleasantly surprised by his insightful answers.
There was a recent article in the New York Times about how Italians are leaving in droves, to escape the oppressive, financially doomed atmosphere of Italy at the moment. Yet here is a story of two boys who are staying put, and facing the struggles. Why do you think your film is so important at the moment?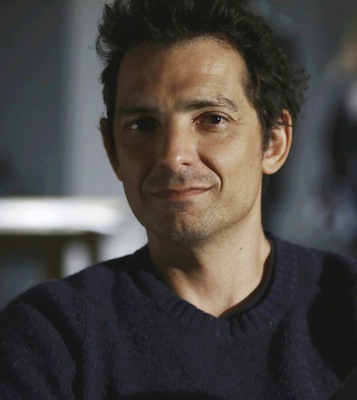 Jacopo de Bertoldi: Yes, Italy at the moment is going through harsh times. You can breathe it in the air almost at any level of society. As typically happens in history, economic crisis brings with it a sort of egoism. Everybody looks after their own garden and xenophobia arises as an unconscious fear of foreign people coming to steal the little money that is left in the bucket. The two boys in my story just can't leave Italy, mainly because of their young age, so they have to face the struggles that an economically distressed country presents. They don't have options so the only thing they can do is to fight problems. Fernando, for instance, the Italian boy in the team, has a strong political view of things, leading student protests and chasing egalitarian rights for migrants. In Italy we still have immigration laws based on "ius sanguinis", which means that if your blood is not Italian, you can't be Italian even if you were born in Italy. I think that showing how the strength of youth can resist in the face of difficulties can give an uplifting message of optimism.
Why this story as a subject for your documentary?
Jacopo de Bertoldi: Cricket is not a well know sport in Italy, although it's the second most followed sport in the world after soccer. Because of its nature and history, it gained involvement with politics and social issues. Cricket was originally a British sport, it was exported to the colonies of the Kingdom and used at first as a tool to control society. There is a lot of literature about the matter. Among others Cricket and the Law: The Man in White is Always Right by David Fraser and of course Beyond a Boundary by the great Marxist intellectual from Trinidad C. L. R. James -- one of the best books I ever read about colonialism and post-colonialism. Cricket's journey through the Commonwealth is a great portrait of post colonialism era in sport and has peculiar political implications. Just think about the West Indies epopee in the mid-Seventies. After many of the islands had found their independence from the British Empire, the West Indies team travelled to England where they were called brutal "terrorists" and yet with their multiple victories they were able to subvert colonial values.
This is Not Cricket tells the story of two friends, an Italian boy and an Indian one teaming up together to rebuild their club, which used to be the strongest youth team in Italy before its collapse due to social and cultural issues. The Piazza Vittorio Cricket Club had strong political visions. They sympathized with anarchy and fought fascism of all sorts. I believe Fernando and Shince [the leading characters in the documentary] will hold the same political spirit and show everybody how sport can change life and, why not, society.
And why this title for your film?
Jacopo de Bertoldi: The title of the film is actually what Shince, the Indian player, said when he saw for the first time his future teammates playing a game. I think it's the key of the film as it represents the meeting of different cultures. Plus, there is an old expression going on in England 'it's not cricket' which means 'it's not fair' or 'it's unjust' and of course it has a lot to do with the sort of injustices all these migrant boys have to face.
You are crowdfunding on Aflamnah. What made you choose this particular platform
Jacopo de Bertoldi: We're international independent filmmakers working on projects about international issues and we had heard about Aflamnah in 2013. We were impressed with their entrepreneurial attitude, and thought it would be a perfect platform for launching This is Not Cricket, with its international outlook and also the fact that it is independently run, by a very dedicated and bright team.
What do you think about film as a movement to change lives? Is it possible?
Jacopo de Bertoldi: I strongly believe that movies can change if not reality, the perception of reality. The USA knows this very well. After the Second World War they inserted in peace agreements with hostile countries distribution regulations that imposed their films and with those their view of society. Cinema is a strong tool to deliver messages and I hope we can use it at its best.
What do you hope to achieve with this film?
Jacopo de Bertoldi: I really hope that this story will be able to deliver a positive message, not only to Italians. It's a small story happening in Italy but it could be happening in any western country. Migration will be part of our future more and more. We must look at the strength and determination of these boys (and girls) who will be a big part our future as fathers and mothers of a new generation.
All images courtesy of Aflamnah, used with permission.
REAL LIFE. REAL NEWS. REAL VOICES.
Help us tell more of the stories that matter from voices that too often remain unheard.